Movie Review
Legally Blonde
Don't judge a book by its hair color!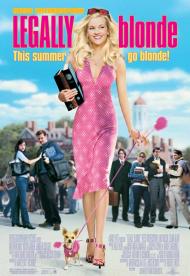 US Release Date: 07-13-2001
Directed by: Robert Luketic
Starring
▸
▾
Reese Witherspoon

,

as

Elle Woods
Luke Wilson

,

as

Emmett Richmond
Selma Blair

,

as

Vivian Kensington
Matthew Davis

,

as

Warner Huntington III
Victor Garber

,

as

Professor Callahan
Raquel Welch

,

as

Mrs. Windham Vandermark
Meredith Scott Lynn

,

as

Enid Wexler
Holland Taylor

,

as

Professor Stromwell
Jennifer Coolidge

as

Paulette Bonafonte

Reviewed on:
July 15th, 2001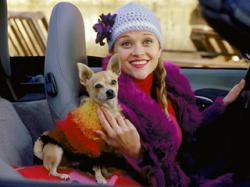 Reese Witherspoon in Legally Blonde.
Legally Blonde is one of those movies that I really shouldn't have enjoyed. It's a very silly little movie, filled with silly characters, and even sillier situations. Yet somehow, thanks to a likable young cast, and an amusing script, somehow manages to be one of those feel good movies, that you can't help but enjoy.
It tells the story of Elle Woods (Reese Witherspoon), a total California girl, who lives for parties, fashion, her little dog Bruiser, her sorority, and most of all her fiancée; Warner Hungtington the third. She is all prepared to accept his proposal of marriage, when he breaks up with her instead, stating that he needs a smart, trophy wife if he is to follow the family tradition of entering politics, and since he is off to Harvard Law in the fall, now seems like a good time to go their separate ways. Not to be deterred, Elle manages, in the most implausible of all the events of this movie, to be accepted to Harvard also. She manages this feat by spending her Summer studying for the LSAT's and by having a Coppola film her entrance Video Essay.
Once there, she quickly realizes that it is going to take more than just getting into the school to impress her estranged boyfriend, especially as he is now dating someone else. Throwing herself into her work, she manages to move to the head of her class, to her own surprise, as well as that of her fellow students, and an incredulous audience.
Soon she finds herself embroiled in an actual murder case. A case that it turns out, only she can win. And so the movie continues on it's silly ride.
Reese Witherspoon, does a great job here in a less than challenging role. She plays the ditzy blonde, with enough dignity and complete obliviousness to her situation, that she never becomes a caricature or stereotype. Selma Blair, whom last appeared with Reese in Cruel Intentions, is also good in albeit, a rather small role, as the dignified brunette who is now dating Elle's ex-fiancée.
A silly little movie, Legally Blonde is the cinematic equivalent of a thin paperback you might take to the beach. It's entertaining and it won't tax your brain at all.

Reviewed on:
July 18th, 2001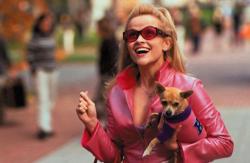 Reese Witherspoon in Legally Blonde.
Legally Blonde steals heavily from two classic 50's dumb blonde movies, Gentlemen Prefer Blondes and Born Yesterday. In Gentlemen Prefer Blondes, Marilyn Monroe seeks the diamond engagement ring from her boyfriend. Vamping and flirting her way to the altar. In Born Yesterday, Judy Holiday plays a dumb blonde who on the insistence of her boyfriend does some mass cramming to smarten herself up.
In Legally Blonde, Reese Witherspoon follows the stereotype with a dumb blonde who studies law in an attempt to impress and get her boyfriend to propose. There is even a nod to Monroe in one line when her boyfriend breaks up with her he says "I need a Jackie not a Marilyn."
Reese Witherspoon does a great job in this light weight comedy. Like Monroe and Holiday, her timing and mannerisms are fit for comedy. "And last week I saw Cameron Diaz at Fred Segal, and I talked her out of buying this truly heinous angora sweater. Whoever said orange was the new pink was seriously disturbed." I hope she does more of them.
At the end of Gentlemen Prefer Blondes, we discover that Marilyn was just playing dumb all along to get to the money. In Born Yesterday Judy becomes educated and more curious about the world around her. Like the movies it generously borrows from, Legally Blonde concludes that dumb is relative to its environment and not a hair color.
Reviewed on:
May 4th, 2013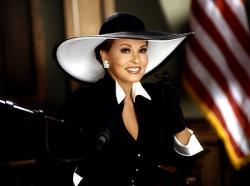 A 60 year old Raquel Welch in Legally Blonde.
Despite the fact that Reese Witherspoon won an Oscar for playing June Carter Cash in 2005's Walk the Line her signature role will always be the ditzy, but incredibly likable, Elle Woods. She is so charming and cute that you root for her to succeed no matter how vapid and shallow she may come across at times. Underneath all the blonde hair (she wears 40 different hairstyles throughout the movie) and pink clothes she is a genuine person with a good heart. Witherspoon demonstrates considerable comic timing and effortlessly carries this funny movie on her slender shoulders.
Sure the plot is as predictable as they come but the fun is in watching this dumb blonde succeed against the odds. And although Gloria Steinem may not agree, Elle Woods is a feminist. OK so maybe her motives are to simply get the man of her dreams to propose marriage but she is nevertheless a strong woman who goes after what she wants and doesn't take no for an answer.
Legally Blonde was a surprise hit in the summer of 2001 and it spawned a franchise. There was a sequel in 2003, a Tony nominated Broadway musical in 2007 and a spin-off movie called Legally Blondes in 2009.
The witty script is filled with funny lines. Here are a few of my favorites...
Upon learning her daughter has applied for Harvard Law School Elle's mother asks, "Honey, you were First Runner-Up at the "Miss Hawaiian Tropics" contest. Why are you going to throw that all away?"
Elle to her competition for Warner after she has just sarcastically complimented Elle on her outfit, "Oh, I like your outfit too, except when I dress up as a frigid bitch, I try not to look so constipated."
Elle demonstrating her determination, "I once had to judge a tighty-whitey contest for Lambda Kappa Pi. Trust me, I can handle anything."
Legally Blonde is an enjoyable little comedy. Reese Witherspoon updates a classic screen persona. As Eric said, Elle Woods is now in the pantheon alongside Judy Holliday's Billie Dawn and Marilyn Monroe's Lorelei Lee. It's just too bad the ageless Raquel Welch was so underused (see photo).
Photos © Copyright Metro Goldwyn Mayer (2001)
Related Review