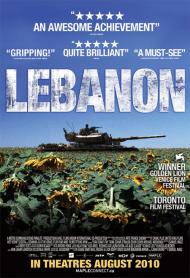 Israel Release Date: 10-15-2009
Directed by: Samuel Maoz
Starring
▸
▾
Yoav Donat

,

as

Shmulik
Itay Tiran

,

as

Assi
Oshri Cohen

,

as

Hertzel
Michael Moshonov

,

as

Yigal
Zohar Shtrauss

,

as

Gamil
Dudu Tassa

,

as

Syrian Captive
Ashraf Barhom

as

1st Phalangist

Reviewed on:
June 7th, 2011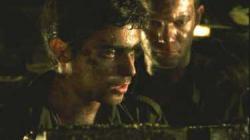 Oshri Cohen and Itay Tiran in Lebanon.
I always enjoy finding a unique film that still entertains. Lebanon tells the story of a four man tank crew and the stress of war. That in and of itself is hardly unique. What is different about Lebanon is that other than the last few seconds, the entire film takes place inside the tank. You see outside the tank as the crew does, through scopes for driving and gun siting.
In the early 1980s, a tank and a platoon of Israeli soldiers are sent into a town in Lebanon, that has been over run with hostiles. The tank is manned with a driver, gunner, someone who loads the gun and an officer in charge. Only the driver and gunner see what is going on outside. The officer in charge of the platoon is likewise in charge of them.
The movie starts out quickly with some serious tension. The tank crew is given the instructions to fire at an approaching car, but the nervous, rookie gunner does not fire, causing an Israeli casualty. Later he is told to fire up into a building where a sniper is firing down at the foot soldiers. As he looks up at the Arab, he sees he is using a family; father, mother and daughter as human shields.
Their tank gets used to carry a dead soldier, that they poetically code name, "...an angel." When an enemy is captured, they are charged with keeping him locked in the tank. They get hit by a rocket and get lost behind enemy lines. It will keep you on the edge of your seat.
The tank crew interact in ways not always seen in war pictures. These guys do not all get along. Hertzel, the gunner, has the most seniority and is out soon. He is kind of a dick, as he does not follow orders well and likes to do things his own way. Yigal, the driver, is the youngest who talks about his mother. Shmulik is the gunner who has to learn how to turn off his conscious to do his job. His story about his father's funeral is oddly funny, yet helps to explain how the mind can work. Assi is the lone officer. He is a bit weak as a leader and ends up having a melt down.
Lebanon takes a very close look at the mentality of men who fight in war. Tension and fear surround them in sometimes very chaotic situations. Although most war movies show soldiers relying on each other, Lebanon demonstrates that sometimes the natural human instinct to survive is the only thing we have.
Writer/director Samuel Maoz was nominated and won many awards for this film. He deserved every one. Not only is it well written but amazingly directed. I was never bored by the limited setting.
Photos © Copyright Ariel Films (2009)