Movie Review
The Learning Tree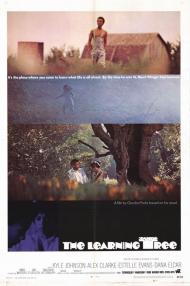 US Release Date: 08-06-1969
Directed by: Gordon Parks
Starring
▸
▾
Kyle Johnson

,

as

Newt
Alex Clarke

,

as

Marcus
Estelle Evans

,

as

Sarah
Dana Elcar

,

as

Kirky
Mira Waters

,

as

Arcella
Joel Fluellen

,

as

Uncle Rob
Malcolm Atterbury

,

as

Silas Newhall
Richard Ward

,

as

Booker Savage
Russell Thorson

,

as

Judge Cavanaugh
Peggy Rea

,

as

Miss McClintock
Carol Lamond

,

as

Big Mabel
Kevin Hagen

,

as

Doc Tim Cravens
Jimmy Rushing

,

as

Chappie Logan
Dub Taylor

,

as

Spikey
Felix Nelson

,

as

Jack Winger
George Mitchell

,

as

Jake Kiner
S. Pearl Sharp

,

as

Prissy
Stephen Perry

,

as

Jappy
Don Dubbins

,

as

Harley Davis
Jon Lormer

,

as

McCormack
Morgan Sterne

,

as

Mr. Hall
Thomas Anderson

,

as

Pastor Broadnap
Phillip Roye

,

as

Pete Winger
Hope Summers

as

Mrs. Kiner
Reviewed on:
February 12th, 2015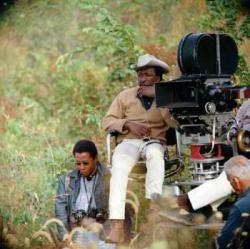 Gordon Parks directing The Learning Tree.
Gordon Parks was a true Renaissance man. He rose from humble beginnings in rural Kansas, overcame intense racism, and went on to become an acclaimed photographer for Life Magazine in the very segregated 1940s. But he wasn't content mastering just one field of endeavor. He also became a successful filmmaker. His movie Shaft was a huge hit that was instrumental in launching the blaxploitation genre of the 1970s. It is now considered a classic. He directed just a handful of feature films yet two of them are in the National Film Registry (Shaft and this movie). Gordon Parks still hadn't exhausted his talents. He also wrote several memoirs (one of which The Learning Tree is based on), fictional novels, and books of poetry. He composed the score for this film as well as a ballet honoring Martin Luther King Jr. in 1988. In his spare time he was a tireless champion for the Civil Rights Movement. His list of accomplishments and historic "firsts" is too long to list here but I'll suffice to say that the man had at least three public schools named after him in his lifetime. Gordon Parks passed away in 2006 at the ripe old age of 93.
The Learning Tree was his first published memoir. At the time Parks was a very successful man in his fifties looking back with both fondness and horror on his years growing up in Fort Scott, Kansas in the1920s (Parks filmed on location in his actual hometown). In 1969 Warner Bros. hired him to write, produce, direct, and compose the score for this movie adaptation of The Learning Tree. Although there had been black filmmakers dating back to the silent era (like Oscar Micheaux), Parks was the first to direct a major feature film for a Hollywood studio. That's right it took until 1969 for that to happen!
Seventeen year old Kyle Johnson plays fifteen year old Newt Winger (the Parks character). In real life his mother is Nichelle Nichols of Star Trek fame but Johnson had been acting since before his mother landed the iconic role of Lt. Uhura. He played the young version of Sidney Poitier's character in The Greatest Story Ever Told in 1965 and had appeared on several television series. He gives a sensitive portrayal of Newt, although there isn't anything truly special or memorable about his performance.
The other teenage boys are played by relative unknowns but there are plenty of familiar faces in the cast, for anyone over a certain age. Estelle Evans plays Newt's mother. She was Calpurnia in To Kill a Mockingbird. Malcolm Atterbury plays a farmer whose murder Newt witnesses. He has a long list of movie and television credits but is perhaps most famous for saying the line, "That plane's dustin' crops where there ain't no crops!" in North by Northwest. Richard Ward – playing the town drunk and an abusive father – would appear in such popular 70's movies as For Pete's Sake, Mandingo and The Jerk. And you might not recognize the name Peggy Rea but you probably know her face from her countless television roles, most notably on The Waltons and Grace Under Fire. Also in the cast is Kevin Hagen playing a doctor just as he did in his best known role as Dr. Baker on the long running show Little House on the Prairie. Hope Summer (The Andy Griffith Show, Rosemary's Baby) and Dub Taylor both make cameos.
Parks's photographic eye is in evidence throughout the movie. One shot in particular near the beginning truly stands out. The story opens with Newt getting caught in a tornado. He is saved by Big Mabel a local young woman with a reputation to match her moniker. She takes Newt to shelter in an old abandoned building where – to warm him up – she has sex with him. It is his first time. After the storm passes there is a shot of Newt's brother and father walking across a field on the left side of the screen as Newt and Big Mabel walk towards them from the other direction. Parks films it as a silhouette against the sky with the setting sun a huge red ball in the sky between them.
Newt has a special bond with his mother. He is also a very bright student who plans to attend college despite his teacher (Rea) telling him that it would be a waste of time for "someone like him" to seek higher education. Not all of the whites are portrayed as racist. There are several sympathetic ones, such as the judge Newt's mother works for. The movie plays out as a series of vignettes, or memories. Over the course of Newt's final year in Fort Scott, he comes to terms with his childhood enemy and experiences the joys and heartaches of first love. By the end of the movie Newt's childhood has drawn to a close and he must leave his childhood home for greener pastures. The Learning Tree is told with a compelling mix of rosy nostalgia and stark realism. It ends in a manner that is both sad and satisfying. Gordon Parks lived such a fascinating life that I wish he'd made a sequel to this movie. I'm rather surprised that Hollywood hasn't yet done a biopic on his life. It could be a great part for someone.
The Learning Tree is a fairly low key coming of age drama and a first hand account of a time and place in America where blacks were treated as second class citizens. In one scene Newt's blind uncle describes for his nephew how he sees people in his mind's eye. He expresses a thought that it would be so much nicer if humans came in every color and shade with no two looking alike. What a whimsical idea. Clearly he is where Newt (Gordon) got his inquisitiveness and imagination. This uncle also gave the movie (and novel) its title. He tells Newt to think of his home town and the obstacles it represents as his "Learning Tree" from which to grow.
Photos © Copyright Warner Brothers/Seven Arts (1969)