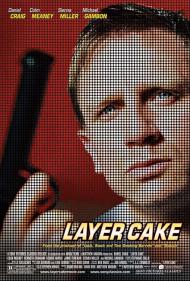 US Release Date: 05-13-2005
Directed by: Matthew Vaughn
Starring
▸
▾
Daniel Craig

,

as

XXXX
Tom Hardy

,

as

Clarkie
Jamie Foreman

,

as

Duke
Sally Hawkins

,

as

Slasher
George Harris

,

as

Morty
Colm Meaney

,

as

Gene
Kenneth Cranham

,

as

Jimmy Price
Sienna Miller

,

as

Tammy
Michael Gambon

,

as

Eddie Temple
Ben Whishaw

,

as

Sidney
Dexter Fletcher

,

as

Cody
Burn Gorman

,

as

Gazza
Dragan Micanovic

,

as

Dragan
Marcel Iures

as

Slavo

Reviewed on:
April 1st, 2005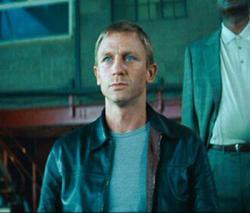 Daniel Craig in Layer Cake.
Layer Cake is an aptly named deep-layered British crime thriller. Quickly paced, it throws characters and betrayals at you in rapid succession right up until the final seconds of the movie. It requires you pay close attention to follow the story, but rewards you well for doing so.
Daniel Craig, best known in America for playing Lara Croft's love interest in the first Tombraider movie, stars as an unnamed and very successful drug dealer at the top of his game. He's so successful in fact that he's planning an early retirement following one final deal. However, as so often happens in movies of this type, things don't quite go as planned.
Trouble begins to unravel his carefully laid plans when Jimmy, his mob boss, asks him to do two favors for him. He wants him to unload an enormous shipment of eXtasy and to also locate the missing daughter of another mobster. What our hero is unaware of is that the eXtasy was stolen from some very violent, ex-military types in Holland, and that the missing daughter story also holds a few surprises.
While no one in the cast is a huge star, the movie does contain some recognizable faces. Colm Meany (Chief O'Brian from Star Trek: The Next Generation) plays Jimmy's right-hand man. Sienna Miller, more famous for dating Jude Law than for any movie she's been in, has a small part as the hero's love interest. And Michael Gambon, in a part as far removed from his recent appearance as Professor Dumbledore as you can get, plays the mobster whose daughter has gone missing.
It is Craig though, who has yet to find real stardom in the U.S., who carries the movie. His criminal, who starts the film completely smooth and in control of his life, is forced further into the dark criminal world, than he wants to go.
Part of the reason I was curious to see this film is that its director, Matthew Vaughn, who previously produced the Guy Ritchie directed films Lock, Stock and Two Smoking Barrels and Snatch, is directing the upcoming X-men 3. I have to say that any fears I had about such an inexperienced director taking over the reins of my favorite superhero movies were completely removed. If Vaughn can bring the same stylish and intelligent use of violence and humor to the X-men that he uses here, it should make for an interesting entry into that series.
My only complaint about the movie involves the ending, which I won't reveal. I'll only say that just as you think the movie has ended satisfactorily, it takes you by surprise with one final twist. I was happier with the ending before the twist, but it's not a big enough disappointment to mar my feelings toward the movie.
The British crime thriller is a genre of its own and Layer Cake is a worthy addition.

Reviewed on:
April 25th, 2012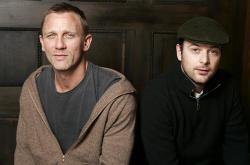 Daniel Craig and Matthew Vaughn on the set of Layer Cake
Is it not interesting that when Scott wrote his review in 2005 he noted that, "...Craig though, who has yet to find real stardom in the U.S..." Of course that all changed the next year with his turn as James Bond in Casino Royale. Also, Matthew Vaughn did not end up directing the third X-Men film, X-Men: The Last Stand (2006) but the fourth, and vastly superior X-Men: First Class (2011).
As Scott mentioned, this is all about the layers of crime. It opens with Craig narrating, "When I was born, the world was a far simpler place. It was all just cops and robbers." As a drug distributor, he thinks of himself as a minor criminal, "I'm not a gangster. I'm a businessman whose commodity happens to be cocaine." He is fooling himself. When a big crime boss summons him for a meeting, he foolishly dismisses it as meaning little. "I'll treat this lunch like a last supper, feign interest in his nostalgic tales, and get out." It goes different than he thought and he soon finds himself getting into deeper and deeper trouble.
J. J. Connolly wrote the novel, screenplay and some interesting and funny dialogue. "Yah know, years ago, some people would have thought you were a homosexual using a word like "expansive". You're not a homosexual are you?" and "I was just rubbing the phone against my fanny. My, oh, my, it's fresh this morning. And look at my nipples, standing up like little soldiers. What is a poor girl to do?" My personal favorite is, "In those days, being black was worse than being Irish."
Matthew Vaughn is one of my favorite directors. He creates tension and throws in surprises. You are never sure how a scene may play out. Scott mentioned the ending, while another good example is when two guys have breakfast with another man in a diner. They watch him eat. They pay him money and then suddenly one of the men jumps up and beats him to death as Duran Duran's, "Ordinary World" plays in the background.
Not only is Vaughn a talented director, but he wrote some of the screenplay for one of my favorite films from last year, The Debt, as well as the producer on Guy Ritchie's first film, Lock, Stock and Two Smoking Barrels (1998). Not only is his professional life astounding, but personally as well. Vaughn is married to German supermodel Claudia Schiffer, with whom they have three children together. Matthew Vaughn is my hero!
Reviewed on:
March 12th, 2013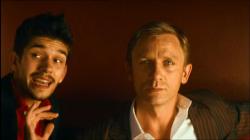 Ben Whishaw and Daniel Craig in Layer Cake.
The layers don't just apply to the plot details or the crimes committed, they also represent the different tiers in the British criminal underworld. Just who outranks who in various illegal situations is a theme that recurs throughout the story. The symbolism gets pretty blatant at times, notice the actual layer cake being eaten at the scene near the end at the Stokes country club, where XXXX is proclaimed king. Watch out for that last bite though, it hurts!
Daniel Craig as the unnamed protagonist, "My name? If you knew that, you'd be as clever as me." connects the various plot strands together as he works his way over, under and between the many layers in this decadent cake. He really exudes a Steve McQueen brand of cool. Daniel Craig is now James Bond, but guess what? Ben Whishaw, who plays Sidney in this movie, became the new Q to Craig's 007 in Skyfall. That certainly puts a weird spin on the final scene where the last layer of the cake gets suddenly revealed.
I agree with my brothers about both the script and the direction. In addition to X-Men: First Class and this movie, Matthew Vaughn has also helmed such diverse flicks as Stardust and Kick-Ass. He definitely knows how to stage and film an action scene, that's for sure. As for J.J. Connolly, I agree wholeheartedly with Eric. He writes great dialogue. He almost sounds like a British Quentin Tarantino.
Dragan says menacingly to XXXX while he has him in his sights, "Don't piss in my pocket and tell me it's raining." Gene gives our hero this pragmatic advice, "If you have to kill someone, never ever tell a living soul." But my absolute favorite line comes courtesy of Crazy Larry, "Fucking females is for poofs." That's what I always say.
Music plays a big role in this movie too. Eric mentioned the incredibly violent scene set to a Duran Duran ballad (that hot tea's gotta hurt), but other songs are used to good effect as well. Joe Cocker's version of "Don't Let Me Be Misunderstood" and The Rolling Stones' "Gimme Shelter" are both used to underscore pivotal scenes, to name just two others.
Together Craig, Connolly and Vaughn have crafted a splendidly entertaining criminal caper. It borrows liberally from the Hollywood gangster genre but they've given it a unique English twist. Well done!
Photos © Copyright Sony Pictures Classic (2005)