Movie Review
The Last Time I Saw Paris
A nostalgic journey for one man as he remembers... the last time he saw Paris.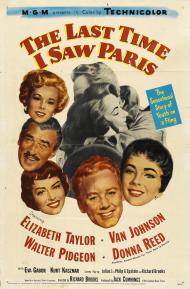 US Release Date: 11-18-1954
Directed by: Richard Brooks
Starring
▸
▾
Elizabeth Taylor

,

as

Helen Ellswirth/Wills
Van Johnson

,

as

Charles Wills
Walter Pidgeon

,

as

James Ellswirth
Donna Reed

,

as

Marion Ellswirth/Matine
Eva Gabor

,

as

Mrs. Lorraine Quarl
Roger Moore

,

as

Paul Lane (tennis pro)
Kurt Kasznar

,

as

Maurice (owner, Cafe Dhingo)
George Dolenz

,

as

Claude Matine
Sandy Descher

as

Vicki Wills

Reviewed on:
November 18th, 2001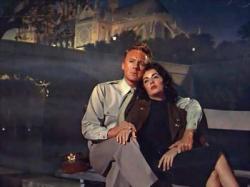 Van Johnson and Elizabeth Taylor in The Last Time I Saw Paris.
I had a teacher in high school that compared all beautiful women to a 'young Liz Taylor'. In her opinion this was the epitome of female beauty. Watch The Last Time I Saw Paris and you will instantly see her point. Elizabeth Taylor at 22 was just about the most ravishingly exquisite creature I've ever seen. Her beauty is simply stunning.
Based on a story by F. Scott Fitzgerald, this sentimental movie, which pairs Miss Taylor with Van Johnson, tells of a struggling writers reminisces of his life in Paris immediately following World War II (in the original story it was the first World War). Although the plot is pure soap opera (you know - he drinks too much and suffers from writers block), still the characters and performances make this one quite enjoyable. In addition several scenes were shot on location in both Paris and Monte Carlo giving the movie a lush realism that was absent from many big studio productions of the era.
The supporting cast includes Walter Pidgeon – in a scene-stealing role as Taylor's expatriate gambler father – as well as Donna Reed as the jealous and vindictive older sister, Eva Gabor as (what else?) a rich man-eater, and a baby faced Roger Moore as a suave tennis star.
The plot deals with the ups and downs, and ins and outs of the marriage between Johnson and Taylor. Although it is all fairly formulaic stuff, there are several memorable scenes, including one at a fancy party where the spouses use Gabor and Moore to make each other jealous. And though I've never been a big fan of Van Johnson, he manages to sink his teeth into this role. The chemistry between him and Liz is believably tempestuous.
Though not a perfect movie, The Last Time I Saw Paris is a beautiful romantic drama, worth seeing just to feast your eyes on a young Liz Taylor.

Reviewed on:
March 7th, 2006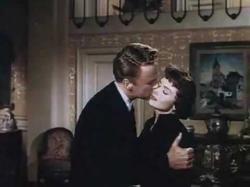 Van Johnson and Elizabeth Taylor in The Last Time I Saw Paris.
Liz looks good but this is Van Johnson's movie. The scene where he walks into the house and up the stairs while acting out an argument he is expecting to have with his wife demonstrates just how well Johnson could juggled drama and comedy. Liz just has to look good.
What is with the people in this movie? They all seem to be after "happiness" as if it is some allusive concept. No matter how many parties they go to or how often they get drunk they just can't be happy. Helen jumps in a fountain but then later says it was not as fun as she hoped it would have been. When talking to Charles she has this line, "I want to enjoy things, have fun, live every day like it's the last day. Wouldn't that be nice, a lifetime full of last days."
The problem with the characters in this movie, and I believe a recurring theme in Fitzgerald's work, is that they don't know how to be happy. Early on Helen is a flirt with no responsibilities. Later she gets all moody from her husband's lack of attention so she spends time with Paul which does not make her happy either. Charles struggles early on with paying the bills. He has to borrow money from co-workers several times. Then when he becomes rich he becomes miserable because he has all of the time in the world to write and he can't get published. Marion is married to a man who loves her but she spends the entire movie pining for Charles. She is so preoccupied by her resentment of Charles that she exacts revenge when she can. These people are all comfortably living in Paris with the enormous responsibility of having to hangout at bars and go to parties and, other than Helen's father, are all miserable.
The Last Time I Saw Paris attempts some dramatic situations by showing hypocrisy in relationships. Husbands and wives who flirt constantly with other people but never have affairs. They love each other but make each other as miserable as much as they make each other happy. The secret to life is the pursuit of happiness, but according F. Scott Fitzgerald it does not come easy, if at all.
Reviewed on:
November 14th, 2006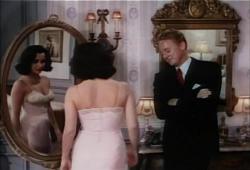 Elizabeth Taylor and Van Johnson in The Last Time I Saw Paris.
Regret is a common theme in Fitzgerald's work, but this movie lacks all of the things that make the Fitzgerald story, "Babylon Revisited", one of his greatest works. Yes, the plots are similar, but Fitzgerald's greatest strength was never his plots, but in the beauty of his writing, his turn of phrase.
He is able to say more in just a few lines of dialogue than this movie is able with scene after scene of melodrama.
"I heard that you lost a lot in the crash?"
"I did," and he added grimly, "but I lost everything I wanted in the boom."
"Selling short?"
"Something like that."
The worst change from story to movie is the changing of the time period. The story was set in 1931. A time when the world was waking up with a hangover from the decade long party that was the 1920s. The story of Charlie returning to Paris to find his child is more than the story of one man, it's the story of a generation trying to re-find their innocence. Changing the time period severely changes the scope of its meaning.
Without the larger theme of Fitzgerald's story all you are left with is one hell of a depressing story. Not sad or poignant, just depressing as hell. The only character I enjoyed was the father played by Walter Pidgeon, who not so coincidentally is the only character who isn't sad, but then by the end of the movie he's in a wheelchair so even he becomes depressing.
Yes, much of Fitzgerald's work was sad and filled with regret, but unlike watching this movie I never regretted reading it.
Photos © Copyright Metro-Goldwyn-Mayer (1954)