Movie Review
The Last of Robin Hood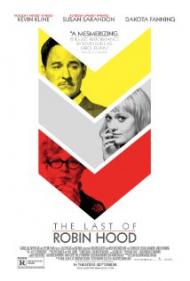 US Release Date: 08-29-2014
Directed by: Richard Glatzer and Wash Westmoreland
Starring
▸
▾
Dakota Fanning

,

as

Beverly Aadland
Susan Sarandon

,

as

Florence Aadland
Kevin Kline

,

as

Errol Flynn
Sean Flynn

,

as

Grip
Max Casella

,

as

Stanley Kubrick
Patrick St. Esprit

,

as

Herb Aadland
Bryan Batt

,

as

Orry Kelly
Matt Kane

,

as

Ronnie Shedlo
Jane McNeill

,

as

Cynthia Gould
Ben Winchell

,

as

Jack
Jason Davis

,

as

Tedd Thomey
Jackie Prucha

,

as

Hedda Hopper
Starlin Britt

,

as

Gene Kelly
Joe Knezevich

as

John Ireland

Reviewed on:
September 7th, 2014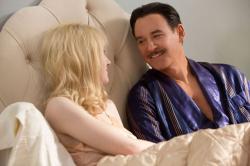 Dakota Fanning and Kevin Kline in The Last of Robin Hood.
The Last of Robin Hood tells the story of the final years of Errol Flynn's life, and more specifically, the final love affair of his life with Beverly Aadland, an underage, aspiring actress. It's a mediocre film that's nearly saved by a trio of strong performances in the central roles.
Kevin Kline plays Flynn and, despite being more than 15 years older than Flynn was at the time of his death, looks amazingly similar to the old time swashbuckler. He's helped by how aged Flynn looked due to his hard partying lifestyle. He captures the charm of Flynn and his presence is the strongest element in the film. Flynn was a drug addict, a drunkard, and a womanizer, with a habit of dating underage girls, and yet because of his charm he still remains likable despite his many flaws. His death occurs about two-thirds of the way through the film and his absence is felt strongly in the final act.
By 1957, Errol Flynn's career was pretty well over, but he was still a big enough name to impress a young actress. Using his fame he was able to pick up Beverly Aadland by pretending to offer her an audition for a play. Beverly was just 15 years old at the time, but she'd faked her birth certificate to get a job in the chorus on a Gene Kelly film. Flynn seduced and slept with her before he realized her true age, but even once he found out, he continued the affair. To ward off suspicion he pretended to take Beverly on strictly as a protege, and invited her mother to travel with the two of them. Beverly's mother, Flo, was once an aspiring starlet herself, but whose career chances were ruined when she lost a leg in a car accident. To compensate, she pushed her daughter into the business. Seeing Flynn as a stepping-stone in Beverly's career, Flo supported their relationship.
Watching Fanning play a character old enough to have sex takes some getting used to after seeing her grow-up on screen. She was one of the most talented child actors of all time and so far she's managed to keep her career going at 20. She plays the wide-eyed ingenue well here. The script portrays her character very sympathetically and shows her to be genuinely in love with Flynn. How accurate that is compared with the real-life relationship, I can not say.
Flo, as played by Susan Sarandon, on the other hand, is willing to use Flynn as much as possible. She enjoys the touch of glamour he brings to their lives and lives vicariously through her daughter. Following Flynn's death, she is happy to give interviews and try to cash in on her circumstances. Although she's not a very likable person and her dislikablity is compounded by her alcoholism, Sarandon manages to make her human and not simply a caricature of the stage mother. The crushing of her own dream in her youth has obviously soured her.
While the performances are strong, the plot is pure soap opera. One of the production companies involved in making this film was Lifetime, as in the Lifetime television channel, and were it not for Kline, Fanning and Sarandon this could easily be one of those Lifetime movies of the week. Despite dealing with a salacious sex scandal, it keeps things fairly tame. It's even a television safe length, coming in at roughly 90 minutes or exactly the right length to fit in a 2 hour block with commercials.
Some of the most enjoyable scenes are those that feature other famous faces from Hollywood of the era. Costume designer Orry Kelly makes a brief appearance, as does director Stanley Kubrick. A few more of those instances would have added to the fun.
For those with an interest in the Hollywood of yesteryear there are things to recommend in this movie, but despite the best efforts of its stars, it plays it too safe and the result is fairly dull.
Reviewed on:
September 8th, 2014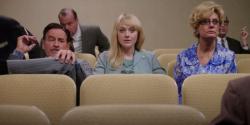 Kevin Kline, Dakota Fanning, and Susan Sarandon in The Last of Robin Hood.
The Last of Robin Hood certainly had the potential to be a great movie but, as my brother wrote, it's hampered by a fairly lackluster script. And the title is misleading. Instead of focusing on Errol Flynn's final days, we spend too much time with the far less compelling women in the story. Since Flynn's fame is the only reason the movie got made in the first place this is clearly a mistake. He's the film's draw and he should have been the central character. Instead this is really the story of a mother and daughter who just happened to become involved with a famous movie star in his final days.
Like Scott, I thought the three main actors were wonderful in their roles. Dakota Fanning is all grown up but she exudes the innocence of a fifteen year old trying to act twenty. Susan Sarandon buries herself in the role of the wounded stage mother. She makes this unsympathetic character seem human. But it is Kevin Kline who steals every scene he's in as the fading swashbuckler. He cavorts around with abandon and behaves incredibly selfishly. But he does it all with great panache and such an honest candor about his own shortcomings that he charms nearly everyone he meets, including the audience.
Another thing that gives The Last of Robin Hood a television-movie-of-the-week feel is the fact that it was clearly shot on a limited budget. The glamorous Technicolor 1950s are evocatively recreated but it's kept to a rather modest, intimate scale, like an episode of Mad Men. About as lavish as it gets is a shot of Times Square that is either touched-up stock footage from the era, the magic of CGI, or some combination of both.
The Last of Robin Hood reminded me of several other recent movies set in 1950's/60's Hollywood, My Week with Marilyn, Hitchcock, and Saving Mr. Banks. While I enjoyed those three movies more than this one they all have the same problem to varying degrees. As Scott wrote, the target audience for these movies are those who appreciate the Hollywood of yesteryear. Therefore these movies work best when they recreate the behind the scenes goings-on involving the famous stars of the era. Whenever the focus shifts to the lesser known characters these movies lose their appeal. This is most true about The Last of Robin Hood. Any scene featuring Errol Flynn works, but once he exits the picture it deflates like a popped balloon.

Reviewed on:
August 3rd, 2015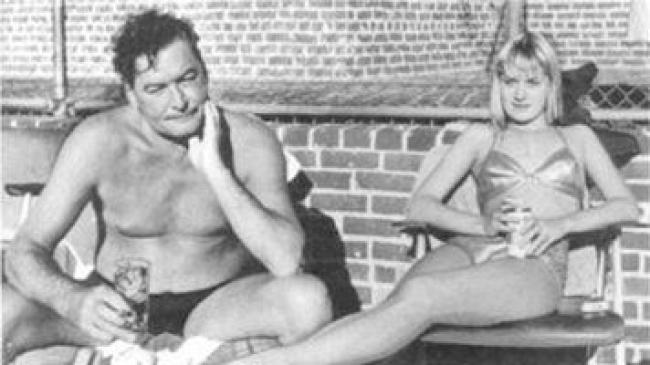 The real Errol Flynn and Beverly Aadland
There are two schools of thought when it comes to Errol Flynn. As Scott noted, Flynn was a drug addict, a drunkard, and a womanizer, with a habit of dating underage girls. Some view Flynn's freewheeling criminal lifestyle in romantic terms. I am part of the group that sees Flynn as a privileged movie star who got away with far more than he should have.
Flynn was married three times. His first wife divorced him when one of his underage sexual encounters ended up in court on statutory rape charges. He met his second wife in that courthouse where she worked at a snack counter. He was married to his third wife throughout the 1950s, up till his death in 1959. The film makes no reference to the fact that as he was flying around the world with his child sex partner, and supposedly getting engaged to her, he still had a wife and child of his own.
Flynn wrote in his 1959 autobiography, "My Wicked, Wicked Ways" about all of the many jobs he had, beginning when he ran away from home at 16. Some have questioned his words, claiming he exaggerated his own life to live up to his reputation and sell more copies, as he needed the money. Either way, Flynn left a legacy based as much on his personal reputation as his acting. The expression, "In like Flynn" came to fruition during his 1942 rape trial. It was used by men in reference to their odds of getting laid.
Because Flynn was such a colorful character, Kevin Kline easily outshines the other cast members, playing the larger than life rogue. I agree completely that whenever he is not on screen the film suffers. Fanning is a great actress but Beverly Aadland was just a teenager, plain and simple. The only thing she had in common with Flynn was that both disregarded laws or rules that inconvenienced their desires. She used a fake ID to get a tiny part in The Gene Kelly film Marjorie Morningstar. As Aadland was not an adult, we must look to her mother for her criminal activity.
Florence Aadland was as much of a mother as a pimp is an employer. She helped her daughter get her fake ID. She encouraged her daughter to spend as much time with Flynn as possible, knowing all along their relationship was sexual. She used her daughter as a tool to mine for gold. The fact that she co-wrote a book (which this film is based on) intending to defend her contemptible parenting, but ended up damning her, demonstrates how far off her reality truly was. Susan Sarandon portrays this all too horrible mother as a very real and even slightly sympathetic person.
Errol Flynn famously said that, "I like my whiskey old and my women young." You may think of that line as locker room levity or a confession to his wicked ways. Either way, Errol Flynn's life is the stuff of legend. His exploits, true or exaggerated, are the type that appear in cheap novels. He got away with it all because of his devil may care attitude and his innate ability to charm all around him.
Photos © Copyright Samuel Goldwyn Films (2014)