Movie Review
The Last Emperor
He was the Lord of Ten Thousand Years, the absolute monarch of China. He was born to rule a world of ancient tradition. Nothing prepared him for our world of change.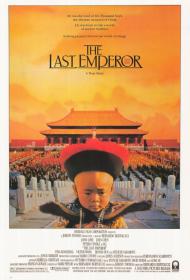 US Release Date: 12-18-1987
Directed by: Bernardo Bertolucci
Starring
▸
▾
John Lone

,

as

Puyi - Adult
Joan Chen

,

as

Wan Jung
Peter O'Toole

,

as

Reginald 'R. J.' Johnston
Ruocheng Ying

,

as

The Governor
Victor Wong

,

as

Chen Pao Shen
Dennis Dun

,

as

Big Li
Ryuichi Sakamoto

,

as

Amakasu
Maggie Han

,

as

Eastern Jewel
Ric Young

,

as

Interrogator
Vivian Wu

,

as

Wen Hsiu
Cary-Hiroyuki Tagawa

,

as

Chang
Jade Go

,

as

Ar Mo
Fumihiko Ikeda

,

as

Yoshioka
Richard Vuu

,

as

Puyi - 3 Years
Tsou Tijger

,

as

Puyi - 8 Years
Tao Wu

,

as

Puyi - 15 Years
Lisa Lu

as

Tzu Hsui
Reviewed on:
September 27th, 2012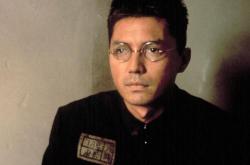 John Lone as Puyi, The Last Emperor.
The Last Emperor is the Oscar winning Best Picture of 1987. Bernardo Bertolucci received the Oscar for Best Director as well and this acclaimed motion picture took home another seven golden statuettes at the 60th annual Academy Awards. In epic fashion it tells the true story of Puyi, the last Emperor of China.
The movie opens in 1950. Puyi is now a political prisoner in The People's Republic of China having spent the last five years imprisoned by the Soviets after the fall of Japan ended WWII. Through flashbacks we see Puyi's life unfold from the time he ascended to the throne of China as a very young boy up until his imprisonment and eventually to his death in 1967 after living for many years as a forgotten peasant farmer. It is a beautifully wrought and fascinating story.
Although this movie deserved all the awards bestowed upon it I'm surprised it didn't garner a single acting nomination. John Lone gives a haunted performance as the grownup Puyi. He conveys all of the sadness of this incredibly lonely man. Peter O'Toole likewise deserved a Supporting Actor nomination for playing Puyi's English tutor.
Although surrounded by opulence Puyi grew up sequestered behind the walls of Beijing's Forbidden City and raised by eunuchs. He had no friends to play with and was never allowed to venture beyond the walls of his palace grounds/prison. The scenes of Puyi as a young boy are some of the most interesting. None of the eunuchs are allowed to say no to the Emperor who, not surprisingly, behaves like a spoiled brat.
All of the previous Emperors' surviving concubines live in The Forbidden City. Puyi has access to them all once he comes of age. To make sure they are faithful to the Emperor no other penis is allowed inside the Forbidden City after dark. Hence the eunuchs. Puyi is married to a beautiful woman and is given his very own concubine on the side. In one scene he plays a sexual game with them both under the covers in bed while explaining that he used to play this same game with the eunuchs when he was younger.
Eventually the outside world of the 20th Century disrupts the centuries long traditions of The Forbidden City and Puyi finds himself dealing with a society he doesn't really understand. He suffers the whims of fate and becomes a political prisoner.
Bertolucci was granted permission to film in the actual Forbidden City, which dates back to the early 15th Century. The look of the movie is gorgeous and authentic. It is a sweeping story filled with grandeur and a sense of history colliding with the modern world. It tells of the ending of one of the world's oldest dynasties but it unfolds as the personal tale of one man's incredible life. A powerful, informative and very moving motion picture.
Photos © Copyright Columbia Pictures (1987)