Movie Review
Landscape After Battle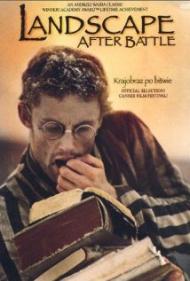 US Release Date: 02-09-1978
Directed by: Andrzej Wajda
Starring
▸
▾
Daniel Olbrychski

,

as

Tadeusz
Stanislawa Celinska

,

as

Nina
Aleksander Bardini

,

as

Professor
Tadeusz Janczar

,

as

Karol
Zygmunt Malanowicz

,

as

Priest
Mieczyslaw Stoor

,

as

Ensign
Leszek Drogosz

as

Tolek


Reviewed on:
May 26th, 2010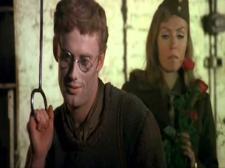 Tadeusz shows off a furnace once used to burn bodies.
Landscape After Battle (Krajobraz po bitwie) is based on a story by Polish Holocaust survivor Tadeusz Borowski. In real life, he and his fiancé worked for the Polish underground before being captured by the Nazis and sent to different concentration camps. Tadeusz spent time in Auschwitz and part of his job was to receive people as they arrived on the trains and were separated for work or extermination. He and his fiancé survived the war and were married. He wrote short stories of his time spent in the camps.
Landscape After Battle tells of his time in a displacement camp after being liberated from a concentration camp. Although free from the Nazis, the Poles are not allowed to leave the Gestapo barracks they are now living in. The camp is run by American forces. Food is rationed and people get into trouble for stealing it.
A group of women are brought to the camp and the atmosphere changes. One woman gets into trouble for having sex for food. She is paraded through a group of men as her clothes fall open. Tadeusz meets Nina, and together they leave the camp and wander the country side. They tell their stories, talk politics and philosophy, and fall in love. She takes his virginity, and she tries to talk him into running off with her, while he wants to go back to the camp.
Tadeusz physically survived the horrors of the holocaust but has shut his emotions off. (Spoiler alert) Upon re-entering the camp, Nina is accidentally shot and killed by an American soldier. An American officer is shocked by the shooting. Tadeusz acts nonplussed. He says to the American, "Here in Europe, we are use to it. The Germans have been shooting us for six years. What's the difference?"
Later, a priest pulls him into the morgue, where Nina's body lays. He sees her naked, cold body and finally breaks down and weeps. It is because of Nina's death that he gains back his humanity.
Not knowing the history of these events, left some details out. The movie never says why, or for how long they have to stay in the displacement camp. I was a bit confused on who was who. I was not sure why everyone was at the camp. Their were lots of soldiers in different uniforms constantly marching about.
Wajda is one of the most respected Polish directors of all time, but I think he over directs. Instead of just leaving a camera on a scene, he zooms in and out. It is distracting. It was released in the U.S. in 1978, but made in 1970. The hemline of the girls skirts and their hairstyles, seem more like 1970 than 1946.
Daniel Olbrychski is in nearly every scene as the emotionally closed off book worm. The first thing I noticed about him, is that he looked an awful lot like James Dean. In real life Dean wore glasses, and if you have ever seen a photo of him wearing them, who will have to admit the similarity is uncanny. Daniel Olbrychski still acts today, and can be seen in Angelina Jolie's Salt.
Tadeausz Borowski wrote of what he experienced. Those experiences haunted him the rest of his short life. He became a communist and killed himself at the age of twenty eight. His first hand account of the holocaust, and the aftermath, remain valuable pieces of history not often discussed in the United States.
Reviewed on:
January 10th, 2012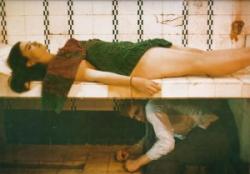 The horrific climax of Landscape After Battle.
Landscape After Battle contains some powerful scenes and images. It truly conveys a sense of the horrors these men endured in the concentration camps. Although unless you lived through it you cannot possibly know what it was actually like, this movie has an air of authenticity about it.
Unlike Eric, I enjoyed the director's use of camera movement and the cinematography is quite beautiful at times. The use of classical music to underscore scenes of deprivation adds to their impact. The juxtaposition of the civilized beauty of the music with the savage decay of these men's surroundings is effective. It is poetically shot with long stretches of film without dialogue.
The performance by Daniel Olbrychski is harrowing. The one thing this movie demonstrates beautifully is just how strong and instinctual the will to live is. Tadeusz tells Nina a story that happened in the concentration camp before their liberation. Naked women, on their way to the gas chamber, were paraded before the men, 9,000 of them according to Tadeusz. The women were naturally all crying and pleading with the men to save them. But the will to survive is stronger than any empathy one might feel for another human being as evidenced by the fact that not one man lifted a finger to help. As he quite succinctly states at one point, "It's the living who are always right, not the dead."
Unfortunately not all of the actors are as talented as Olbrychski. The Polish actors doing American accents are laughable. It is also fairly obvious this movie was made in 1970. It has many of the trappings of the era, from the women's clothes to the inclusion of nudity (although the full frontal male nudity on display here was quite rare at the time and may have had something to do with this movie not being released in the U.S. until 1978) and even the fake looking blood that drips from Nina's gunshot wound. The camera style of zooming in and out screams early 70s. Robert Altman employed it to good effect in MASH that same year.
Clearly neither Tadeusz Borowski nor Andrzej Wajda were big fans of the United States or of the Catholic Church, as they are both shown in a negative light. The Americans are clueless occupiers and the priests, with their focus on ritual over the everyday needs of the people, seem archaic and cruel. Eric, I can understand you wanting to put a positive spin on the ending but judging by how Tadeusz's real life ended I don't think he ever did fully regain his humanity. Some horrors are too great for a sensitive soul like his to recover from.
Landscape After Battle is a highly personal movie about the horrors and aftermath of war. It has a visceral power to it that cannot be denied, but let's be honest here. It is also self-indulgent and annoyingly abstract at times. In fact, If the subject matter weren't so damn powerful this would be a dated and nearly unwatchable pretentious art-house film.

Photos © Copyright Film Polski (1978)