Movie Review
Lady Killer
Cagney and Clarke, together again.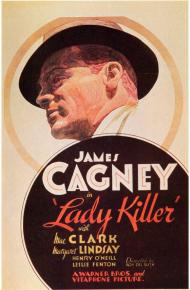 US Release Date: 12-28-1933
Directed by: Roy Del Ruth
Starring
▸
▾
James Cagney

,

as

Dan Quigley
Mae Clarke

,

as

Myra Gale
Margaret Lindsay

,

as

Lois Underwood
Leslie Fenton

,

as

Duke
Douglass Dumbrille

,

as

Spade
Russell Hopton

,

as

Smiley
Raymond Hatton

as

Pete
Reviewed on:
December 28th, 2001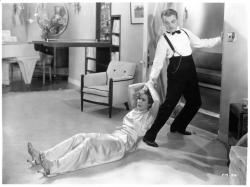 Mae Clarke and James Cagney in Lady Killer.
Lady Killer offers vintage Cagney in a tailor made vehicle wherein he preens and struts his way from coast to coast, going from a small-time hustler working as a movie theater usher to seeing his name in marquee lights as a bona-fide star. In those days movie studios churned out product at an alarming rate, often filming them in less than two weeks, and this one was clearly conceived and written with its brash young star in mind.
Cagney plays Dan Quigley. After being fired from his ushering job for shooting craps in the men's room he follows a pretty dame home to return the purse she has dropped. At her apartment he joins in a friendly little poker game. The streetwise fella quickly figures out that the game is rigged and that the purse was dropped as bait. He gets tough with the poker players, threatening to rat out their scam unless they cut him in on the action. They quickly acquiesce and he joins their gang.
Their crimes soon escalate and when a burglary job turns deadly, Quigley and the dame (the reliable Mae Clarke) go on the lam to avoid the heat. After a brief stop in Chicago they head farther west to LA.
From here the plot gets rather convoluted. The rest of the gang shows up and they desert Quigley when he gets picked up on suspicion. After being released from jail due to lack of evidence against him, he is offered a job in the movies by producers looking for rough types. Before you can say Hollywood, a star is born. Quigley's picture is on magazine covers and he's dating a fellow movie star. But of course the old gang shows back up to throw a wrench in the works. This leads to a car chasing, guns blazing finale.
Poor Mae Clarke proves herself a trooper. This time around instead of a grapefruit in the face she gets dragged by her hair across a hotel room and then unceremoniously thrown out on her rear-end. Cagney is his usual tough-as-nails yet charming antihero. As quick with his fists as he is with a putdown, bulldozing his way through the entire movie.
He is, quite honestly, the only reason for watching it. But with innate talent and mesmerizing screen presence like his, what more reason is needed?
Photos © Copyright Warner Bros. (1933)