Movie Review
The Lady from Shanghai
I told you...you know nothing about wickedness.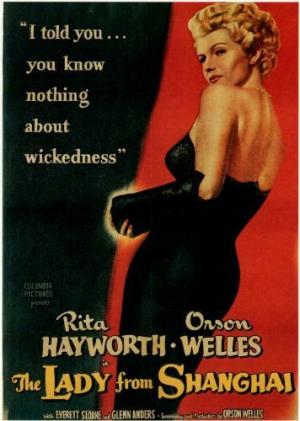 US Release Date: 06-09-1948
Directed by: Orson Welles
Starring
▸
▾
Rita Hayworth

,

as

Elsa Bannister
Orson Welles

,

as

Michael O'Hara
Everett Sloane

,

as

Arthur Bannister
Glenn Anders

,

as

George Grisby
Ted de Corsia

,

as

Sidney Broome
Erskine Sanford

,

as

Judge
Gus Schilling

,

as

Goldie
Carl Frank

,

as

District Attorney Galloway
Louis Merrill

,

as

Jake Bjornsen
Evelyn Ellis

,

as

Bessie
Harry Shannon

as

Cab Driver
Reviewed on:
September 2nd, 2016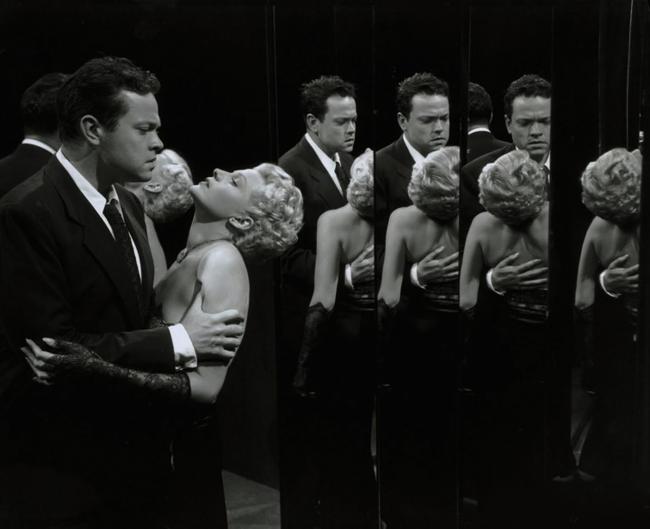 Orson Welles and Rita Hayworth in The Lady from Shanghai..
Sometimes the story behind a movie can be just as entertaining, if not more so, than the movie itself. That's definitely the case with The Lady from Shanghai. While the finished product is an entertaining, if quirky, film noir with lots of artistic flourishes from its writer/director/star Orson Welles, the making of the film was nearly as dramatic and equally as fascinating.
The film only got made by a trick of fate. Welles was working on the stage musical version of Around the World in 80 Days, which was in out-of-town tryouts in Boston, when the production ran out of money and was unable to raise the $50,000 needed for costumes. Welles called Harry Cohn, the head of Columbia Studios, from a payphone and told him that he had a great story for him and if Cohn would send him $50,000, he'd sign a contract to make it for him. When Cohn asked what was the story, Welles glanced at the rack of paperback books next to the phone and randomly read off one of the titles. He told Cohn to buy the novel and he'd make it for him. An hour later, they had the money and Columbia bought the rights to If I Die Before I Wake, which would be adapted into The Lady from Shanghai.

Welles cast himself in the lead role of Irishman Michael O'Hara, a sailor and drifter who meets Elsa Bannister, a rich woman, in New York City's Central Park. After her rescues her from some muggers, the two share a heated chemistry, that is quickly dunked into cold water when Michael finds out that she's married, although this fact seems to bother Michael more than it bothers Elsa. The next day, she sends her husband, the famous attorney, Arthur Bannister, to hire Michael to be a bosun on their yacht, which they're planning on sailing from New York to San Francisco, via the Panama Canal. Along the way, while things heat up between Michael and Elsa, they run into George Grisby, Arthur's business partner, who has an unusual proposition to make to Michael, which leads to the film's famous, and rather convoluted, ending inside an amusement park funhouse.
For the part of Elsa, Columbia suggested Rita Hayworth, one of their biggest female stars, thanks to films like Gilda. While on the surface this seems like a straightforward suggestion, what makes it dramatic is that Welles was married, but separated, from Hayworth at the time. And although the two moved back in together during filming, their divorce would be finalized before the film was released. Although it may have been difficult for the two of them, there's no denying the two of them share a chemistry and their own struggles surely must have played a part in what we see on the screen. Elsa and Michael are physically drawn together, although clearly they are a mismatch and some have interpreted the ending of this film as a commentary by Welles on his relationship with Hayworth. Whether that's true or not, they do provide one of the essential ingredients of a good film noir, and that is heat, and this despite the fact that Welles, never a traditionally handsome leading man, was already starting to gain the weight he would be famous for in his later years. Welles also made the decision to cut and dye Hayworth's famous long red hair, which infuriated Harry Cohn. Whether this was done in aid of the character, or as an act of revenge by Welles for being forced to use Hayworth, has been debated. Although it is odd seeing Hayworth with short hair, she is still undeniably beautiful with or without the hair.
Although this movie is dark and stylish, as you'd expect from a film noir, it is also quite funny in places. Glenn Anders as George Grisby provides plenty of comic relief with his strange manner of line delivery. He's odd and quirky in a sinister sort of way. And there are lots of other little funny moments thrown in, such as the background characters in the courtroom scene. There are also a few unintentionally funny moments in the scenes where the melodrama goes a bit too far and Welles' affected Irish brogue is so theatrical that I almost laughed out loud upon hearing it.
Unusually for a film in the 1940s, it was shot on location and features scenes in New York, Acapulco, and San Fransisco. Another interesting anecdote from behind the scenes is that the yacht used in the boating scenes was owned by Errol Flynn and the swashbuckling actor piloted it during filming.

The film's most famous scene is the climax in the hall of mirrors. Woody Allen featured it in the climactic scene of his Manhattan Murder Mystery. It is visually interesting and innovative as you'd expect from Welles and originally it was much more ambitious. However, while Welles' original cut for the film was over 2 and half hours long, the studio trimmed over an hour's worth of footage, some of which included the extra scenes in the amusement park. This edit also had the effect of making the plot, especially Grisby's scheme and Michael's easy acceptance of it, seem a bit nonsensical. As much as I admire Welles as an auteur, I think 90 minutes is the perfect length for this film, whose plot already sags a little in the middle.
While this isn't a perfect film by any means, it is odd, but entertaining. Fans of film noir in particular will find plenty of things to enjoy and thanks to the studio's ruthless edit, it never really has time to wear out its welcome, nor does it give you much time to think about the plot's weak points, at least while you're watching. Equally fascinating though, especially to fans of old Hollywood, are the stories behind its making, which I have briefly touched upon here. Many of the details of its making can be found on TCM's website.

Photos © Copyright Columbia Pictures (1948)