Movie Review
The Lady Eve
Paramount's vexiest picture!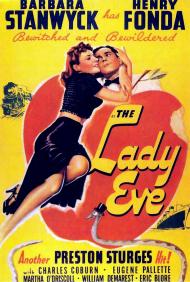 US Release Date: 03-21-1941
Directed by: Preston Sturges
Starring
▸
▾
Barbara Stanwyck

,

as

Jean
Henry Fonda

,

as

Charles
Charles Coburn

,

as

'Colonel' Harrington
Eugene Pallette

,

as

Mr. Pike
William Demarest

,

as

Muggsy
Eric Blore

,

as

Sir Alfred McGlennan Keith
Melville Cooper

,

as

Gerald
Martha O'Driscoll

,

as

Martha
Janet Beecher

,

as

Mrs. Pike
Robert Greig

,

as

Burrows
Dora Clement

,

as

Gertrude
Luis Alberni

as

Pike's Chef

Reviewed on:
February 14th, 2014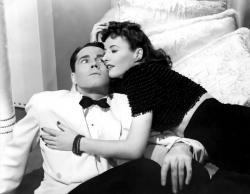 Henry Fonda and Barbara Stanwyck in The Lady Eve.
A handsome but naive millionaire and a beautiful scheming con artist meet on a cruise ship and sparks fly. With those simple ingredients Preston Sturges created an effervescent screwball comedy masterpiece called The Lady Eve. Barbara Stanwyck and Henry Fonda steam up the screen as they romance and fight their way through the picture. Sturges' trademark mix of slapstick and slightly naughty sexual innuendo combine to create a perfect comic blend. Stanwyck brazenly seduces Fonda while he pratfalls his way through this hilarious and seriously sexy movie.
Fonda plays Charles Pike, heir to the Pike Ale fortune. He has just completed a year long sojourn up the Amazon River. He boards a cruise ship where Jean Harrington (Stanwyck) and her equally avaricious father (Charles Coburn) await with greed in their eyes. Before she can cheat him at cards however, she falls in love with him. Their romance runs smoothly until he discovers her true identity. The second half of the movie takes place at the Pike estate where Jean shows up in the guise of the titular British dame seeking revenge. Or as she puts it to her father, "I need him like the ax needs the turkey."
The chemistry between Fonda and Stanwyck is electric. In their early scenes together onboard the ship they create some of the sexiest moments in movie history. She plays the dominant role, aggressively pursuing her prey. He is the innocent one who gets dizzy just from smelling her perfume. In one sensuously suggestive moment they are reclining together cheek-to-cheek in her stateroom (see photo) when he demurely reaches over and pulls the hem of her dress down a few inches, after-which she politely thanks him.
The supporting cast is filled with recognizable character actors of the day. Charles Coburn plays 'Colonel' Harrington, Jean's father. He may be a criminal but at least he has class. As he tells his daughter at one point, "Don't be vulgar, Jean. Let us be crooked, but never common." He has one particularly hilarious scene where he tries to fleece Fonda at cards while Stanwyck (who's fallen in love with their intended victim) foils his every move. William Demarest plays Fonda's suspicious valet, always hovering nearby, and Eugene Pallette shows up in the second half as Fonda's father.
This picture marked the first of numerous occasions that designer extraordinaire Edith Head would create gowns for Barbara Stanwyck. The wedding gown she designed for this movie caused such a sensation that it was copied and worn by many brides who dubbed it "the Lady Eve dress".
The Oscar nominated screenplay for The Lady Eve is one of the funniest scripts ever written. It is also without a doubt one of the sexiest screwball comedies ever made.
Reviewed on:
February 18th, 2014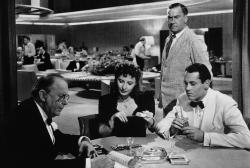 Charles Coburn, Barbara Stanwyck, William Demarest and Henry Fonda in The Lady Eve.
Preston Sturges was an established screenwriter by 1939, when reportedly he grew tired of the way directors were handling his written work and so traded his script of The Great McGinty to Paramount in lieu of a salary for the chance to direct it, although for legal reasons he was paid $10. Over the course of the next 5 years, he wrote and directed some of the best films of his age. Among the 8 movies he wrote and directed over this period were The Great McGinty (for which he won the very first Original Screenplay Oscar),Sullivan's Travels, The Palm Beach Story, The Miracle of Morgan's Creek and of course this one, The Lady Eve.
As Patrick wrote, this is a seriously funny screwball comedy. The fast-paced patter employed by the trio of con artists and the slapstick antics of the in over his head, rich scientist are a potent combination. When you add in a hilarious supporting cast and some very silly moments, you have a comedy classic.
Stanwyck is terrific as Jean. I've never considered her the most beautiful of Hollywood's Golden Age actresses, but she is very sexy here. Her confidence, humor, and looks, helped by the 25 different dresses designed by Edith Head, makes Fonda's Charles simple putty in her hands. The scene in her cabin aboard the ship where Charles helps Jean change shoes is dripping with so much sensuality that I'm amazed it slipped past the censors. Ironically, Sturges had to fight to cast her in the role as the studio wanted Madeleine Carroll or Paulette Goddard in the role.
Of course, even the sexiest moment in a Preston Sturges film is bound to contain some humor and this one is no exception. "You're certainly a funny girl for anybody to meet who's just been up the Amazon for a year." Charles tells her and Jean replies, "Good thing you weren't up there two years." And the humor continues for the entire film, building to a climax during the party at the Pike estate. The plot elements are often quite implausible, particularly Charles being confused over who the Lady Eve really is, but it hardly matters.
Along with Stanwyck and Fonda, who do share a fantastic chemistry, the supporting cast is recognizable and funny in their own right as Patrick mentioned. Many of them, such as Demarest, Al Bridge, Jimmy Conlin, Robert Dudley, Robert Grieg and Arthur Hoyt were Sturges regulars, being a part of a group of actors that he would hire again and again who came to be known as "The Preston Sturges Stock Company."
Sturges was already an up and coming director when this film was released, but its success cemented his position on the A-List. His career wouldn't last for long, but for a few years he was the best director working in Hollywood and one who paved the way for future writer/directors in the decades to come.

Reviewed on:
February 19th, 2014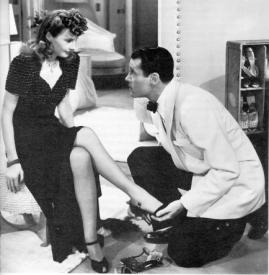 Barbara Stanwyck tempts Henry Fonda in The Lady Eve
Although the Hay's Code created a real headache for screenwriters who intended to put some sex into their stories, some, such as Preston Sturges, were clever enough to get around their scrutiny. In fact, much of this plot involves Charles' sexual innocence versus Jean's sexual know how. As my brothers wrote, Fonda and Stanwyck make a great team in this battle of the sexes where sex is the weapon at hand.
From the very first scene we see sex, or the lack thereof, at play. When leaving the Amazon, Muggsy says goodbye to a girl he has clearly "spent time with", while there is no girl bidding Charles adieu. Jean observes in the ship's dining room that Charles has no clue how to respond to all of the women flirting with him. This guy could get laid every night of this ship's journey by a different woman, except he has no clue how to go about it.
The scenes in their cabins aboard the ship are truly sexy. Jean plays this virgin with practiced ease. In her stateroom she gets him hot and bothered to distract him from the poker game they are about to have. The scene contains the sexy shoe change and ends with Jean asking Charles if he likes her perfume. A clearly worked up Charles goes in for the kiss and says in a bedroom voice, "I'm cockeyed on it." It is such obvious phrasing.
These early scenes are loaded with innuendo. The line before the ones about being up the Amazon is Jean leaning into Charles and purring, "Don't you think we ought to go to bed?" Of course she meant separately, right? Right? When in his stateroom, she again turns the poor sucker on, lying next to him while she plays with his hair. Here she asks him about what kind of woman he would like to marry. She asks if she would be like Marguerite from "Faust". As Marguerite is a fallen woman, Charles quickly says, "Oh, no, she isn't.-I mean she hasn't." This scene ends with a relaxed Jean dismissing Charles saying, "I think I can sleep peacefully now." The horned up Charles responds, "I wish I could say the same."
The first act is the better half of the film. As Jean is such a tease I did not completely buy that she and Charles were in love. I believe that he is so horny that he sees marriage as the path to sexual gratification. Just accept that they love each other as that is how they act. We soon see that his feelings are honorable when he discovers who Jean really is and his feelings are hurt. She has this piece of wisdom that he does not pay attention to. "You see, Hopsi, you don't know very much about girls. The best ones aren't as good as you probably think they are and the bad ones aren't as bad. Not nearly as bad."
As Patrick mentioned, the second act takes place at the Pike estate where Jean shows up and pretends to be someone else. I agree with Scott. The fact that Charles does not see that it is the same person is ridiculous. This act also pales from the first as Stanwyck and Fonda have less screen time together. The jokes are less sexual and more slapstick.
Here Charles's fondness for a virgin wife comes into play. At the start of their honeymoon, Eve tells Charles of all the men she has been with. It puts Charles out of the honeymoon mood. Will Eve/Jean get her revenge or will the tease and the virgin finally consummate their love?
The Lady Eve tempts the audience with sexual heat and clever dialogue. This ranks right up there with films such as Gilda (1946) when it comes to presenting a sexually charged story through "G" rated means. Although it loses some steam as it goes, this is a truly great romantic comedy.
Photos © Copyright Paramount Pictures (1941)