Movie Review
Lady and the Tramp
One of the Greatest Love Stories Ever Told.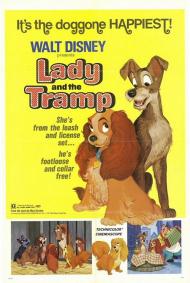 US Release Date: 06-22-1955
Directed by: Clyde Geronimi, Wilfred Jackson and Hamilton Luske
Starring
▸
▾
Peggy Lee

,

as

Darling / Si / Am / Peg (voice)
Barbara Luddy

,

as

Lady (voice)
Larry Roberts

,

as

Tramp (voice)
Bill Thompson

,

as

Jock / Bull - the Bull Terrier / Policeman at Zoo / Dachsie / Joe (voice)
Bill Baucom

,

as

Trusty (voice)
Stan Freberg

,

as

Beaver (voice)
Verna Felton

,

as

Aunt Sarah (voice)
Alan Reed

,

as

Boris (voice)
George Givot

,

as

Tony (voice)
Dal McKennon

,

as

Toughy / Professor / Pedro (voice)
Lee Millar

,

as

Jim Dear / Dog Catcher (voice)
The Mellomen

as

Dogs (voice)
Reviewed on:
February 16th, 2012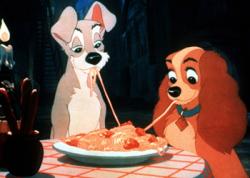 An iconic romantic moment in Lady and the Tramp.
Lady and the Tramp is one of the most charming and whimsical cartoons ever made. This story of a pampered Cocker Spaniel living in luxury before crossing paths with an elusive and cocky street-smart mutt named Tramp is well-known. Tramp shows the sheltered Lady an unforgettable night on the town before the satisfying and exciting finale. This romantic tale of love between two dogs from opposite sides of the tracks is nearly perfect. The artwork is enchanting, the characters memorably lovable and the voice-work excellent. In short Walt Disney's Lady and the Tramp is an animated classic.
This was the first cartoon ever made in widescreen. Walt Disney actually released two versions in 1955. One in Cinemascope and one in the old format since many theaters were not yet equipped to project widescreen movies. Lady and the Tramp was, at the time, the studio's biggest animated hit since Snow White nearly twenty years earlier. This was also Disney's first original story idea for an animated feature since Dumbo in 1941.
Much of the credit to this movie's success belongs to Peggy Lee. Not only did she provide the voice for four of the characters but she also sang several of the songs, as well as co-writing the score with Sonny Burke. As Peg she sings the torch song "He's a Tramp" during the scene at the dog pound. She also voiced the troublemaking twin Siamese cats, "We are Siamese if you please. We are Siamese if you don't please." And she co-wrote the ballad "Bella Notte (This Is the Night)" which is sung during the movie's iconic spaghetti eating sequence (see photo).
The friendly neighbor dogs Jock (the Scottish terrier) and Trusty the old hound dog who's lost his sense of smell, help propel the story along. Trusty provides some comic relief with his constant ramblings, "As my grandpappy, Ol' Reliable, used to say... I don't recollect if I've ever mentioned Ol' Reliable before?" As well as playing a key role in the movie's most shocking and heart-tugging moment.
Other memorable characters include the whistling beaver at the zoo (his whistling speech impediment would be recycled by Walt Disney for the gopher in a later Winnie the Pooh cartoon) and the menagerie of dogs at the pound. These include a Russian wolfhound named Boris, a British bulldog with a cockney accent, and a Mexican Chihuahua named Pedro. They have the following humorous conversation about Tramp's fondness for the fairer sex. Keep in mind their various accents.
Boris: "Ah, but remember, my friends. Even Tramp has his Achilles heel."
Pedro: "Pardon me, amigo. What is this chili deal?"
Boris: "Achilles heel, Pedro. This is meaning his, uh, weaknesses."
Toughy: "Oh! Oh, the dames. Yeah."
Bulldog: "He has an eye for a well-turned paw, he has. Let's see, there's been Lulu…"
Toughy: "Yeah, and Trixie..."
Dachsie: "Und Fifi..."
Pedro: "And my sister, Rosita Chiquita Juanita Chihuahua. I think."
But the heart of the story is of course the romance between Lady and her Tramp. Together they share a magical night of romance and adventure that will entertain adults and children alike. Although not really a holiday movie, Lady and the Tramp begins and ends on two equally heartwarming Christmas mornings. In between are 70 minutes of the most purely enjoyable animation you are ever likely to see. This is my personal favorite of all the classic Walt Disney cartoons.

Photos © Copyright Walt Disney Productions (1955)