Movie Review
La Vie En Rose
The extraordinary life of Edith Piaf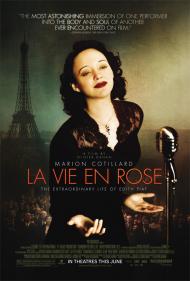 US Release Date: 06-08-2007
Directed by: Olivier Dahan and Sebastien Caudron
Starring
▸
▾
Marion Cotillard

,

as

Edith Piaf
Sylvie Testud

,

as

Momone
Pascal Greggory

,

as

Louis Barrier
Emmanuelle Seigner

,

as

Titine
Jean-Paul Rouve

,

as

Louis Gassion
Gerard Depardieu

,

as

Louis Leplee
Clotilde Courau

,

as

Anetta
Jean-Pierre Martins

,

as

Marcel Cerdan
Catherine Allegret

,

as

Louise
Marc Barbe

,

as

Raymond Asso
Caroline Sihol

,

as

Marlene Dietrich
Manon Chevallier

,

as

Edith - 5 years old
Pauline Burlet

as

Edith - 10 years old

Reviewed on:
January 27th, 2008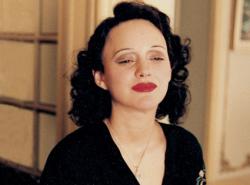 Marion Cotillard in La Vie En Rose.
I'd never heard of Edith Piaf before I watched this movie. The story of France's most popular singer from the 1930s until her death in 1963, had completely passed me by. Given that this movie covers the years of her greatest fame quite quickly and features many different characters who appear and then reappear later without an over amount of explanation, I would say that you will definitely get more out of this movie if you are already familiar with some of her story. I'll also say that this movie suffers from the usual musical bio-pic problem; that of when you've seen one musical bio-pic, you've pretty much seen them all. About the only real difference here is that it is mostly set in France.
You know the story, singer grows up under harsh conditions, gets there big break, finds fame, gets hooked on drugs and alcohol, makes bad choices in love, nearly loses it all before making a final comeback and then tragically dies at too young an age. Edith's life fits the standard mold of your average musical biography. Granted, her life was a bit harsher then some. She started life on the streets with her street-singer, neglectful mother, who abandoned her at a young age while her father fought in World War I. She then spent time in her grandmother's brothel, where the various hooker's raised her as their own. During this time she was blind for several years as a result of keratitis. After the war her father, an acrobat, took her with him and she began singing during his act on streets. As a teenager she got mixed up with pimps and gangsters. The owner of the first nightclub she worked at, where she gained her first real fame, was murdered by gangsters she had a connection with, but she was cleared of all charges. Eventually she found real fame and success, but then promptly fell into just about every pitfall that came in front of her right up until her death.
In doing some cursory research after watching the movie I discovered that it skims over several parts of her life. The most notable missing portion is the years during World War II when Edith kept performing in France, often for the Nazi's. When some accused her of being a traitor, she stated that she had actually been working for the French resistance, although there was never any proof of this. She was also responsible for launching Yves Montand's career, but apparently she dumped him when his fame began to rival her own. In the movie he only gets a brief mention.
The one thing this movie has going for it that makes it stand out as something special is the performance by Marion Cotillard in the lead role. She transforms herself into Edith throughout the movie at the various stages of her life, from a young ingénue, to a woman worn down by drugs and fast living in the twilight of her life. She won the Golden Globe for Best Actress in a musical, and to my mind, deserves the Oscar for Best Actress. Like Edith, I'd never heard of Marion before either, but I don't think this will be the last time I hear of her.
Visually, the movie looks good as well. It goes from World War I until 1963 and the various eras are portrayed realistically. Production values, from the costumes to the sets are all authentic and well done.
My problem with this movie is just that of being exhausted watching the redundant life stories of musicians and singers. One of my favorite comedies from last year, Walk Hard, poked fun very accurately at the genre. It's only the names and musical genre that seem to change. Hell, look at the movie Amadeus! This story is not new. Mozart lived out this same story over 300 years ago and still we're seeing the same old story trotted out again and again. Eventually you just have to say, I don't care how talented they were, I don't want to hear their life story.

Reviewed on:
January 27th, 2009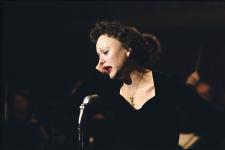 Edith Piaf, Frances answer to Judy Garland.
I, likewise had never heard of Edith Piaf, but I had heard her sing, and more than likely you have too. She is the singer on the record, playing in Saving Private Ryan, just before the Nazi attack. Her song, La Vie En Rose is the go to music whenever Hollywood wants a French song. It has been featured in dozens of movie soundtracks including; Sabrina (1954), Bull Durham (1988), French Kiss (1995), Something's Gotta Give (2003) and most recently WALL-E (2008).
Although her sound is unique, her life story, and this movie, is not. Edith lived in a whore house when she was a kid. In Lady Sings the Blues, Billy Holiday was a prostitute. Edith did not have a supportive family. In Funny Girl, Fannie Brice's mother makes fun of her looks. Edith had a spontaneous personality with occasional outbursts. In Cabaret, singer Sally Bowles is inclined to unpredictable behavior. Edith drank like a fish and did all kinds of drugs. In The Rose, Rose Foster can't make it down the stairs of an airplane because of her drugs and drinking. Edith has an unhappy love life. For whatever reason, every diva who ever lived seems to be incapable of having a long lasting, loving monogamous partner. Are painful life experiences the secret to communicating with an audience through song?
As Scott wrote, the real treat here is Marion Cotillard. She immerses herself into this role and plays Piaf brilliantly at many different ages. It is a grand performance, but I should ad that all of the above mentioned roles earned the actresses who starred in them Academy Award nominations and/or wins. There is something innately tragic about a woman who finds such broad admiration and success, but can never find true intimate happiness.
With a life filled with world wide popularity, drug use, erratic behavior and a divorce, I wonder how long before someone makes the Whitney Houston story? The movies already been written, they just need to change the names.
Reviewed on:
June 14th, 2011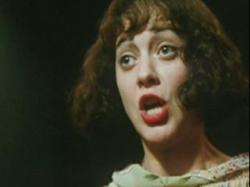 Marion Cotillard as the young Edith Piaf.
Perhaps it's because I'm the only gay member of Three Movie Buffs but I have been familiar with the name Edith Piaf since first reading the liner notes for Barbra Streisand's album of French songs, entitled Je m'appelle Barbra, back in the mid-1980s. Barbra recorded a song called "I've Been Here (Le Mur)" that had been written for Piaf but which she didn't live long enough to perform.
Marion Cotillard is mesmerizing as the tortured yet gifted chanteuse. She IS the Little Sparrow. I consider this to be one of the silver screen's greatest portrayals of a real person and she deserved the Oscar statuette she took home. She belongs to a select group of actors to receive Hollywood's top honor for a role spoken mostly in a language other than English. The others are Sophia Loren, Robert De Niro, Benicio Del Toro, Roberto Benigni and Christoph Waltz.
What I didn't like about this movie was the way it kept jumping around in time. I would have preferred a bit more chronology so that the arc of her life played out with greater impact. It is also too long and spends too much time on her Dickensian childhood and horrific final years without showing enough of her moments of artistic triumph.
As fascinating a life as she led we get only glimpses of it. I enjoyed the moment when Marlene Dietrich (played with uncanny resemblance by Caroline Sihol) stops by Edith's table at a nightclub. You can see that Edith is in awe of her and cannot believe the movie legend has come to compliment her.
Eric, you mentioned both Judy Garland and Billie Holiday. Edith Piaf has often been compared to them as they were all charismatically gifted performers of the same epoch that met with tragic early demises. Piaf was born the same year as Billie Holiday and her career trajectory was quite similar. She died at the age of 47, the same age at which Garland would die less than 6 years later.

Photos © Copyright Picturehouse (2007)