Movie Review
La Strada
You've been hearing about a great picture called La Strada (The Road)...now it is here!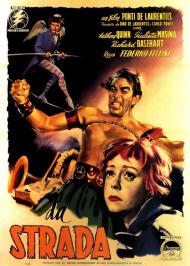 Italy Release Date: 09-22-1954
Directed by: Federico Fellini
Starring
▸
▾
Anthony Quinn

,

as

Zampano
Giulietta Masina

,

as

Gelsomina
Richard Basehart

,

as

Il Matto - The Fool
Aldo Silvani

,

as

Signor Giraffa
Marcella Rovere

,

as

La Vedova
Livia Venturini

as

La Suorina
Reviewed on:
February 5th, 2014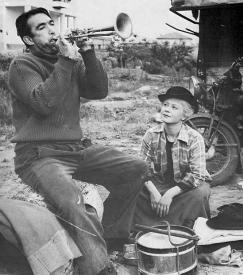 Anthony Quinn and Giulietta Masina in La Strada.
La Strada (The Road), by Italian auteur Federico Fellini, made quite a splash in the international pool of cinema in the mid-1950s. It won the very first Oscar for Best Foreign Language Film (1956) at the 29th Annual Academy Awards (in previous years -beginning in 1947- a special award had been given, in a noncompetitive category, to one foreign language film). Over the decades it has grown in stature as a very influential film. Martin Scorsese has publicly acknowledged the fact that he borrowed elements of the strongman Zampanò for both Taxi Driver and Raging Bull. In 1992 it placed fourth on a list of cinema's top ten films compiled by the British Film Institute, and no less august a personage than Pope Francis has called it his favorite movie of all time.
Its plot concerns a trio of characters whose lives are tragically interwoven. Anthony Quinn is perfectly cast as Zampanò, a brutish circus strongman. In the opening scene he buys a young woman from her destitute mother for 10,000 lire. The previous year he had purchased an older sister named Rosa but, alas, Rosa has died. Gelsomina (Giulietta Masina), a rather witless and far too credulous girl, accompanies Zampanò as they wander about the Italian countryside putting on a sideshow act for whatever meager earnings they can get. He treats her cruelly, often leaving her alone while he goes off on a drinking binge with prostitutes.
Eventually they cross paths with another street performer. Il Matto "The Fool" (Richard Basehart) he is called. He's a high wire specialist who has a bad history with Zampanò. At one point Zampanò gets thrown in jail. Il Matto keeps Gelsomina company and tries to instill in her a sense of self worth. He picks up a pebble from the ground and tells her that everything has a purpose. The bleak nature of the story turns tragic at this point but you'll have to watch the movie to see how it all plays out.
Fellini later stated that this was his favorite of all his films. One reason for this was the extreme difficulty he had in getting it financed and shot. He even suffered a nervous breakdown before it was finished.
To me the success of the movie belongs to Fellini's real life wife Guilietta Masina. She instills Gelsomina with such trust and innocence. She learns to play the snare drum, and trumpet, while she dances. She clowns and cavorts around with such free-spirited abandon. Masina was far from beautiful but her wide eyes and incredibly open and expressive face bring this pitiful waif so vividly to life. Gelsomina is someone we can all relate to and yet she's unique. Masina has often been called the "female Chaplin" and this role demonstrates why she was bestowed such a complimentary nickname.
There is nothing subtle about La Strada. The characters behave exactly as we expect them too. After all people don't really change as they traverse life's road. Or do they? The final scene alone suggests they might. In it lies the only glimmer of hope in this quintessential cinematic tragedy.
Photos © Copyright Ponti-De Laurentiis Cinematografica (1954)