Movie Review
La stanza del figlio
Italy Release Date: 03-09-2001
Directed by: Nanni Moretti
Starring
▸
▾
Nanni Moretti

,

as

Giovanni Sermonti
Laura Morante

,

as

Paola Sermonti
Jasmine Trinca

,

as

Irene Sermonti
Giuseppe Sanfelice

,

as

Andrea Sermonti
Sofia Vigliar

,

as

Arianna
Renato Scarpa

,

as

Headmaster
Roberto Nobile

,

as

Priest
Paolo De Vita

,

as

Luciano's Father
Roberto De Francesco

,

as

Record Store Clerk
Claudio Santamaria

as

Dive Shop Clerk

Reviewed on:
October 25th, 2013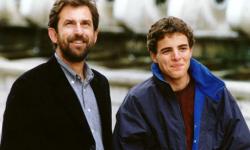 Nanni Moretti and Giuseppe Sanfelica in The Son's Room
The Son's Room (La stanza del figlio) could easily be dismissed as an Italian Ordinary People, but that would be selling it short. Both family dramas deal with the death of a son. Like the title of Robert Redford's film, the family featured here is meant to appear as typical and ordinary as possible. Both parents have careers. The father, Giovanni, is a psychoanalyst while the mother, Paola, works in publishing.
It seemed as if actor/director Moretti made the point to give the film a universal look. The daughter, Irene, plays basketball while the son, Andrea, plays tennis, two sports that are not specific to any country or continent. Filmed on the east coast of Italy, we never see any uniquely Italian landmarks such as Roman aqueducts or monuments. Except for the language spoken, this family could be your neighbors in any western country.
One Sunday, Andrea goes scuba diving with some friends and dies. The family grieves in what I can only assume are expected ways with crying and feelings of guilt. There are many poignant moments. At one point, a despondent Giovanni walks alone through a fair filled with loud happy people. As a parent, the most heart wrenching moment was when Giovanni and Paola discuss Andreas last moments on this earth, alone and scared.
Giovanni must spend his days listening to other people's problems while he himself is hurting so very terribly. He cannot seek comfort from his wife as she has closed down emotionally. In a brilliant scene, Giovanni talks to his wife about all the chipped and worn items in the dining room. He grabs a ceramic teapot that has been damaged and glued together so you would never know it was broken. He angrily pulls the handle off it. It is a very moving piece of symbolism.
Healing finally comes in the form of a little secret about Andrea. It is none too dramatic but it is enough to wake up Giovanni and Paola to the fact that, like it or not, they must move on with life.
As a father of two teenage sons, and having lived in Italy, I adored this film. The Italian language speaks to me like a phone call from an old friend. I related to Giovanni in some ways and hope to never have to relate to him in others. The Son's Room is a moderately paced, subtle drama that moved me. I like a film that draws emotions from me. It is what a good movie is supposed to do.
Photos © Copyright Rai Cinemafiction (2001)