Movie Review
The Knockout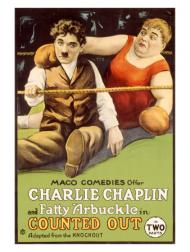 US Release Date: 06-11-1914
Directed by: Charles Avery
Starring
▸
▾
Roscoe (Fatty) Arbuckle

,

as

Pug
Minta Durfee

,

as

Pug's girlfriend
Edgar Kennedy

,

as

Cyclone Flynn
Charles Chaplin

,

as

Referee
Frank Opperman

,

as

Fight Promoter
Al St. John

,

as

Boxer, Pug's Rival
Hank Mann

,

as

Tough
Mack Swain

as

Gambler

Reviewed on:
December 15th, 2010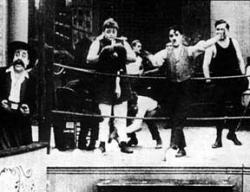 Mack Swain, Fatty Arbuckle, Charlie Chaplin and Edgar Kennedy.
The Knockout is a fast-paced slapstick mess from Mack Sennett's Keystone Film Studio in 1914. It stars Fatty Arbuckle as an incredibly strong man who beats up 4 other men and lifts 500 pound weights with ease. To impress his girl he signs up to box in an exhibition match where all hell breaks loose, leading to a culminating chase over rooftops and eventually winding up in the ocean.
The story is not very creative or interesting and the direction is uninspired. In fact the cast is the only reason this two-reeler is remembered at all. Many well known stars of the day have uncredited bit parts including Ford Sterling, Slim Summerville, Charley Chase and Mack Sennett himself.
Oh and besides Arbuckle there is a little comic you may have heard of named Charlie Chaplin. He has one scene playing the boxing referee during the fight. He wears the famous white face make-up and mustache of the Little Tramp but not the baggy clothes. His part consists of him gracefully dodging around the boxing ring between the two much larger fighters and occasionally getting hit with a punch. He then hilariously gets involved in the fight during the second round, easily making this scene the highlight of the movie.
The Keystone Kops also make an appearance at the climax after Arbuckle begins shooting up the fight hall. They chase Arbuckle, who is himself chasing his pugilistic opponent. At one point they interrupt a social affair going on in a wealthy families' home. You can tell they are wealthy by the bear skin rug on the floor, which in early silent movies was a nearly ubiquitous symbol for money.
The Knockout is predictable zany slapstick featuring two of the most famous silent clowns early in their careers.


Reviewed on:
January 13th, 2012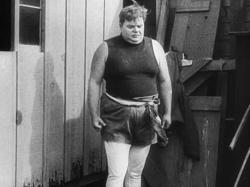 Fatty Arbuckle is ready to rumble in The Knockout
Silent film stars rarely shared top billing with another welll known star. I am not sure if this was ego or just a general practice. When two stars appeared together it was usually because one was not as big a star as they would later become. Silent stars instead, preferred to repeatedly employ the same supporting actors in their films.
The one silent star who seemed to enjoy sharing the screen with other actors was Fatty Arbuckle. Many of his early films were with Mabel Normand. He discovered and worked with Buster Keaton. He also worked several times with Charlie Chaplin. As Patrick wrote, the highlight of The Knockout is watching Arbuckle and Chaplin share the screen. Not surprising, their scene together is genuinely the funniest in the movie.
Whereas Chaplin's early shorts were just him mucking about, and getting into some mild mischief, Arbuckle's films actually had some plot. Here he finds himself forced into a boxing match by some trouble makers who flirt with Arbuckle's girl. But in a twist, Arbuckle is not playing a wimp, he is actually very strong and capable.
As Patrick mentioned, several stars make an appearance here, as did some of his family members. Arbuckle's shapely girl was played by his first wife. Arbuckle's nephew Al St John, has a small role. Even Arbuckle's dog Luke, makes another showing. He appeared in more silent films than some human actors.
The Knockout is not the best silent short, but the cast alone makes this a must see for fans of silent films.
Reviewed on:
January 13th, 2012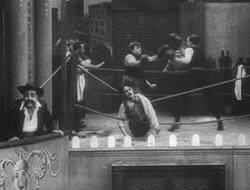 Chaplin gets hung up on the ropes in The Knockout.
I agree with both of you that the boxing scene is easily the best scene in the whole short despite being horribly framed. Instead of centering on the fight, it is kept off center so that the spectator with the walrus moustache can be kept in the shot. They should have just occassionally cut to him. Although, perhaps the director can be partially forgiven since he couldn't know that he was filming two men who would one day become comedy legends.
All of these early shorts feature pratfalls and slapstick and this one is no different, except that quite a few of them are really bad. During the brick throwing especially the timing is horrible and either you can see that the person is preparing to fall or they hesitate for a quick second after being hit before they fall. Once you've seen how graceful and natural a pro like Buster Keaton could do those falls, it becomes obvious when someone is doing them badly.
The short does get slightly more entertaining as it goes along. The second half is much better than the first. The fight and the chase by the Keystone Kops contain many more laughs than in the first 10 minutes, which merely feel like a prelude to the boxing match.
It's interesting to see Arbuckle and Chaplin together. I was reminded of the old DC/Marvel comics crossovers where Spiderman would meet Superman. Unfortunately, Chaplin's appearance is no more than a glorified cameo. Still, it's the most interesting thing in an otherwise run of the mill short.
Photos © Copyright Keystone Film Company (1914)