Movie Review
Kissing Jessica Stein
When it comes to love, sometimes she just can't think straight.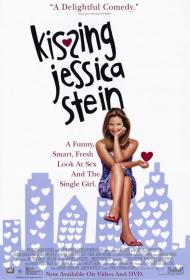 US Release Date: 03-13-2002
Directed by: Charles Herman-Wurmfeld
Starring
▸
▾
Jennifer Westfeldt

,

as

Jessica Stein
Heather Juergensen

,

as

Helen Cooper
Tovah Feldshuh

,

as

Judy Stein
Esther Wurmfeld

,

as

Grandma Esther
Robert Ari

,

as

Sidney Stein
David Aaron Baker

,

as

Dan Stein
Ben Weber

,

as

Larry
Scott Cohen

,

as

Josh Myers
Jackie Hoffman

,

as

Joan
Brian Stepanek

,

as

Peter
John Cariani

,

as

Chuck
Michael Mastro

,

as

Martin
Carson Elrod

,

as

Sebastian
Michael Ealy

,

as

Greg
Jon Hamm

,

as

Charles
Jim J. Bullock

,

as

Not-Yet-Out Gay Guy
Idina Menzel

as

Bridesmaid

Reviewed on:
March 15th, 2002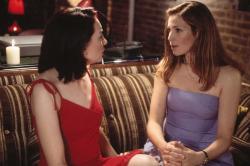 Heather Juergensen and Jennifer Westfeldt in Kissing Jessica Stein.
Kissing Jessica Stein is a funny, sweet, and intelligent love story with an original twist, told with an honest sweetness.
The plot centers around a copy editor, Jessica Stein, who, tired of the dating treadmill, leaps at an ad placed in the personals section that seems to describe the perfect person for her, despite the fact that the ad is from the Women Seeking Women section. She meets Helen, a wild, sexually experimental, Art Gallery Manager, who also, until now has been straight, but decided to give lesbianism a try, since it's one of the few sexual things she's never tried.
It is the chemistry between these two leads which makes this movie. And I don't mean sexual chemistry, since if you come to this movie expecting anything like sexual titillation, you will be sorely disappointed, apart from some kissing, all of the sex takes place off camera. No, the chemistry I refer to, is the repressed, snobbish, girl-next-door character of Jessica, rubbing up against (no pun intended), the free-spirited, wild girl of Helen. They grow to appreciate each other, and to love each other, and finally, to know each other and themselves while we watch.
Jennifer Westfeldt is terrific in the title role. She is a sort of younger, gayer, female version of Woody Allen and Diane Keaton from Annie Hall, combined. Heather Juergensen, who definitely has the supporting role, comes across a little two-dimensional, due to the way the script was written. By the end of the movie, she's still pretty much the way she was at the start, and with little to no explanation as to how she became that way. Together, the actresses also wrote the screenplay, based on a script for an off-Broadway play they had written.
Witty and intelligent, Kissing Jessica Stein, is a Love Story with a difference.

Reviewed on:
March 18th, 2002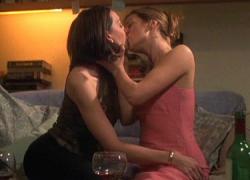 Heather Juergensen and Jennifer Westfeldt in Kissing Jessica Stein.
Kissing Jessica Stein is a witty little film about girls who are almost lesbians. They have sex, but not because they actually are lesbians. They are lesbians more out of curiosity.
Many men fantasize about having sex with two women who would do many things to him as well as to each other in the process. This is discussed in the movie. Two guys looking to score, talk to Jessica and Helen at a bar. Helen asks the question about lesbians and male fantasy. It was the only scene in the movie I could genuinely relate to.
Don't jump to conclusions Patrick. I was not bothered by the gay theme of the movie. I was bothered by the whole sexually ambiguousness of it. Are Helen and Jessica gay? Helen has had more dick than her gay friend, and he was a slut in the 80's. Jessica, for the most part, really acts uninterested in gay sex.
Scott's comparison to Annie Hall was fairly accurate. A New York locale and some witty dialogue make for an easy comparison. I could just hear Woody saying Helen's best line, 'Who do you gotta blow to get some pussy around here?'
Reviewed on:
May 24th, 2013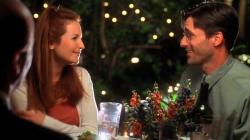 Jennifer Westfeldt and Jon Hamm in Kissing Jessica Stein.
The best thing about this movie is the script. I agree that it's witty, intelligent and Woody Allen-esque. Like Allen has been doing for decades, it really captures the nuances of neurotic New York Jewish speech patterns. For example, at one point Jessica exclaims, "I was surprised to learn that lesbians accessorized, I didn't know that." Or how about this exchange between Helen and Jessica...
Helen: "What does your therapist say about all of this?"
Jessica: "Oh, I could never tell my therapist."
Helen: "Why not?"
Jessica: "Because it's private."
The problems with the movie are also due to the script. I am in complete agreement with Eric (did I just write that?) that these women don't seem genuine as lesbians. They are both written so as to be as non-threatening as possible. Especially to straight men. The scene Eric mentioned where two men attempt to pick up Helen and Jessica without realizing they are on a date together being the most blatant example.
These are two very attractive and feminine lipstick lesbians. Helen is the more experienced of the two but, as previously mentioned, she has a history of promiscuous sex with many men. That doesn't sound like any lesbian I've ever met. And as for Jessica, it turns out she was just experimenting and toying with the idea of Sapphic love. Like many women she places intimacy and the emotional give and take of a relationship over the act of sex itself.
The supporting cast features several actors that have since gone on to greater success. A bespectacled Jon Hamm (see photo), now a household name after playing Don Draper on AMC's Mad Men for six seasons, has one scene as a blind date set up with Jessica. In real life he and Jennifer Westfeldt have been a couple since 1997. A very young looking Michael Ealy has a few short scenes as one of Helen's numerous fuck buddies and Idina Menzel has a cameo as a bridesmaid.
As Scott said, the two leads do have decent comic chemistry together but as a romantic couple they never ring true. And to me the ending feels like a cop out. SPOILER ALERT: Jessica turns out to be safely heterosexual after all. She winds up with a man and she and Helen remain just good friends...
Photos © Copyright Fox Searchlight Pictures (2002)