Movie Review
Kiss Kiss Bang Bang
A bad week in a tough town.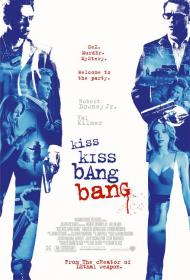 US Release Date: 10-21-2005
Directed by: Shane Black
Starring
▸
▾
Robert Downey Jr.

,

as

Harry Lockhart
Val Kilmer

,

as

Gay Perry
Michelle Monaghan

,

as

Harmony Faith Lane
Corbin Bernsen

,

as

Harlan Dexter
Dash Mihok

,

as

Mr. Frying Pan
Larry Miller

,

as

Dabney Shaw
Rockmond Dunbar

,

as

Mr. Fire
Shannyn Sossamon

,

as

Pink Hair Girl
Angela Lindvall

as

Flicka

Reviewed on:
November 24th, 2005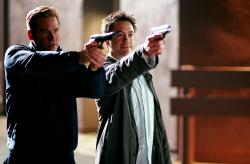 Val Kilmer and Robert Downey Jr. in Kiss Kiss Bang Bang.
Kiss Kiss Bang Bang is a dark comedy that takes a hard boiled detective story combines it with a buddy movie and then turns both of them completely on their heads. The result is one of the funniest and most entertaining movies of the year.
Robert Downey Jr. stars as Harry, a small time New York criminal who while on the run from the police following a botched robbery, runs unknowingly into an audition for a new movie. Under the stress of his escape and the guilt of having just seen his partner get killed, he delivers an unexpectedly great performance and the casting director wants to send him to California for a screen test. Thinking it might be a wise idea to get out of town for a while, Harry jumps at the chance.
Upon arriving in Hollywood he is assigned by the studio to work with Gay Perry (Kilmer), a private detective whose first name is also a lifestyle. The two mix together like oil and water. Perry is as smooth and urbane as Harry is jittery and uncouth. On their first night together, while on an innocent surveillance mission, they witness someone disposing of a body instead.
To further complicate the plot, Harry runs into a girl that he knew in high school and who now, thinking that he's a real detective, wants to hire him to find out what happened to her little sister. Naturally, before you can say Sam Spade, the two mysteries Harry is involved in turn out to be neatly entwined.
Like so many detective stories, this one is narrated by the lead. Only Harry's narration is hilariously unique as he not only comments on the action, but often time rewinds to point out something he forgot to mention or makes something up that appears onscreen, only to repeat it as it really happened. It's a clever device used to good effect.
Given both Downey and Kilmer's reputation for being difficult actors, I was surprised that someone would cast them together in one movie. Whatever they might be like off screen though, they are brilliant together while on screen. They bicker and argue, with Kilmer as Perry, getting in some great insults to the somewhat slower on the uptake, Harry.
For those who like their comedies a little dark, a little twisted and completely hilarious, Kiss Kiss Bang Bang will come as a welcome treat.

Reviewed on:
July 6th, 2006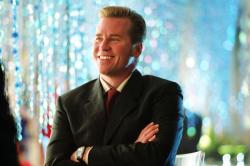 Val Kilmer in Kiss Kiss Bang Bang.
Kiss Kiss Bang Bang is nearly a film noir satire. However, Harry is no Sam Spade. It takes him longer than everyone else to figure things out and none of the girls he meets want to sleep with him. He narrates, but as Scott wrote, they are half ass attempts. They are funny but they disappear from the screen for extended periods at a time so when they started up again I had forgotten that he was even narrating.
Kiss Kiss Bang Bang wants to be to many things at once, a comedy, a thriller and a love story. It gets lost somewhere in the middle. Harry is a loser, and although he has a Mel Gibson/Martin Riggs moment near the end of the movie he still never becomes anything more than a schmuck who falls into interesting situations.
Kilmer, as Perry, gets all of the best lines in the movie. They are usually directed at the hapless Harry. "I don't think you'd know where to put food at, if you didn't flap your mouth so much. Yes I think you're stupid." "No, she's just resting her eyes for a minute. Of course she's fucking dead, her necks broken." His best line comes at the end when he joins Harry's narration to the audience,"To all you good people in the Midwest, sorry we said "fuck" so much." Not only is it a funny line but it also shows what Hollywood thinks of Midwesterners.
Kiss Kiss Bang Bang is good for many laughs but with it's confusing style and uncommitted main character, it never completely drew me in.
Reviewed on:
April 11th, 2009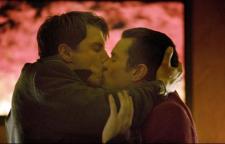 Downey jr. and Val Kilmer share a kiss as Harry and Perry.
For a first time director Shane Black knows his stuff. He takes elements from several genres and mixes them together beautifully. Even the retro titles give an homage to Saul Bass. The plot is dense enough to keep you guessing without being overly complicated. I hate when murder mysteries try too hard to confuse the audience. The dialogue is crisp and clever. The three main characters are interesting and well acted, and the action is more gritty realism than over-the-top summer blockbuster.
The weakest aspect is the romance between Harry and Harmony. They seem like better friends than lovers. I don't see them settling down together. And since the final scene is between Harry and Perry I guess the director didn't either.
Harry is a great character. Downey Jr. is spectacular in this role. He gets to be funny, cynical and romantic like Rick Blaine. In fact Harry is definitely a Bogart personality. The scene where he first kills someone and then gets his finger eaten by a dog is a brilliant piece of dramatic acting. Perry is likewise a great character. He is smart, educated and smooth under pressure. This is a Cary Grant role. It was refreshing to see a gay man portrayed as a tough detective. I would love to see another movie featuring Harry and Perry solving a mystery together.
Photos © Copyright Warner Bros. (2005)