Movie Review
Kinky Boots
How Far Would You Go To Save The Family Business?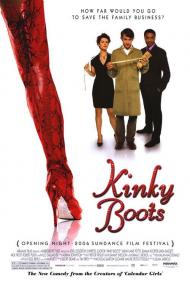 US Release Date: 04-14-2006
Directed by: Julian Jarrold
Starring
▸
▾
Joel Edgerton

,

as

Charlie Price
Chiwetel Ejiofor

,

as

Lola
Sarah-Jane Potts

,

as

Lauren
Nick Frost

,

as

Don
Linda Bassett

,

as

Mel
Jemima Rooper

,

as

Nicola
Robert Pugh

,

as

Harold Price
Ewan Hooper

as

George

Reviewed on:
December 17th, 2006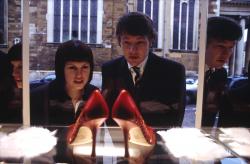 Sarah Jane Potts and Joel Edgerton in Kinky Boots.
Every year it seems that a British film is released that wants to be the next The Full Monty. This year's entry is Kinky Boots. It's an entertaining film with some good performances, but it never manages to evoke the same depth of emotion that The Full Monty did and so ultimately falls short.
Joel Edgerton stars as Charlie Price, the son of a shoemaker who unexpectedly is forced to take over the family business when his father dies. He quickly discovers that the business is in danger of going under unless he can come up with a new market to whom to sell his wares. A chance meeting with Lola (Chiwetel Ejiofor), a drag queen, following a drunken night on the town, gives him the idea to start making men's size lady footwear for transvestites.
While Joel is the star, Chiwetel steals the movie. He finds himself facing some initial opposition from the factory workers in the Northern English town of Northampton when he arrives to act as their new shoe designer, but he manages to win them over as well as the audience. As a consequence, he ends up the most interesting character in the film. His Golden Globe nomination is deserved.
The one problem I had with the plot of the movie is that Charlie's leap in deciding to put the entire future of his business and his own personal finances on the line by changing markets so dramatically is never fully explained. Yes, he needs to do something to save the business, but he puts his faith so quickly into this untried idea that it seems unrealistic or at least never fully explained. But then the character of Charlie doesn't seem fully-formed. He changes several times. At first he doesn't want to be a part of the business, but then its forced upon him, and then he decides its his life work. He's accepting of Lola, but then he's embarrassed by her. His lack of consistency is partly explained by the script, but not enough.
Although the movie truly only focuses on Charlie and Lola, there are a few entertaining smaller roles that are never really explored. Nick Frost plays Don, the employee who rejects Lola the most, but who eventually comes around. Sarah Jane Potts is the female employee, who you can see from very early on, will end up with Charlie, despite Jemima Rooper, who plays Charlie's fiancee. They all do a good job, but are only their to support Charlie and Lola as the leads. Unlike The Full Monty, this isn't an ensemble movie.
Kinky Boots is a nice little movie. One worth watching if you have the opportunity, but it's never quite as good as it could have been.

Reviewed on:
January 18th, 2010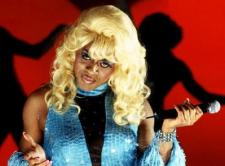 Chiwetel Ejiofor in Kinky Boots.
Kinky Boots is by every account, not quite as good as it could have been. On the DVD we are told that this movie was inspired by a BBC documentary about a real shoe factory that decided to switch to making ladies boots for men. It starts there and ends on social acceptance.
As Scott wrote, the characters never ring true. Lola is all brass and ass one minute, and the next is reserved and nervous. Don is the stereotypical homophobe. It does not make sense that Lola would cow tow to such a rube. That part of the story seemed very forced. Lola plays the Hollywood stereotype of the nice drag queen. Every movie cross dresser post Tony Perkins in Psycho, has been as pleasant and likable as Maria Von Trapp.
As a larger than life character, Lola is supposed to provide the movies biggest laughs. Sometimes she delivers, "A drag queen puts on a frock, looks like Kylie. A transvestite puts on a frock, looks like... Boris Yeltsin in lipstick. There, I said it." Sometimes not so much, "Came all this way for my advice? I feel like Oprah!" She does however, explain why boots can look so good on a woman, "Look to the heel, young man. The sex is in the heel." She snaps at Charlie.
Whether or not the factory succeeds is made secondary to Lola getting along with the small town folk. Less social commentary and more lines like Lola yelling about high heeled boots, "SEX, shouldn't be comfy!" and a factory employee noting, "Thank God, I thought it was just me!" would have helped.
Reviewed on:
March 8th, 2013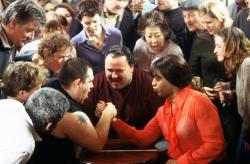 Nick Frost, Chiwetel Ejiofor and cast in Kinky Boots.
Eric, you wrote, "Every movie cross dresser post Tony Perkins in Psycho, has been as pleasant and likable as Maria Von Trapp." Now I'll admit that's a clever line but it's far from true. Have you ever heard of Divine? (The cha-cha pumps song Lola sings is an homage to Divine in Female Trouble). She was neither pleasant nor likable in her movies directed by John Waters. And didn't the killer in Silence of the Lambs dress up in drag? In the 1980 thriller Dressed to Kill, the murderer is a male to female transgendered person played by Michael Caine in a wig and a gown. No Eric, drag queens, when they aren't being used for a laugh, are often villains.
I disagree that the characters don't ring true. Simon/Lola is a fully rounded person. Like most drag queens she is tough on the outside but warm and accepting on the inside. As she explains it, "Put on a frock and I can sing 'Stand by Your Man' in front of five hundred strangers... Put on a pair of jeans and I can't even sodding well say hello." Don has never met anyone like Lola before. He is a tough bloke but far from a "stereotypical homophobe". Lola instinctively senses the kind person lurking beneath the surface. They bond in the scene where they arm wrestle and Lola secretly lets Don win in order not to hurt his masculine pride in front of everyone (see photo). From then on they are unlikely friends.
Although Lola gets the best lines, "Ladies, gentlemen and those who are yet to make up your mind." Charlie gets a few good ones as well. I like how he explains his plans regarding his company, "The factory that started the century providing a range of footwear for men will go into the next century providing footwear for... a range of men."
Kinky Boots could have been funnier and it does have a saccharine sweet ending but I rather enjoyed it. It has been adapted into a Broadway Musical written by Harvey Fierstein and Cyndi Lauper that opens this year (2013). Lola sings several classic songs in the movie (I kept waiting for "These Boots are Made for Walking" and I wasn't disappointed), which I'm sure they've replaced with original tunes written by Lauper for the stage version. Inspired by a true story Kinky Boots is a fun bit of fluff.
Photos © Copyright Miramax (2006)