Movie Review
The King's Speech
The nation awaits...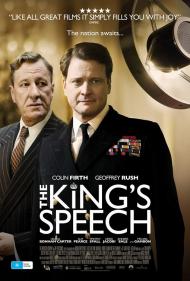 US Release Date: 11-26-2010
Directed by: Tom Hooper
Starring
▸
▾
Colin Firth

,

as

King George VI/Duke of York
Geoffrey Rush

,

as

Lionel Logue
Helena Bonham Carter

,

as

Elizabeth Duchess of York
Derek Jacobi

,

as

Archbishop Cosmo Lang
Robert Portal

,

as

Equerry
Richard Dixon

,

as

Private Secretary
Calum Gittins

,

as

Laurie Logue
Jennifer Ehle

,

as

Myrtle Logue
Dominic Applewhite

,

as

Valentine Logue
Ben Wimsett

,

as

Anthony Logue
Freya Wilson

,

as

Princess Elizabeth
Ramona Marquez

,

as

Princess Margaret
Michael Gambon

,

as

King George V
Guy Pearce

,

as

King Edward VIII
Claire Bloom

,

as

Queen Mary
Orlando Wells

,

as

Duke of Kent
Tim Downie

,

as

Duke of Gloucester
Eve Best

,

as

Wallis Simpson
Timothy Spall

,

as

Winston Churchill
Roger Parrott

as

Neville Chamberlain

Reviewed on:
November 28th, 2010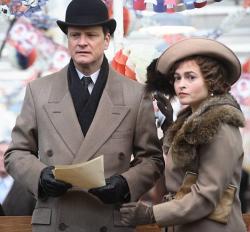 Colin Firth and Helena Bonham Carter as the Duke and Duchess of York.
I want to go on record right now with the prediction that The King's Speech will win Oscars for Best Picture, Best Original Screenplay and Best Actor. This is the sort of grandiose, beautifully wrought period picture that the Academy loves to bestow honors on. And besides that it is one hell of a great movie.
The King's Speech tells the story of how Great Britain's Duke of York, second son of King George V, overcame his stutter to become king in 1936. He ascends to the throne when his older brother, King Edward VI, abdicates in order to marry the twice divorced American socialite Wallis Simpson. (This made me think of the scene in The Way We Were where Katie excitedly tells Hubbell, "Mrs. Simpson married the Duke of Windsor.") King George VI would reign as the last Emperor of India, the last King of Ireland and the first Head of the Commonwealth. He died in 1952 and was succeeded by his eldest daughter Queen Elizabeth II.
Colin Firth gives another brilliant performance. Last year he deserved the Oscar for A Single Man. That loss should only add to his chances of winning this time around. He makes the man called "Bertie" by his family and friends seem like a real person. He is certainly of royal breeding but also has a rather bawdy sense of humor. The funniest bit in the movie has to do with him using a swearing technique to overcome his speech impediment.
Geoffrey Rush plays Lionel Logue a speech therapist who becomes one of the King's closest friends. He helps the King prepare for and get through his historic speech when Great Britain declares war on Germany in 1939. Logue provides the comic relief and represents the common man, someone unlike anyone the sheltered Duke of York has previously encountered.
Helena Bonham Carter makes a lovely Duchess of York, the woman remembered today as the tottering Queen Mum who lived well past her 100th birthday. Carter plays her as a kindhearted and devoted wife. We also get a glimpse of Queen Elizabeth II and her sister Princess Margaret as young girls, as well as a few scenes with the legendary Winston Churchill (played by Timothy Spell, Harry Potter's evil sniveling Wormtail).
I'm far from a student of the British Monarchy so the details in the lives of these historical figures were vague at best in my mind. King George V is portrayed as a stern though benevolent figure while King Edward VI is shown as a rather ineffectual romantic. The script certainly isn't kind to Wallis Simpson.
The King's Speech is the type of movie tailor made to win awards. The fact that it also delivers pure unadulterated entertainment is quite a cinematic achievement.

Reviewed on:
December 25th, 2010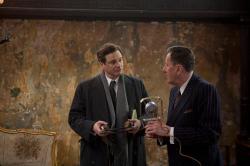 Colin Firth and Geoffrey Rush in The King's Speech.
I'm not willing to commit to saying that The King's Speech will win all those Oscars Patrick, but certainly it will be nominated for them and deservedly so. It is easily one of the best movies of the year and Colin Firth gives one of the very best performances of the year as the stammering King of England.
This is an actor's movie and the three leads are absolutely brilliant. Helena captures the spirit of the Queen mum. Her and Firth's Bertie share a genuine love, between them both and with their children that is both touching and extremely English in that it is a very stiff upper lip, keep calm and carry on, repressed love rather than a fiery and passionate love affair. Yet it is still very obviously a deep and abiding relationship.
Rush is a great actor and gives another fine turn here as Logue. He does provide quite a bit of the comic relief as Patrick said, but he also creates a very real and sympathetic character in his own right.
The script is filled with witty repartee and banter along with likable characters with whom you can empathize with. Combined with the performances this makes for a very funny, yet touching and emotional movie that is highly entertaining.
Having said all that, I do have to point out that it is also filled with historical inaccuracies that don't dampen the entertainment value, but which would have been just as easy to get right as wrong. As an example, Churchill actively opposed the abdication of Edward, where here he is shown in favor of it. The stories espoused here regarding Mrs. Simpson; the roses from Von Ribbentrop and the tales of her behavior in Shanghai were well known gossip that no one seriously believed. Most glaringly of all though is that Logue did most of his work with George in the 1920s and the future King had his stammer mostly under control long before his coronation.
I still found this movie to be very enjoyable despite the poetic license with the details. The moments when Bertie and Lionel are alone together during their sessions are the best scenes and those are the moments when it doesn't matter how accurate the backstory is because these are two highly polished actors given a brilliant script to work from who are making movie magic together.

Reviewed on:
January 17th, 2011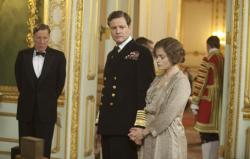 Rush, Firth and Carter
Someone needs to make a quality movie about the love story of The Duke of Windsor and Mrs Simpson. As Patrick wrote, neither gets a favorable depiction here. Rumors surrounded Simpson and after Edward's death she became a recluse. Any film would be speculation at best, but there must have been some affection between them either way.
This film makes very good points about perception. Everyone sees Simpson as a slut. Bertie assumes Logue is a doctor. One interesting scene has Elizabeth ask Bertie what Hitler is saying in a newsreel. Bertie responds, " I don't know, but he seems to be saying it very well." How you say something is just as important as what you say.
The speech King George makes at the end is astonishing. He struggles through it by reading slowly and pausing often. It actually makes the speech more effective. When you just hear his speech and not see him delivering it, the speech is all the more moving. The dramatic pauses seem to empathize the gravity of the words. His stammering ends up serving him, instead of hindering him.
Firth definitely deserves recognition for his work here, but so does Rush. This is easily my favorite role of his. Logue is not scared to stand up to Bertie and treat him as an equal. Rush plays him as a man who knows who he is and where he wants to go. There is a shred of sadness to him as he was never able to become an actor. The theme of the film is overcoming personal issues. Even Elizabeth states she hesitated to accept Bertie's marriage proposal as she did not want a public life.
Photos © Copyright See Saw Films (2010)