Movie Review
The King and Four Queens
THE KING TANGLES WITH FLESH AND FLAME IN THE HOTTEST WESTERN EVER MADE!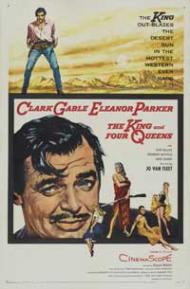 US Release Date: 12-21-1956
Directed by: Raoul Walsh
Starring
▸
▾
Clark Gable

,

as

Dan Kehoe
Jo Van Fleet

,

as

Ma McDade
Eleanor Parker

,

as

Sabina McDade
Jean Willes

,

as

Ruby McDade
Barbara Nichols

,

as

Birdie McDade
Sara Shane

,

as

Oralie McDade
Roy Roberts

as

Sheriff Tom Larrabee

Reviewed on:
August 18th, 2011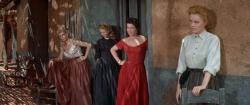 They are beautiful, lonely and bored. Just ripe for the picking.
The King and Four Queens has the plot of a pornography film. A man finds himself alone in an abandoned old settlement with four young, beautiful horny woman. Made in 1956, nothing more than kissing is shown, but it implies that he has sex with one of them. Written by a woman, the story is filled with sexual innuendos and plenty of flirtations.
The great Clark Gable, in the sunset of his career, plays a wandering cowboy with a highly questionable past. He comes upon a small western town where he hears a tale about some hidden gold. Two years prior, four brothers stole some gold, dropped it off at their mother's place at the abandoned settlement, and then took off, only to be ambushed. Three of the brothers were killed while one is still alive somewhere, but no one knows which.
Staying with their mother is their three widows and one wife. However, the brother's bodies were never identified before being buried so no one knows whose husband is still alive. All the women are waiting for him to come home to claim them and the gold. In the meantime, Mama rules the girls with an iron fist never telling any of them where she hid the gold.
Gable shows up and immediately starts working the charm on the four women, hoping to find out where the gold is. He does not have to work very hard as all four woman are bored and ready for company. Sabina is the smart one. Ruby is the man eater, who clearly knows how to use her sexuality. Birdie is a buxom blonde air head saloon girl. Oralie is the innocent religious one. All see Gable as a way out of their situation.
Sabina tries to trade sex for his help. He appeals to Oralie through gospel music and sweet talk. Birdie, who has a wardrobe full of low cut dresses, finds Gable skinny dipping and tries to join him. He makes the best connection with Sabina, who early on tells him, "I wouldn't trust you with a snowball in a blizzard."
Gable and Parker share some good sexual chemistry. Parker, "Don't play any games with me Mr Kehoe." Gable gives her his world famous, all knowing smile and responds, "There are a couple of games I'd like to try." The women survive by selling eggs. Parker informs Gable at one point that, "The hens aren't laying." He looks her in the eye and suggests, "Maybe you need a new rooster?"
Filmed mostly on location in Utah, the movie has a good look that only suffers when they use a sound stage in replacement of actually being outside. You can never truly replicate outdoors, inside. Another flawed scene is one that is supposed to take place in the middle of the night, yet was clearly filmed before the sun had completely set.
Gable finding the gold is not as exciting as it could have been, but watching him work his charm on these lovely ladies is like taking a class in seduction. Interesting note is that Gable was 55 years old while the girls ages ranged from 28-34. Jo Van Fleet, who made a career out of playing mothers of delinquent sons, was 13 years younger than Gable, but he never even attempts to flirt with her. At only 86 minutes, The King and Four Queens packs in plenty of fun and a bit of mystery, without ever over staying its welcome.
Photos © Copyright United Artists (1956)