Movie Review
The Kid Brother
Hooray for Harold Lloyd!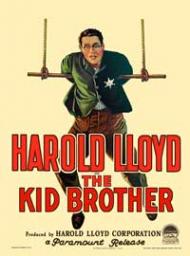 US Release Date: 01-27-1927
Directed by: J.A. Howe, Ted Wilde
Starring
▸
▾
Harold Lloyd

,

as

Harold Hickory
Jobyna Ralston

,

as

Mary Powers
Walter James

,

as

Sheriff Jim Hickory
Leo Willis

,

as

Leo Hickory
Olin Francis

,

as

Olin Hickory
Constantine Romanoff

,

as

Sandoni
Eddie Boland

,

as

Flash Farrell
Frank Lanning

as

Sam Hooper

Reviewed on:
January 27th, 2001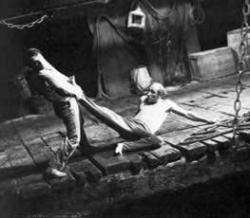 Harold Lloyd in The Kid Brother.
Although not as well known as Safety Last, Speedy or The Freshman, Harold Lloyd's The Kid Brother is, in my opinion, his funniest movie. It probably helps that I have very vivid memories of watching it with my brothers as a child. It is classic Harold Lloyd as the underdog turned hero in the last reel.
This time around he is Harold Hickory, the youngest son of tough Sheriff Jim Hickory of Hickoryville. Unlike his two hulking older brothers, Leo and Olin, Harold is small in stature and meek in temperament. While they do the manly job of running the farm he fills in for their dead mother by doing the washing, cleaning and cooking.
One day a traveling medicine show comes to town and Harold's life changes forever. First he meets the lovely Mary Powers (Jobyna Ralston). When the traveling show burns down Harold invites Mary to stay with his family. Then when thugs from the medicine show steal the town's money and Sheriff Hickory is accused of the theft, Harold sets out to find the real crooks, reclaim his father's good name and impress Mary with his heroics.
There are many classic Harold Lloyd bits in this movie. In one scene, after walking with Mary through the countryside he reluctantly says goodbye to her and as she starts to descend a hill Harold climbs a tree in order to see her again and call out a question to her. Then he must climb higher and higher in the tree in order to keep her in his line of vision as she descends farther and farther down the hill. The scene ends with Harold plummeting down through the tree branches to the ground.
The climax of The Kid Brother plays fast and furious and has real tension and intrigue. Harold is on a deserted boat searching for the thieves (with a tiny spider monkey from the medicine show) and he gets chased around by one of the frightening thugs. In one bit he puts his shoes on the monkey's feet in order to fool the bad guy into thinking he is up on deck instead of hiding down below.
Art and historical significance aside, The Kid Brother is one of the most purely entertaining silent movies ever made.

Reviewed on:
March 16th, 2011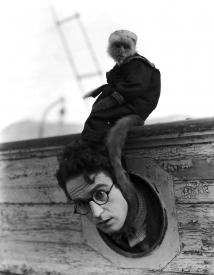 Harold Lloyd and the monkey.
I remember watching The Kid Brother as a child as well. I still laughed at the spider monkey in the sailor suit walking around in the human sized shoes. He eventually just gives up and walks on his hands. I also liked the tree climbing scene, as well as how Harold washed the dishes.
My favorite scene this time though, is when his brothers give him breakfast. His brothers think Mary is sleeping in their living room behind a curtain for privacy, when it is actualy Harold hiding from them. They each sneak off to make her breakfast. Harold puts some fake bracelets on and extends his arm daintily around the curtain to accept the meals. Both brothers think they are flirting with Mary when in fact they are waiting on their put upon brother. They are just a little pissed when they find out it is him.
Although a fetaure, not much happens. Harold falls for a girl whose partners are criminals, Why does she employ a man who wants to rape her? Harold saves the day and proves himself worthy to his father. The scenes with the bully next door are just filler, as is the clothes line skit. We first saw this film broken apart in half hour segments on Harold Lloyd's World of Comedy on television. It worked better as such. At only 82 minutes, The Kid Brother may as well have been cut to a short anyway, leaving in all the good stuff.
At one time Harold Lloyd made dozens of short films a year. At this point in his career he was down to one annual feature. The next year (1928) would see his final silent film Speedy. Harold would make a few talkies, but his comedy was based around his actions and expressions, not dialog. The Kid Brother is Harold at the height of his popularity as well as near the end of it.
Reviewed on:
February 2nd, 2012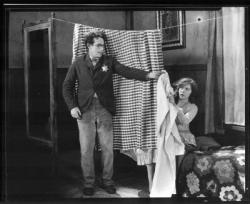 Harold Lloyd happens one night to offer shelter to Jobyna Ralston in The Kid Brother.
It's funny what stays with us. I do remember watching this when I was little, but only vaguely. I remembered Harold climbing the tree, although my memory had exaggerated it so that I was surprised when he didn't climb higher. The monkey likewise seemed familiar, but not distinctly. It was another moment that neither of you have mentioned that I actually recalled strongest, although I didn't even know I remembered it until it happened. It was when the strong man, Sandoni, is hitting Harold over the head with a pipe, only instead of hurting him, the pipe just bends. Of course when Harold moves we realize that his head was protected by a metal bracket. As for the rest of the story, it was all brand new to me.
This is an entertaining film, but I wouldn't call it Lloyd's funniest. I preferred The Freshman to this one. While I was amused throughout, there were really only a couple of moments that made me laugh out loud. I agree Eric that Lloyd pretending to be the girl behind the curtain was funny, but the monkey in the shoes was still the funniest bit in the entire film. The jokes are more of a gentle, amusing variety than they are big laugh inducers.
A really great thing about Lloyd's work is that he preserved his films so carefully. You can watch a print of this movie that is sharper and more clear than movies made ten or twenty years later. I've become so accustomed to watching deteriorating copies of old silent movies that to see one this clean makes it hard to believe it was even produced in the same decade. If only more artists of the period had been willing take on the expense of storing their films.
It seems petty to complain about this, being such a light comedy, but Lloyd is too old for the part he's playing. His character seems closer in maturity to that of a teenager than the mid-30s that Lloyd was when he made it. A side effect of the clarity of the print is that we can clearly see his age. It doesn't really hurt the jokes, but it did take me out of the movie a little.
Like all of Lloyd's work there are great moments in this movie. I just wouldn't call it his greatest.
Photos © Copyright Harold Lloyd (1927)