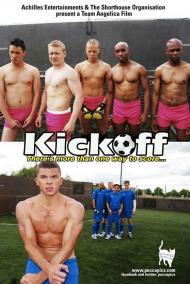 United Kingdom Release Date: 10-06-2010
Directed by: Rikki Beadle Blair
Starring
▸
▾
Duncan MacInnes

,

as

Elton
Ian Sharp

,

as

Archer
Kyle Treslove

,

as

Joey
Ludvig Bonin

,

as

Kingston
Craig Storrod

,

as

Marco
Nathan Clough

,

as

Floyd
Alexis Gregory

,

as

Benji
Stephen Hoo

,

as

Maddox
Rikki Beadle Blair

,

as

Max
Jai Rajani

,

as

Kane
Jason Maza

,

as

Adam
Jay Brown

,

as

Fitz
Sasha Frost

,

as

Alexandria
Michael Lindall

,

as

Danny
Jack Shalloo

,

as

Jensen
Rebecca Joerin

,

as

Donna
Samantha Lyden

,

as

Katrina
Ryan Quartley

as

Romeo

Reviewed on:
April 18th, 2012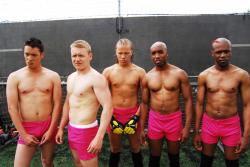 Stephen Hoo, Ian Sharp, Craig Storrod, Ludvig Bonin and Nathan Clough in KickOff.
KickOff is an amusing little comedy/drama from writer/producer/director/actor Rikki Beadle Blair. It's set in the world of East London's Sunday Soccer league. Team captain Archer finally got his dream, a football team made up entirely of gay players. But he got more than he bargained for as his teammates and their various hangers on are way more flamboyant than Archer can handle. When their opponent turns out to be the most notorious team in the league, and the referee a novice who has never actually called a match before, you just know this will be one memorable Sunday afternoon.
For starters Archer's young boyfriend picked out skimpy pink uniforms (see photo) because, "Fuchsia is the color of rage and passion." Then there is the team itself, all of whom are about as butch as Paul Lynde after a few cocktails. Archer, although he's gay, isn't the least bit effeminate. He just wants his teammates to act like a bunch of regular blokes on the field. He tells them he doesn't want to, "...push them back into the cupboard." "closet" (they correct in chorus), but he would appreciate it if, "...no one said 'fabulous' for the next hour."
One of the funniest moments comes when the gay team gives a cheer. They all go "Whoo! Whoo!" with fists pumping in a masculine manner before turning in unison and finishing with a very gay finger snap.
The other team turns out to be likewise filled with misfits. There is the violence prone steroid user, the junkie, a guy on the lam from the police, a pretty boy and – just like on the gay team – the captain is a regular guy. Through a combination of humor and drama the game slowly unfolds as stereotypes are turned on their heads. For example the gay team gets yellow-flagged for making homophobic remarks when one of the players calls the pretty boy on the straight team, "sister".
The beginning of the movie focuses on the self-proclaimed gay team, we meet each member as they arrive for the match. Once the opposing team shows up the focus shifts to their perspective as they size up their oddly attired rivals. Although it's glaringly obvious these guys are gay, the straight team doesn't figure it out until halfway through the match.
The mood tries to blend humor and drama but it's a bit uneven. And the director overuses slow-motion as a gimmick possibly to hide the fact that the soccer itself – in this game of 5-a-side – isn't very realistically portrayed. In fact, as a sports comedy, the sports aspect definitely fails. Anyone watching to see the game itself will be sorely disappointed.
Rikki Beadle Blair plays the very swishy foster father of the youngest teammate, 17-year-old Maddox, a virgin that's not even sure whether he's gay or not. They have a touching parent/child relationship but the biggest heart-string tugging moment deals with the captain of the straight team. He's brothers with the junkie. The captain is also a deadbeat dad. His baby's mother shows up with his young son in tow to publicly humiliate him into taking responsibility for his child. The junkie uncle bonds with his nephew, who later catches his uncle doing drugs and shames him into stopping. At the end of the movie the four of them head home as one family.
Obviously made on a shoestring budget, KickOff is both funny and poignant. It features a colorful group of characters and is dedicated to the memory of Justin Fashanu, the first openly gay professional soccer player in England. Fashanu committed suicide in 1998.

Reviewed on:
April 19th, 2012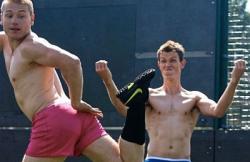 Ian Sharp and Michael Lindall in KickOff
KickOff starts well enough, with a collection of gay soccer players all over flowing with huge personalities. We first meet Ian Sharp as Archer, the straight acting team captain. We quickly learn his history and meet his boyfriend, oops I mean "partner". His reaction to his flamboyant team mates is cause for laughs and reveals his vulnerabilities. He gets very angry when the players like the pink, oops, I mean fuchsia uniforms, "You stupid silly shitty little queens! This is not a fucking joke. This is fucking serious. This is fucking football!" Had the story unfolded entirely from his perspective, it would have made for a more accessible film.
The movie could have also been told from the point of view of Max, the middle aged black guy, that Patrick referred to as a, "...very swishy foster father", and his 17-year-old Asian foster son. Max embarrasses his son and constantly spouts his opinion, only to announce, "I'm not here."
Rikki Beadle Blair wrote personalities for all the players of both teams and the referee. Patrick mentioned several, while I will add the wannabe David Beckham and his domineering girlfriend, who is trying to look like Victoria Beckham. She sits on the sideline reading a magazine and occasionally telling him how good he looks. When she throws a fit, he says, "Babes, you'll get wrinkles."
If you like flamboyant gay humor you will find plenty to laugh at here. One of my favorite scenes is when the steroid hound recognizes a boyfriend of one of the gay players. Although he is very effeminate, the poof suddenly acts straight while talking to him. Right afterwards he exhales and goes all girly again, as if the act was exhausting.
It plays out in real time, allowing everyone's issues to be revealed but none truly resolved. This would have worked as a pilot episode for a television show, but it does not actually make much of a feature film with a legitimate story arch. Some of the characters are interesting, some are funny and some are dramatic. That all makes for a decent foundation for a story but it never stays focused long enough on any one of them to tell a decent enough plot.
Photos © Copyright Achilles Entertainments (2010)
Related Review