Movie Review
Keanu
Kitten, please.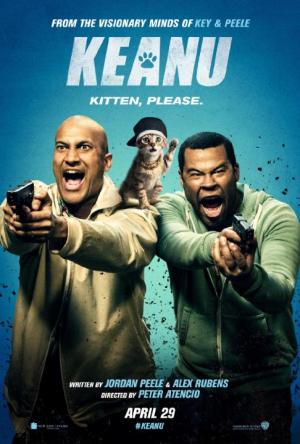 US Release Date: 04-29-2016
Directed by: Peter Atencio
Starring
▸
▾
Jordan Peele

,

as

Rell Williams / Oil Dresden
Keegan-Michael Key

,

as

Clarence Goobril / Smoke Dresden
Tiffany Haddish

,

as

Hi-C
Method Man

,

as

Cheddar
Darrell Britt-Gibson

,

as

Trunk
Jason Mitchell

,

as

Bud
Jamar Malachi Neighbors

,

as

Stitches
Luis Guzmán

,

as

Bacon
Will Forte

,

as

Hulka
Nia Long

,

as

Hannah
Rob Huebel

,

as

Spencer
Anna Faris

,

as

Anna Faris
Madison Wolfe

,

as

Alexis
Jordyn A. Davis

,

as

Belle
James Yeargain

,

as

Donnie
Brittany Seymour

,

as

Rachel
Richard Holden

,

as

Detective Mank
Nadiyah Skyy Taylor

,

as

Galaxy
Susan McBrien

,

as

Hulka's Mom
Jenny Ballard

,

as

Officer Jonah
Ian Casselberry

,

as

King Diaz
Keanu Reeves

as

Keanu (voice)

Reviewed on:
May 1st, 2016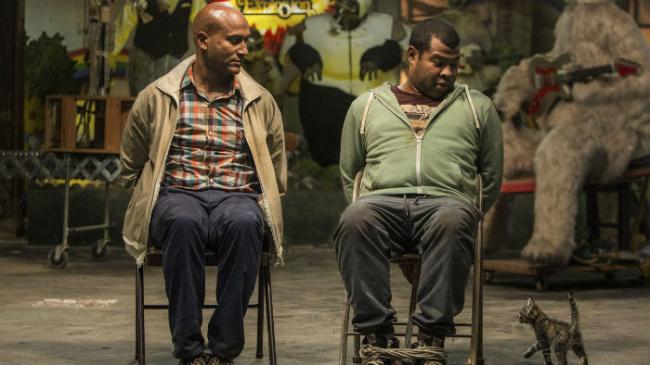 Keegan-Michael Key, Jordan Peele, and Keanu in Keanu.
Although I've never seen a complete episode of the sketch show Key & Peele, I have seen several of their sketches on YouTube and I've always found them funny. The substitute teacher Mr. Garvey and his mispronunciation of common names, is a personal favorite ("A. A. Ron!"). I was curious to see if their sketch comedy skills would translate to a full length feature and they do, no question. The two stars are so likable and the titular cat so cute, that they easily overcome any of the film's weaknesses.
When the story begins Rel (played by Peele, who co-wrote the script), has just been dumped by his girlfriend. He finds consolation when an adorable kitten shows up at his doorstep, whom he promptly names Keanu. However, his new found happiness is short lived after Keanu is kidnapped by a group of drug dealers who broke into his apartment by mistake. They were really looking for the apartment across the way where a smalltime drug dealer lives, played by Will Forte. Rel and his friend Clarence (Key), then go undercover, pretending to be drug dealers themselves to track down the missing kitten.

The source of much of the humor derives from the fact that Rel and Clarence are two mild mannered guys and as non "street" as you can possibly get. Clarence is a middle class married man with a fondness for George Michael music (which features heavily in the film's soundtrack), while Rel likes to take pictures of Keanu recreating famous movie scenes. In their quest for Keanu however, they put on thug personas, helped by a case of mistaken identity and soon end up rolling with the gang who kidnapped Keanu and even doing drug deliveries, including one to Anna Faris playing a parody of herself. It's their interactions with the gang members, especially Clarence's, that provides some of the film's biggest laughs, particularly as he tries to school them in how much of a 'gangsta' George Michael is and gets them to sing along to "Father Figure".
Although he's never allowed to dominate the film, little Keanu plays a key part in the proceedings as well as the action. Reportedly, it took 7 different cats to play his part, and possibly a little CGI as well. Regardless, this or these cats will melt even the stoniest cat hater's heart. During one drug infused scene, the little kitten even speaks with the voice of Keanu Reeves.

Another of the film's strengths is its brisk pace. The whole thing runs just over 90 minutes and wastes little time jumping into the "action". The film's light and breezy tone keeps thing moving along nicely, even into the credits where you get to see the finished photos of Keanu in famous movies. And for those who want to hang around, there's even a post-credit sequence.
Maybe not every joke works, but enough of them do to make the movie worthwhile. There are already rumors of another Key & Peele film in the works and if they can maintain the quality of this one, I say bring it on. I also wouldn't be surprised (or upset) to see a sequel to this one.


Reviewed on:
May 5th, 2016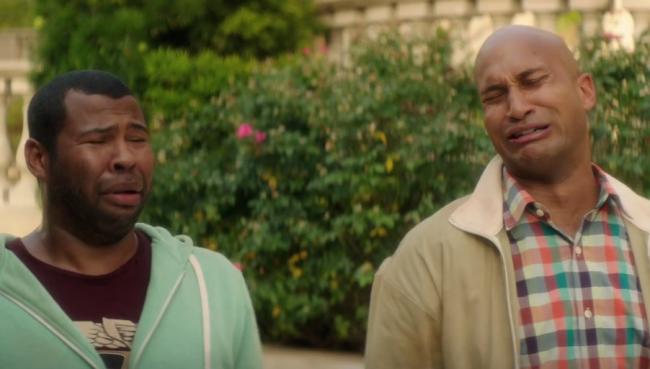 Jordan Peele and Keegan-Michael Key in Keanu
My favorite skit of theirs from their television show is when Jordan Peele is imitating Barack Obama greeting a line of supporters. He gives every Caucasian person a formal handshake but he gives black men and women exaggerated handshakes, fist bumps and warm hugs. The punchline comes when he gets to the light skinned Keegan-Michael Key and has no idea how to greet him. He pauses while his aid informs him that he is enough African American to be given a familiar greeting.

As for this film, Jordan Peele and Keegan-Michael Key are playing such likable guys that we root for them no matter how ridiculous their situations become. Peele is playing a character we saw him play on Life in Pieces, that of a heart broken man who seeks comfort with his cat after his girlfriend broke up with him. How can you not sympathize with him. Key is playing a Joe average who seems content with a wife, child and home. Clarence has though, become stuck in a bit of a routine or rut if you will. His adventure with Rell, although often dangerous, brings out the best in him and acts as a form of therapy in the vein of The Hangover.
The humor is, as Scott mentioned, based on these middle class, suburban men interacting with serious street thugs. They dress like middle aged dads and act with polite manners. This all contrasts with the criminal element they must encounter to find and retrieve Keanu. The first thing they learn to do is swear. This film could easily be considered offensive if you spend any amount of time thinking about it.

Although you could find some social messages within the story this is first and foremost a comedy. The scenes featuring Clarence and the gang members are some of the film's best. He starts out scared to death of them but slowly starts to see their aggressive and uninhibited life style as liberating. Before long he is getting along with several of the gang members. His scene in the car where he convinces them that George Michael is, "the man" is truly funny as is his drug induced hallucination of George Michael's "Faith" video. My favorite moment though, featuring a George Michael song is during the gun fight where "Freedom" plays as Rell and Clarence race through a hail of bullets to get Keanu.

The one scene that did not set completely with me was when Rell and Clarence killed two bad guys. Sure, they deserve it but Rell and Clarence are such normal guys that such an incident would have definitely had a lasting effect yet none is ever shown. In fact, once that scene is over it is never brought up again, unless that happens to be covered in the post credit scene I did not stay for. Irregardless, I would welcome a sequel or another collaboration by these two hilarious comedians.
Photos © Copyright Warner Bros. (2016)