Movie Review
The Wind Rises
Ikineba. (We must live.)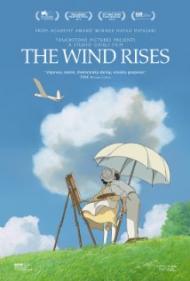 US Release Date: 02-28-2014
Directed by: Hayao Miyazaki
Starring
▸
▾
Joseph Gordon-Levitt

,

as

Jiro Horikoshi (voice)
John Krasinski

,

as

Honjo (voice)
Emily Blunt

,

as

Nahoko Satomi (voice)
Martin Short

,

as

Kurokawa (voice)
Stanley Tucci

,

as

Caproni (voice)
Mandy Patinkin

,

as

Hattori (voice)
Mae Whitman

,

as

Kayo Horikoshi / Kinu (voice)
Werner Herzog

,

as

Castorp (voice)
Jennifer Grey

,

as

Mrs. Kurokawa (voice)
William H. Macy

,

as

Satomi (voice)
Zach Callison

,

as

Young Jiro (voice)
Madeleine Rose Yen

,

as

Young Nahoko (voice)
Eva Bella

,

as

Young Kayo (voice)
Edie Mirman

,

as

Jiro's Mother (voice)
Darren Criss

,

as

Katayama (voice)
Elijah Wood

,

as

Sone (voice)
Ronan Farrow

as

Mitsubishi Employee (voice)

Reviewed on:
February 23rd, 2014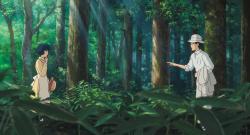 The Wind Rises
The Wind Rises (Kaze tachinu) is an epic animated tearjerker told in a sweeping old-fashioned manner. In 2013 Hayao Miyazaki, the legendary Japanese anime filmmaker, announced that this would be his final animated feature film as a director. Its nomination for the Academy Award for Best Animated Feature marks Miyazaki's third film to be so honored following Howl's Moving Castle in 2004, and Spirited Away, which took home the Oscar in 2001.
The Wind Rises is based on two sources; the 1930's Japanese novel "The Wind Has Risen" by Hori Tatsuo, set in a tuberculosis sanitarium, and the life of Jiro Horikoshi, famed chief engineer who designed many fighter planes for Japan during WWII. The title of both the novel by Tatsuo and this movie comes from the French poem "Le cimetière marin (The Graveyard By The Sea)" by Paul Valéry. The final stanza of which begins, "The wind is rising! . . . We must try to live!"
With this last source for inspiration, it's no surprise that The Wind Rises tells its story in a poetic fashion. This includes several whimsical dream sequences in which Jiro is befriended by Giovanni Caproni the famous Italian aeronautical engineer. The two of them quickly decide that they are sharing the same dream, as Caproni shows Jiro his latest aircraft and encourages the "Little Japanese Boy" to pursue his ambition to design planes.
The story covers the years from the First World War to the start of the second. Jiro meets his future wife during the great Kanto earthquake of 1923, in what is the most visually exciting section of the movie. Scenes of Jiro at work designing planes are interspersed with his romance and eventual marriage. There are moments of levity, provided mostly by Jiro's boss Kurokawa (Martin Short), but the tone is more bittersweet than humorous, more melancholy than celebratory.
Jiro spends time abroad studying the work of German engineers whose technology is more advanced than Japan's. Along with Jiro's personal story, The Wind Rises also shows the evolution of Japan's war machine. Its inclusion of both German and Italian characters -along with Japan the other two members of the Axis Powers during WWII- is certainly not coincidental. And although the story acknowledges the fact that they are building airplanes that will become killing machines used to bomb other countries, Jiro is painted as a man of peace. He's an honorable dreamer who chooses to live in a world with pyramids (you'll get the reference once you see the movie).
The Wind Rises has been criticized by some for honoring a man who designed airplanes that killed thousands of people, as well as by anti-smoking groups (true to the time period, Jiro chain smokes cigarettes - even lighting up in front of his tubercular wife in one scene). Through the life of Jiro Horikoshi, The Wind Rises makes the argument that the dreamers whose work advances humanity should not be held responsible for those who turn such inventions to an evil purpose. Watch this beautifully crafted motion picture and decide for yourself.
Reviewed on:
February 23rd, 2014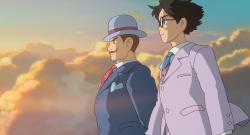 Stanley Tucci and Joseph Gordon-Levitt voice Count Caproni and Jiro Horikoshi in The Wind Rises.
The Wind Rises is a rarity in that it is an animated film aimed at adults. As Patrick wrote, it feels rather old-fashioned. It's a highly romanticized story, and if it were about an American engineer in the 1930s, it would be easy to picture it in black-and-white, starring some Hollywood star of that period. Although if it had been made in the 1940s or earlier, it probably would have clocked in under the 2 hour and 10 minute mark of this version.
I don't think that it's wrong necessarily to dramatize the life of a great engineer just because he was on the losing side of a war. However, this movie does let Jiro and his friend Honjo off rather lightly. In a couple of brief scenes, they discuss how all they want to do is design airplanes and not go to war, but they aren't designing civilian planes that will be adapted to military use, they are directly designing fighters and bombers. They know exactly what their work is going to be used for. They might have loftier ideals, but they also designed new and more efficient methods of killing, and it wasn't by accident.
Jiro's life is an interesting one and his quest to build better airplanes makes an entertaining movie. It is actually the love story portion of the film that feels the most out of place and tends to drag down the pace of the film. It is also the portion of the story that the animation damaged the most. It's harder to become caught up in the romance between two animated characters than it is to be entertained by planes and other action.
The animation itself is well done for the most part, although it will help if you're a fan of the anime style of animation. Some of the most imaginative scenes take place in Jiro's dreams where he meets Count Caproni and flies in some of his different airplanes. One odd aspect of the animation is the way that almost none of the characters looks Japanese. This, coupled with the fact that the voices have been dubbed by famous American and British voices, almost makes it feel as if the animated characters are in yellowface.
I doubt that animation aimed at adults will become a popular genre, but this film shows that when it's well done, it can be quite entertaining.
Photos © Copyright Studio Ghibli (2014)