Movie Review
Kansas City Bomber
The Hottest Thing On Wheels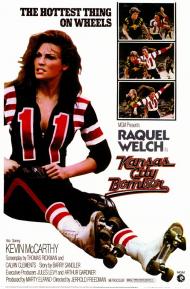 US Release Date: 08-02-1972
Directed by: Jerrold Freedman
Starring
▸
▾
Raquel Welch

,

as

K.C. Carr
Kevin McCarthy

,

as

Burt Henry
Helena Kallianiotes

,

as

Jackie Burdette
Norman Alden

,

as

Horrible Hank Hopkins
Jeanne Cooper

,

as

Trainer Vivien
Jodie Foster

,

as

Rita
Richard Lane

as

TV Spokesman Jen

Reviewed on:
January 7th, 2009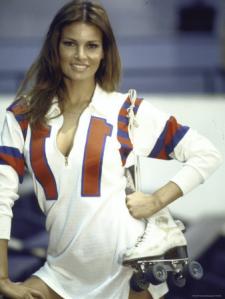 Raquel Welch was one sexy action hero.
Kansas City Bomber is a unique movie. It is a sports movie that centers around a female athlete in the rough and tumble world of Roller Derby. Roller Derby, for those who don't remember, was a team race on roller skates around a circular track that was as violent as the WWF. Players kicked, tripped and punched each other in a free-for-all mad dash on wheels. Raquel Welch plays K.C. Carr. In 1972 when this movie was released Welch was, along with Barbra Streisand and Jane Fonda, one of the biggest female box office stars in the world. She also produced this movie.
This is first and foremost an action movie. It jumps right into the action with the opening segment. K.C. has a one on one race with her Kansas City rival. A large woman named Big Bertha. The loser must leave town for good. K.C. loses and winds up back in Portland, Oregon, where she left her kids with her mom. She joins the local Roller Derby team, makes enemies with the reigning diva of the team and has an affair with the team owner which causes some drama between K.C. and her teammates. But none of that really matters. It is all an excuse for us to watch Raquel Welch roller skating her ass off while fighting tooth and nail with another chick.
To be honest there are a few scenes where you can tell they used a double, but for the most part it is Raquel. She obviously trained hard for this role. In its own way this movie promotes Women's Lib. Sure Raquel flaunts her body but she also shows that a woman can carry an action movie. Not only does she have numerous scenes in the rink, she also has a full on fist-fight with her arch rival on some railroad tracks while a train is coming.
As a time capsule and for the groundbreaking action by a woman, this movie should be better remembered. Unfortunately the script is pretty awful, edged out just slightly by the direction. After K.C. leaves Kansas City there is a long montage of her driving, and driving, and driving. The title seems a bit odd since every thing after the first 20 minutes is set in Portland. If you look close you can spot a very young Jodie Foster as Raquel's daughter Rita.

Reviewed on:
March 19th, 2013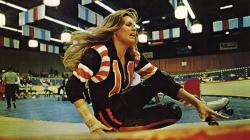 Raquel Welch in Kansas City Bombers
Patrick is correct. Kansas City Bombers is first and foremost an action film. It is filled with plenty of roller derby brawls from the ladies and the men's teams. As Patrick wrote, it is obvious when a stunt double was used but Raquel did enough of her own skating during production that she reportedly hurt her forearm. Without any explanation, she wears an arm brace in many scenes. See photo.
The best part of the film happens in or around the ring. Roller Derby is just like WWE. (Patrick, WWF is so two decades ago) It is sports entertainment, where victories are determined before every competition. Patrick wrote that she left because she lost the contest, but that was just the scenario set up for the fans. She actually left because she was traded. She lost on purpose, as instructed.
Just as in the WWE, there is lots of trash talking before and after a derby race to get the audience excited. Raquel seems to love playing it big and loud yelling at a competitor. Early on she gets into a shouting match with a large woman named Bertha. My favorite bit is when Raquel and a competitor are setting up the audience for a race and the other woman yells something to Raquel about, "...packing all the broads." Raquel then comes back with, "At least I got broads, not A-cups. Your boyfriend complaining?"
Unfortunately, Raquel keeps her broads under wraps the entire film. However, she does wear some very tight clothes, revealing that she did not always wear a bra. Like so many sex symbols, Welch wanted to prove herself an actress, but who was she kidding, we love her because she was one of the most beautiful women in the world, period.
As Patrick wrote, this film does have a feminist angle to it. Raquel's K.C. Carr does not look for a man or a husband to take care of her. She has her own career to pay her way. It by no means though, celebrates single motherhood. The film clearly shows that her independent nature and career has made her estranged from her children. As a mother of two in real life, I imagine that plot point was part of Raquel's attraction to this project. For me, the one time she seems at all natural is in the brief moment with her children, but who cares when her figure is the only reason to watch this and nearly all of her other films.
Some of the supporting cast is worth noting. Kevin McCarthy not only worked with Welch but played a scene with Marilyn Monroe in The Misfits (1961). Talk about nice work if you can get it. Jeanne Cooper, who plays the women's trainer, is the god daughter of silent film legend Gloria Swanson. Cooper is best known as the matriarch, Mrs. Chancellor in the long running daytime soap opera The Young and the Restless.
Photos © Copyright Metro-Goldwyn-Mayer (MGM) (1972)