Movie Review
Kalamazoo?
Ten years go by in a flash!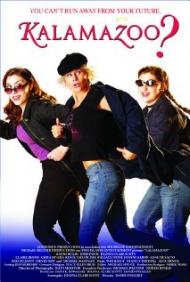 US Release Date: 04-07-2006
Directed by: David OMalley
Starring
▸
▾
Josie Davis

,

as

Carol Cavanaugh
Mayim Bialik

,

as

Maggie Goldman
Joanna Clare Scott

,

as

Joan Branson
Claire Bloom

,

as

Eleanor
Chita Rivera

,

as

Giannina
Renee Taylor

,

as

Golda
Michael Boatman

,

as

Special Angel Albert
Steven Roy

,

as

Paul
Nathan Anderson

,

as

Stephen
Larry Sullivan

,

as

Nate
Dee Wallace-Stone

as

Susan

Reviewed on:
April 13th, 2006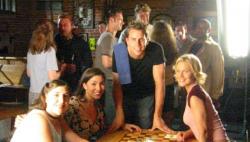 The cast of Kalamazoo?
Kalamazoo? Is a first time effort from writer Joanna Clare Scott. It is a quasi semi autobiographical story. Joanna went to school in Kalamazoo and then worked as an actress in London. In Kalamazoo? She plays Joan, a married actress living in London who dreads coming home to her 10 year highschool reunion.
Upon arriving in Kalamazoo Michigan, she meets up with her two best friends from school, Carol and Maggie. Maggie is secretly having a fling with a guy from highschool but due to her parents rocky marriage she does not want to take the relationship further even though he obviously does. Carol comes across as a slutty party girl but there is more to her than meets the eye.
The three girls are all a bit bothered by the opening of a time capsule at the reunion. All fear they will be embarrassed by what they wrote in it. Each of the girls are at a turning point in their lives and so the spirits of their three grandmothers come to earth to lend a hand. Meanwhile the girls attempt to steal the time capsule in a scene that could have come directly from an episode of Laverne and Shirley if not I Love Lucy.
Although billed as a comedy the best laughs come from supporting characters. Most of the parents are played as one note jokes. Joan's parents love the local Civic theater and are always singing show tunes. Only Josie Davis stands out early on in the movie. Her carefree character keeps the movie light as Joan and Maggie deal with the disappointments in their lives.
The only tension in the movie is to be found near the end of the movie when the three girls argue and Carol calls Maggie a "Cold hearted feminist bitch." Luckily for them the grandmas are around and the girls really are not as mad at each other as they are at themselves for not having the lives they thought they would have.
Not a bad first effort by Scott but she attempts too many things at once with out ever fully exploring any of them. The movie is a love story and a friendship story and a ghost story and a comedy and a drama of sorts. However, the movie is never romantic enough, funny enough or dramatic enough to ever fully engage the audience.
Kalamazoo? is definitely a chick flick about growing and acceptance. In that it has its strongest message. Life is not about being accepted by others but accepting of yourself for who you are.
Photos © Copyright Londinium Productions Inc. (2006)