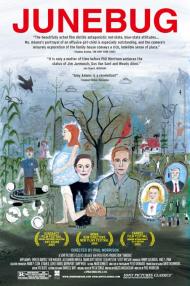 US Release Date: 08-05-2005
Directed by: Phil Morrison
Starring
▸
▾
Amy Adams

,

as

Ashley
Embeth Davidtz

,

as

Madeleine
Benjamin McKenzie

,

as

Johnny
Alessandro Nivola

,

as

George
Frank Hoyt Taylor

,

as

David Wark
Celia Weston

,

as

Peg
Scott Wilson

as

Eugene

Reviewed on:
February 18th, 2006
Amy Adams in Junebug.
Junebug seems more like a student film than a feature. It's self-consciously artsy, lacks any real plot, and is instead a study in contrasting characters. Except for the Oscar nomination of Amy Adams in the Supporting Actress category, this movie would probably have gone unnoticed outside of the art house movie circuit.
Adams performance is superb and her nomination well-deserved. If the Oscars were given strictly based on merit, she would be my choice to win.
The plot, what there is of it, involves Madeleine, the owner of an Art Gallery in Chicago, traveling to North Carolina to purchase the work of an eccentric and unknown artist, whose specialty is paintings of the Civil War wherein all the men have incredibly large penises. Coincidently, Madeleine's husband George grew up just a few miles away, and so they combine the business trip with a family reunion that allows Madeleine to meet her husband's family for the first time.
As a welcome contrast to most Hollywood movies, life in the small North Carolina town is pictured neither as a perfect idyll nor as a stereotypical Hicksville. There is a slight clash of culture between Madeleine and her new family, particularly with her mother-in-law who disapproves of George's choice of wife. George's brother Johnny obviously harbors old issues with George of jealousy and George's father is quiet and distant. Only Ashley (Adams), Johnny's very pregnant wife, welcomes Madeleine with open arms.
Ashley, with her constant stream of talk about everything and nothing, at first comes across as a bit of a dim bulb providing comic relief. However, Adams also gives Ashley a surprising depth that reveals an underlying sadness and seriousness that is unexpected. She provides the movie with its most touching and emotional moments.
Another of the movie's emotional undercurrents is Madeleine seeing her husband with new eyes. The differences between his behavior when he's alone with his wife and when he's with his family are very revealing, particularly during one scene where he is asked to sing a hymn at a local church gathering.
Despite the overly artistic moments of the film, there are also quite humorous ones. The racist and penis obsessed artist who's convinced that his paintings come from god, provides many of them, but again it is Adams who also provides some of the movies funniest moments.
While definitely not everyone's cup of tea, Junebug is a good film that will grow on you. As for Adams, I only hope that not only will she win the Oscar, but will also find more work because of it.
Reviewed on:
February 25th, 2006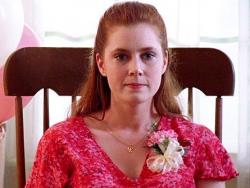 Amy Adams in Junebug.
I agree with everything Scott wrote. What I will add is that the movie takes you on an emotional journey. At first Madeleine seems like the protagonist, she is far more worldly and sophisticated than her husband and especially his family. She greets them in a friendly and open manner and seems like she genuinely wishes to fit in. But at a key point in the story we see her real priorities and how she doesn't really give much of a shit about George's family. By the end of the movie they all seem to have evolved, but Madeleine hasn't changed.
The acting is all first rate and Amy Adams give a bravura performance. Ashley is so damn adorable and quirky but without being sickly sweet.
Junebug is an original and highly likable little movie. Like my brother pointed out not much happens in the way of plot and some of the camera work is a bit 'artsy', but it's well worth seeing.

Reviewed on:
October 2nd, 2013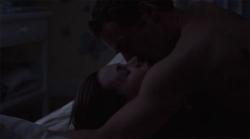 Embeth Davidtz and Alessandro Nivola as Madeleine and George communicating with each other the only way they know how in Junebug
Scott wrote that Junebug is, "…a study in contrasting characters." But to be more specific, Junebug is about how people communicate differently. Ashley jabbers on. The men barely speak to each other. Johnny throws a wrench at George's head instead of discussing whatever issue is bugging him. I found some of that fascinating but like my brothers wrote, it does not make for much of a plot, leaving this film more of a study on interpersonal communications than an actual story.
The most interesting form of communication I found is between married couple George and Madeleine. They only connect through sex. The first scene shows them meet up and then have sex with barely any dialogue. On the drive to his parent's home he has his hand buried between her legs. Once they arrive they go in separate directions. The only time we see them happily engaged with each other is when they are having sex.
They enjoy their shared sexual experiences but really do not know each other. Both keep their smoking a secret from each other. Madeleine looks on with surprise when her husband sings at the church. I am not sure if she is shocked by his vocal talent or his religious devotion. When Madeleine tries to apologize to George about not being at the hospital, he turns a deaf ear. She then does the only thing she can that George will understand. She gives him a blow job.
My favorite joke in the film is another example of misunderstood communication. When Madeleine hands George's father his missing screwdriver she found in the bedroom, he says to her with a straight face, "I've done some screwing in here, I guess." Madeleine laughs at the line while he stares back at her with no idea what she found so funny.
Junebug has some truly nice moments and plenty to say about the way we connect with others in our lives, but as both of my brothers wrote, the story is too interested in being artistic than it is in finding a decent story arc.
Photos © Copyright Sony Pictures Classics (2005)