Movie Review
June Bride
Bette Davis wants to be a June Bride!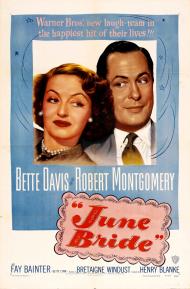 US Release Date: 10-29-1948
Directed by: Bretaigne Windust
Starring
▸
▾
Bette Davis

,

as

Linda Gilman
Robert Montgomery

,

as

Carey Jackson
Fay Bainter

,

as

Paula Winthrop
Betty Lynn

,

as

Barbara 'Boo' Brinker
Tom Tully

,

as

Mr. Whitman Brinker
Barbara Bates

,

as

Jeanne Brinker
Jerome Cowan

,

as

Carleton Towne
Mary Wickes

,

as

Rosemary McNally
James Burke

,

as

Luke Potter
Debbie Reynolds

as

Boo's Girlfriend at Wedding
Reviewed on:
October 29th, 2001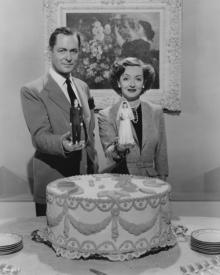 Robert Montgomery and Bette Davis in June Bride.
By 1948 Bette Davis had reached an interesting point in her career. She was getting a bit long in the tooth to continue playing ingénue roles and her great comeback as Margo Channing in All About Eve was still a few years in the future. As her years at Warner Brothers were winding to a close she made June Bride, one of the few romantic comedies she would star in during her long and illustrious career.
Robert Montgomery plays foreign correspondent Carey Jackson. He accepts an offer to write for Home Life, a 'woman's' magazine, when he discovers that the editor is an old paramour of his named Linda Gilman (Davis). When they head to Indiana to cover the typical American wedding of the Brinker family, their constant bickering rekindles the old flame between them.
Surprise, surprise, it turns out that all is not what it seems with the young betrothed couple. In fact several love triangles lurk beneath the tranquil surface of this small town family and the main thrust of the plot deals with how these love affairs get resolved.
Although this is not a great movie it does have several genuine laughs, an interesting assortment of characters and a few memorable lines. My favorite is when Linda tells Carey… 'You're being charming, reasonable and very boyish. Unless you've changed, that means you're about to drink someone's blood. Probably mine.' Their verbal sparring is what keeps the plot moving.
Robert Montgomery is a fine enough actor, but it would have been interesting to see Cary Grant in the role. He was, after all, the master of fast-paced, verbally sophisticated, screwball comedy, and besides he and Bette never did a picture together and this would have been the perfect choice. His presence could have elevated this to a classic instead of the mildly amusing movie that it is. Look for a 16 year old Debbie Reynolds making her movie debut in a walk-on.
Photos © Copyright Warner Bros. (1948)