Movie Review
Jumping the Broom
Sometimes the only way to get past family drama... is to jump right over it.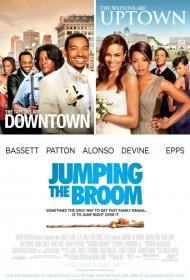 US Release Date: 05-06-2011
Directed by: Salim Akil
Starring
▸
▾
Angela Bassett

,

as

Mrs. Watson
Paula Patton

,

as

Sabrina Watson
Laz Alonso

,

as

Jason Taylor
Loretta Devine

,

as

Mrs. Taylor
Meagan Good

,

as

Blythe
Tasha Smith

,

as

Shonda
Julie Bowen

,

as

Amy
DeRay Davis

,

as

Malcolm
Valarie Pettiford

,

as

Aunt Geneva
Mike Epps

,

as

Willie Earl
Pooch Hall

,

as

Ricky
Romeo Miller

,

as

Sebastian
Brian Stokes Mitchell

,

as

Mr. Watson
Gary Dourdan

,

as

Chef
T.D. Jakes

,

as

Reverend James
El DeBarge

,

as

Singer
Tenika Davis

as

Lauren

Reviewed on:
May 9th, 2011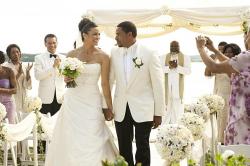 Paula Patton and Laz Alonso in Jumping the Broom.
Based solely on the previews I thought Jumping the Broom was going to be strictly a comedy, but in reality it's more of a soap opera. Not to say there aren't some funny parts and the humor is the best thing about it.It's real and it's funny and even touching at times, but the drama is so over-the-top it's ridiculous, piling melodrama on top of melodrama.
Sabrina and Jason come from different backgrounds. Sabrina's family are rich and live in Martha's Vineyard while Jason's family are working class Brooklynites. Their world's collide when Sabrina and Jason decide to get married. Up until their marriage their families have stayed apart, but now they're about to spend two days together at the Vineyard for the wedding.
Loretta Devine plays Jason's mom. Sure she's a bit of a stereotype as the sassy black momma, but she also provides some of the funniest moments and some of the most genuine emotion. She doesn't take to Sabrina's family, but at the root of her dislike is her own sense of insecurity. Every luxury she encounters at the Watson estate, she quickly counters with claims that she's seen better. Her distrust of Sabrina is based in her own jealousy.
In many ways, that's sums up the movie's problems. Devine, along with the rest of the supporting cast is far more interesting and entertaining than the two dull lead characters. Sabrina and Jason are attractive, but boring. Jason in particular is a total cookie cutter character. This is a chick flick and Jason is only there to support his mother and his fiancee. He is willingly pushed around by both of them.
Angela Bassett and Brian Stokes Mitchell play Sabrina's rich parents. The two of them have drama to spare. She suspects of him of having an affair, while he's trying to figure out how to tell her about their financial problems and both of them are keeping a major family secret from Sabrina.
Also in the party is Jason's uncle, who seems to be the only one who will stand up to Jason's mother. Jason's mother's best friend comes along for the wedding and ends up flirting with a much younger man. Jason's best friend from the old neighborhood is jealous of Jason's success. In one of the movie's weakest and most needless subplot, one of Sabrina's bridesmaids begins a relationship with the chef who is catering the wedding.
All in all, there's just too much going on in too many different lives. In far too neat and easy a way, all of these emotional loose ends manage to get tied up by the movie's climax and this despite the fact that several life altering secrets are revealed in less than 48 hours. Logic and complete character arcs are bent or thrown completely out in an effort to wrap everything up by the time the credits roll.
As a side note, I have to mention the references to religion scattered throughout the movie. Normally in Hollywood, the only time you'll see Christians shown in a film is when they're either the butt of jokes or the sanctimonious villains. Black characters are the only ones in Hollywood movies who are allowed to be both religious and genuine in their beliefs. Sabrina prays and several characters make reference to the bible and which reading to have at the wedding ceremony.
Clearly, a chick flick with an all black cast is never going to have me in mind as their target audience. Given that, I suppose it's saying something that I still managed to enjoy it as much as I did. When it's trying to be funny and when it focuses on the clash of classes between the two families, it doesn't matter what sex or color you are. There's enough there for anyone to relate to. Too often though, it becomes pure soap opera and not in a good way.
Reviewed on:
March 5th, 2012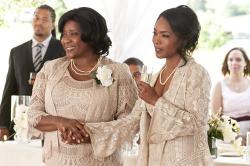 Loretta Devine and Angela Bassett in Jumping the Broom.
Jumping the Broom has some amusing moments and a good cast of actors but its plot lacks originality and some of the characters behave in a stereotypical manner. As Scott wrote, this is the story of two very different families that come together over a weekend for the occasion of a wedding. Paula Patton is Sabrina, the beautiful bride and the daughter of a wealthy family with a beautiful home on Martha's Vineyard, where the wedding is to take place. Laz Alonzo plays the handsome groom, the son of a middle-class postal worker from Brooklyn.
Yes that's right. You have the uptight rich folks and the sassy ghetto family getting together for a wedding while hilarity (actually mildly comic moments) ensues. To be fair there are a few laughs to be had, mostly courtesy of the very talented twosome of Angela Bassett and Loretta Devine. They play the instantly acrimonious mothers of the betrothed couple. Although neither actress gets to stretch much, they both make the rather predictable script better than it should be.
I agree wholeheartedly with Scott that the supporting players all outshine the rather dull bride and groom. Although to be fair the script is more at fault than the talents of either Paula Patton or Laz Alonzo. Both characters are generically written and lacking any interesting idiosyncrasies or fascinating personality traits. As for the supporting cast, Romeo has a few funny scenes as a young man chasing after an older woman played by Tasha Smith. Valarie Pettiford shines as Aunt Geneva, she performs an inappropriately steamy version of Marvin Gaye's "Sexual Healing" during the dinner the night before the ceremony. Modern Family's Julie Bowen provides some comic relief as the harried wedding planner, while Mike Epps is good for a few laughs as the country uncle named (what else?) Willie Earl.
The first half of the movie is played more for laughs. The second half, unfortunately, tries for a bit of drama as a big (but contrived) family secret is overheard and later revealed by Loretta Devine. It is her Mrs. Taylor that is the least sympathetic and most stereotypical character. In fact, (again agreeing with my brother) she's a walking cliché as the overbearing, loudmouthed mother that dislikes every woman her son dates. From the very beginning of the movie she is unpleasant to everyone she meets. Her actions in revealing the secret are quite despicable and make her the villain of the story. Of course things all work out in time for the required (and never in doubt) happy ending.
As entertainment, Jumping the Broom makes for a pleasant enough diversion (for those who don't know, the title refers to the symbolic ceremonial manner in which slaves in this country got married at a time when they were forbidden from getting legally wed). With a cast this good, however, it should have been a comedy classic. The set-up is pregnant with possibilities but the script never delivers them. Jumping the Broom offers predictable, middle of the road, situational humor performed by a talented and likable cast.

Reviewed on:
June 11th, 2015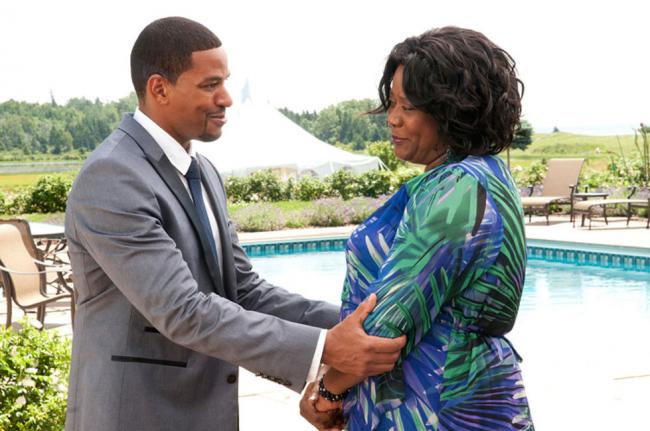 Laz Alonso and Loretta Devine in Jumping the Broom
Jumping the Broom is a chick flick fantasy. All of the men work while the women lay about doing nothing but looking good while being courted by the money earning handsome men. You could argue that Mrs. Taylor has a job but she thinks nothing of closing her customer service window whenever she feels like it.
Loretta Devine, as Jason's mom, is not only a stereotype, as Scott mentioned, but despicable as Patrick wrote. She is an over bearing woman who turned her own son into her husband, of sorts. She complains about everything at the Watson's home, including wanting her son and his bride to jump the broom. This dumbass waits until the day before the wedding to assume they will do it because she expects them to. When the Watsons object to her idea, during a formal dinner, she loudly reminds them that they are black. Her choice to reveal a secret that has nothing to do with her was downright evil. Her only intention was to hurt people by revealing it.
Because Mrs. Taylor is such a vindictive bitch, I had zero respect for her mamma's boy Jason. He should have stood by his fiancée at every point and put his mother in check long before he finally does. My favorite scene of Jason's is when he calls out his friend for being a racist and a sponge.
Although this weekend is about Jason's and Sabrina's nuptials, it is Jason and his mother who have the film's true story arc. Secrets come out but it is truly only the mother and son who become different people by the end of the weekend. Jason grows a pair, and not just because Sabrina has cut him off for the past six months. His mother learns to see her son as a man living outside her sphere of influence but I get the feeling she is going to be a very vocal grandmother.
As my brothers wrote, there are many supporting characters and so many of them are trying to hook up. There is barely enough here for me to care about Jason and Sabrina let alone Sabrina's parents, the cook and the cutie, the college student and the older woman or anyone else who flirts with each other. One of the last scenes throws in another potential relationship between the best man and the wedding planner. Those superfluous relationships should have been left out, leaving more screen time for Jason's and Sabrina's relationship. All we know about them is that they are good looking and not having sex.
Jumping the Broom gets a tad lost in its plethora of underdeveloped story lines. There are some laughs here but it works better as a family drama than a romantic comedy. Life is about growth and challenges and Mrs. Watson states it best when she says, "Life is like a disco, no matter how the music changes, you just keep on dancing."
Photos © Copyright Tristar Pictures (2011)