Movie Review
Julie & Julia
Passion. Ambition. Butter. Do You Have What It Takes?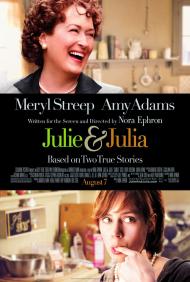 US Release Date: 04-17-2009
Directed by: Nora Ephron
Starring
▸
▾
Meryl Streep

,

as

Julia Child
Amy Adams

,

as

Julie Powell
Stanley Tucci

,

as

Paul Child
Chris Messina

,

as

Eric Powell
Linda Emond

,

as

Simone Beck
Helen Carey

,

as

Louisette Bertholle
Mary Lynn Rajskub

,

as

Sarah
Jane Lynch

,

as

Dorothy McWilliams
Joan Juliet Buck

,

as

Madame Brassart
Crystal Noelle

as

Ernestine

Reviewed on:
December 2nd, 2009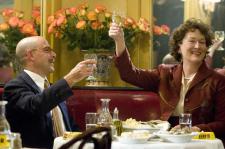 Meryl Streep becomes Julia Child in Julia & Julia.
About the only thing I really knew about Julia Child is the old Saturday Night Live sketch where Dan Aykroyd played her and cut himself, ending up bleeding profusely all over her kitchen (a sketch they show almost in full during this movie). And of course I knew her famously high voice. A voice that as you would expect, Meryl Streep is able to duplicate effortlessly.
Having never read the blog or the book upon which this movie is based, I'd never heard of Julie Powell at all. After seeing the movie now, I can safely say that Julie isn't in Julia's class. If she wasn't played by the charming Amy Adams she'd have been fairly unlikable. And while Julia changed cooking in this country, Julie just wrote an entertaining blog.
The story is told in two parts.
In 2002, Julie is living with her husband in Long Island City, Queens (I used to live just down the street from the butcher shop she visits), above a pizza parlor. Stuck in a job she hates, she decides to give her life purpose by giving herself the goal of cooking all the recipes in Julia Child's book in one year's time and blogging about it.
The other story is the story of Julia Child's life beginning in post war Paris where she lives with her Diplomat husband (Tucci). Like Julie, she finds purpose in her life through food. A purpose that eventually leads her to become a published author.
This is a major chick flick. The first clue is that it's written and directed by Nora Ephron. I've enjoyed chick flicks before, but the annoying thing about them is the way the male characters are portrayed as flat and one-dimensional. In this case it is both Julie and Julia's husbands. Both of them are virtually without personality. Both of them are just patient, saintly men who play subservient roles to their wives.
Easily the best thing about this movie is its leads. Although they never appear in a scene together, individually they are quite good, particularly Streep who gives as good a performance as we've come to expect from her over the years. Adams as the harder part simply because, as I said, her character isn't as likable. Also, while both Julie and Julia become published authors by the end of their respective stories, it really seems like an achievement by Julia, but not quite as much by Julie.
I certainly know a lot more about Julia Child now and she seems to have been a very interesting character. I'd have happily watched a movie just about her. That might have made for a more meaty story instead of the light but enjoyable dish that this one turns out to be.

Reviewed on:
December 17th, 2009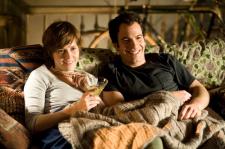 Amy Adams and Chris Messina.
As Scott wrote, Julie is not very likable. She is very insecure. She hurts her husbands feelings on a regular basis, by insulting their home. She was caught up in her blog to the point that she got excited over her "fame" at the expense of her marriage. We learn very little about her husband, but he does have one very good scene where he tells her to stop calling him a "saint." By doing that she made him into someone who does not have needs. It is a completely selfish compliment.
Julia however, had a great marriage. Paul gets moved about and Julia goes with him even when she clearly would prefer to stay put. She makes the best of it. They have passion in their marriage. The scene where Julia compares a boiling manicotti to an erection is hilarious, "These damn things are hotter than a stiff cock!" Julia worked for years on her book to get it published, while Julie merely made dishes that Julia and her collaborators created.
Around the holidays I bake and make goodies that have been holiday traditions in our family for generations. Although my kids sometimes help, it is something best done alone. I was not sure why I liked to cook, but then Julie explains it in the movie. Our lives are full of chaos, filled with many things we have no say over. Cooking is about creating something that we control. It makes complete sense. If you like doing it, cooking can definitely be a form of therapy.
The movie tries to draw comparisons between Julia and Julie, but their really is not any. Julia volunteered for military service in World War II but was too tall for the Waves or WACS, so she ended up typing secret documents for the OSS. Her cookbook and eventual television show changed the way Americans cooked. She lived through history and affected it. Julie merely pissed and moaned about not being happy, and blamed her husband when it was convenient. Her idea to cook everything in Julia's cookbook and blog about is mildly interesting, but hardly worthy of any great attention.
Reviewed on:
January 5th, 2010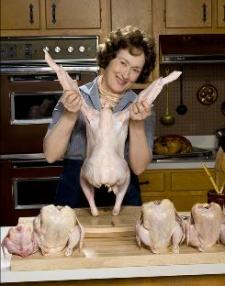 Meryl Streep really cooks as Julia Child.
The first bakery I worked at made French bread which was based on the recipe from Julia Child's "Mastering the Art of French Cooking". My boss at the time idolized Julia Child. I once assisted her in making Julia's most famous dish - boeuf bourguignon. It remains the best meal I have ever eaten. My boss even entered the story (of how she and her husband decided to open their bakery one snowy day after making Julia's French bread over a couple of bottles of wine) in the nationwide contest that was held for Julia Child's 90th birthday. Julia Child is like a god to just about anyone who spends much time working in the food industry.
Therefore I have to agree with my brothers that the movie would have been better if it had focused solely on Julia's life. According to the movie even Julia Child found Julie and her cooking blog to be a bit frivolous. Amy Adams is a very talented and likable actress, so she does make Julie somewhat interesting. However it is an insult to the accomplishments of a woman who changed both food and television in America to intersperse her story with Julie's.
Meryl Streep does embody Julia Child without doing a parody of her. She really captures her zesty humor, her perseverance and above all her love of food. She is an American icon who will hopefully one day get a biopic worthy of her contributions to our culture.
Photos © Copyright Sony Pictures (2009)