Movie Review
Judy Moody and the Not Bummer Summer
Supermegatotally thrilladelic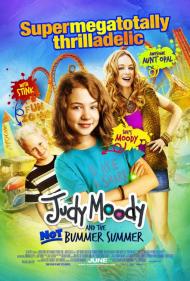 US Release Date: 06-10-2011
Directed by: John Schultz
Starring
▸
▾
Jordana Beatty

,

as

Judy Moody
Heather Graham

,

as

Aunt Opal
Preston Bailey

,

as

Frank
Parris Mosteller

,

as

Stink
Kristoffer Ryan Winters

,

as

Dad
Janet Varney

,

as

Mom
Garrett Ryan

,

as

Rocky
Jaleel White

,

as

Mr. Todd
Ashley Boettcher

,

as

Jessica Finch
Taylar Hender

as

Amy
Reviewed on:
June 12th, 2011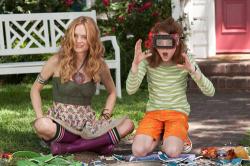 Heather Graham as Aunt Opal and Jordana Beatty as Judy Moody in Judy Moody and the Not Bummer Summer.
I could relate to Judy Moody in this movie in just one way. In the film, third-grader Judy makes a list of things to do over the course of a summer. Like Judy, I decided to try to accomplish something this summer to stop it from being such a bummer. I decided to see every movie in wide release from May through August. Believe me that is the only reason I would see this movie and is possibly the only reason for anyone to see it.
Sure, it's a kid's movie and not intended for me, but the theater I saw it in was packed with kids and their nannies (I saw it on the Upper East Side) and even the kids were universally restless, talking and seemed bored through most of it.
Apparently it's based on a children's book, but I had never heard of it until now. The story is fairly simple. Young Judy Moody, who lives up to her last name, decides to improve her summer by devising a plan where her and her friends earn thrill points by performing certain tasks (like riding a roller coaster, surfing, walking a tight-rope, etc., etc.). Only Judy's best friends are soon winning the contest by virtue of going to circus camp and an exotic vacation while Judy is stuck at home with her younger brother, the Bigfoot obsessed Stink, and her wacky Aunt Opal.
The humor is aimed at very, very young children. The jokes that got the biggest laughs from the kids in my audience were when a teenage boy bonked his head and when Frank throws-up some very unrealistic looking vomit onto Judy when they ride the roller coaster. That should give you a pretty good idea of the level of sophistication we're talking about. Another "joke" is when Judy and her brother chew food at each other with their mouths open.
Some children's movies actually can appeal to adults. Diary of a Wimpy Kid for example, managed to be a film for the whole family. Kids could relate and adults could feel nostalgic. Here I barely managed a smile and the mildest of occasional chuckles. As an adult I could appreciate that Heather Graham looks damn good and much younger than her 41 years. About the only other thing that stood out for me is that Urkel from Family Matters (Jaleel White) plays Judy's teacher, but not as Urkel of course.
While maybe some very, very young kids might find something to enjoy about this movie, you're better off waiting for it to become available for home viewing so you don't have to sit through it with them.
Photos © Copyright Relativity Media (2011)