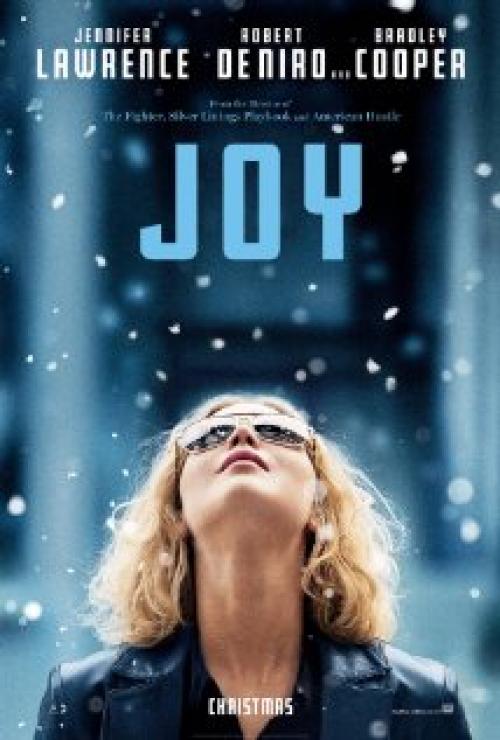 US Release Date: 12-25-2015
Directed by: David O. Russell
Starring
▸
▾
Jennifer Lawrence

,

as

Joy
Robert De Niro

,

as

Rudy
Bradley Cooper

,

as

Neil Walker
Edgar Ramirez

,

as

Tony
Diane Ladd

,

as

Mimi
Virginia Madsen

,

as

Terry
Isabella Rossellini

,

as

Trudy
Dascha Polanco

,

as

Jackie
Elisabeth Rohm

,

as

Peggy
Susan Lucci

,

as

Danica
Laura Wright

,

as

Clarinda
Maurice Bernard

,

as

Ridge
Jimmy Jean-Louis

,

as

Toussaint
Ken Howard

,

as

Mop Executive
Ray De La Paz

,

as

Tony's Father
John Enos III

,

as

Roderick
Marianne Leone

,

as

Sharon
Drena De Niro

,

as

Cindy
Isabella Crovetti-Cramp

,

as

Young Joy
Emily Nunez

,

as

Young Jackie
Madison Wolfe

,

as

Young Peggy
Melissa Rivers

,

as

Joan Rivers
Donna Mills

as

Priscilla

Reviewed on:
January 12th, 2016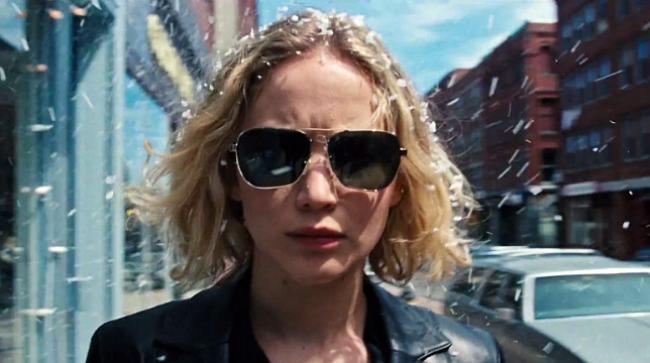 Jennifer Lawrence is Joy.
Joy is the latest motion picture from writer/director David O. Russell; his third starring Jennifer Lawrence and his third to feature Robert De Niro and Bradley Cooper. Like Silver Linings Playbook and American Hustle, Joy is a dramedy stuffed with colorful characters. Loosely based on the life of Miracle Mop inventor and self-made millionaire Joy Mangano, this is the story of one woman's climb to the top of the business world in the early 1990s.
Joy (no last name is given) is a struggling single mother of two young children. Her mother lives with her as does her ex-husband (he stays in the basement). When her father's latest wife kicks him out, he moves in as well. This family puts the dys in dysfunctional. Joy seems to be the only rational person in the household – apart from her saintly grandmother (played by Diane Ladd, who also narrates the story). In the midst of all this family chaos Joy invents a self-wringing mop and begins the daunting and arduous task of getting it patented, put into production and placed on the market.
The plot is really one long series of business obstacles. Joy must face and overcome them at every turn. Just when it seems she's about to break through, another problem arises. But Joy is whip smart and has nerves of steel as she proves time and again. The ending of this feelgood story is never in doubt. We know Joy will eventually surmount every setback and become the absolute picture of the successful business woman.
Jennifer Lawrence, as always, is a joy (pun intended) to watch. She rises above the occasionally trite script to make Joy a real person that anyone can relate to. She's the voice of reason in the chorus of whining, complaining babies that is her family. Thanks to Lawrence we empathize with Joy's struggles far more than we would with a lesser actress in the role. As David O. Russell's muse she continues to elevate his material to a higher level.
In addition to the already mentioned actors, Virginia Madsen is quite good as Joy's mother, as is Isabella Rossellini as Trudy. Susan Lucci and Donna Mills spoof themselves playing characters in a daytime soap opera that Joy's mother is addicted to watching. In a bittersweet role Melissa Rivers plays her late mother, comedy queen Joan Rivers.
Joy is pleasantly inspiring and another wonderful showcase for Jennifer Lawrence.
Reviewed on:
January 13th, 2016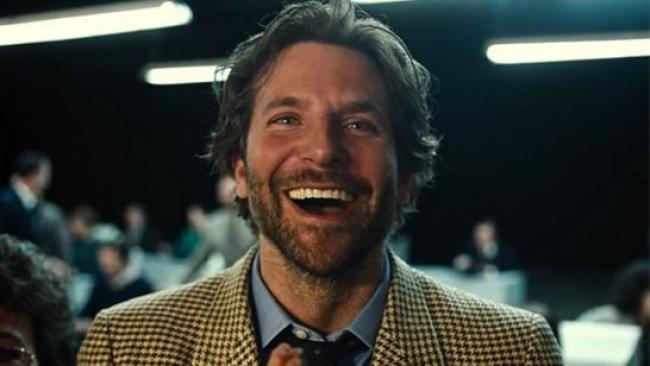 Bradley Cooper in Joy.
Joy is another chance for Jennifer Lawrence to show off her acting abilities and charisma, of which she has both aplenty. However, although she carries off the part, at 25, she seems too young for this character, something that is even more true in the film's final Godfather like scene. This doesn't completely detract from her performance, but did niggle at me the entire time I was watching. For the record, the real Joy Mangano was 34 when she invented the Miracle Mop.
The film, as is becoming standard fare in a David O. Russell film, is, as Patrick noted, peopled with colorful characters. They're eccentric and funny. There's a sitcom pilot waiting to happen in the family situation Joy has going on in her house. The wise old grandmother, the housebound mother obsessed with her soap opera, the philandering father and the ex-husband sharing the basement. De Niro, Rossellini, and Madsen make these characters funny and they're entertaining to watch for a while, but eventually start to wear out their welcome. They could sustain a 20 minute sitcom, but they're not enough to support an entire film, especially one that relies too frequently on them.
Unlike Russell's earlier collaborations with Lawrence, Bradley Cooper only has a supporting part. Although a few years ago I would never have thought I'd write this, he is missed by being in such a small part. Cooper has managed to transform himself from just another pretty face into a genuine actor of considerable skill. He and Lawrence share a comfortable onscreen rapport. Their scenes together bring a spark to the proceedings that is different from the rest of the film. While Joy's family dynamic is amusing, I was more interested in her business dealings, of which Cooper plays a major part.
The real joy (another pun intended), is watching Lawrence. I agree with Patrick again that she elevates this material. We stick with this character mainly because Lawrence plays her so well. Only in that final scene, when she has supposedly aged into this business matriarch does Lawrence's ability fail her, as does the makeup department, which, perhaps too afraid to hide Lawrence's features, does little to make her look older.

Reviewed on:
January 23rd, 2016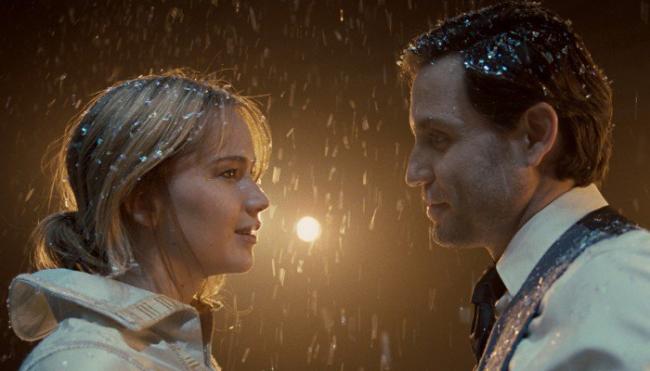 Jennifer Lawrence and Edgar Ramirez in Joy
Like The Danish Girl, Joy is based on a real person but great liberties were taken with the story. One of the biggest is the creation of a half sister, Peggy, who constantly seems to be getting in Joy's way and whining about not getting enough respect. The basics are true though, Joy invented a mop that took off when she started selling them herself on QVC. She grew up middle class but became wealthy through her own inventions and intuition.
As my brothers mentioned, the movie is filled with colorful characters and the story works best in the lighter moments. There is the lazy mother who falls for the Haitian plumber and Trudy's pointless four questions. One of my favorite moments is when Robert De Niro, as Joy's father, tries to take responsibility for her failings but actually ends up insulting her horribly.
Although he is never given any jokes, one of my favorite characters is Joy's husband Tony. He is somewhat of a bum but he still emotionally supports and encourages his ex-wife. He dates other women but he is always there for her and their daughter. As Joy's mother narrates, "They are better friends than spouses."
I am not sure how much trouble Joy had in real life getting to where she is but this film seems to work a bit too hard at showing how hard she worked. By the time her last road block showed up on screen, I was ready for it to be over. Joy's emotional outburst in the hotel is a dramatic tone change from all that has come before. The confrontation in the Dallas hotel room is far too unbelievable to be taken seriously, even though it is intended to be. I have no knowledge of how any of that played out in real life, but if it did, there were plenty of lawyers involved and do not get me started on The Godfather-ish scene Patrick mentioned.
I agree completely with my brothers opinion of Jennifer Lawrence's performance. She has a natural screen presence and comes across as a very real person.That is except for The Godfather scene where she is intended to convey some gravitas but never quite pulls it off.
Photos © Copyright Fox 2000 Pictures (2015)
Related Reviews