Movie Review
Joy Ride
It started as a joke. Now the joke is on them.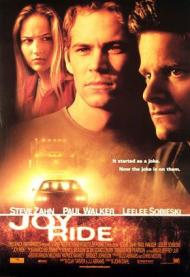 US Release Date: 10-05-2001
Directed by: John Dahl
Starring
▸
▾
Steve Zahn

,

as

Fuller Thomas
Paul Walker

,

as

Lewis Thomas
Leelee Sobieski

,

as

Venna
Jessica Bowman

,

as

Charlotte
Jay Hernandez

as

Marine

Reviewed on:
January 21st, 2006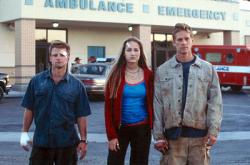 Steve Zahn, Leelee Sobieski and Paul Walker in Joy Ride.
Joy Ride is not much of a joy, not that great of a ride and not very original. It steals heavily from 1986's The Hitcher in which a young man gets followed and harassed by a psychotic killer along an often deserted western highway.
Walker and Zahn play brothers, who on a road trip use their CB radio to play a harmless joke on an unknown truck driver. Walker pretends to be a girl with the handle name of "Candy Cane." The truck driver and Candy Cane arrange to meet at a hotel. The boys yuck it up until the driver shows up and finds some old guy in the room instead of a girl. The boys are staying in the next room and hear the confrontation. The old man is nearly killed by the truck driver. The boys are now scared and hit the road, but before they get too far the CB radio comes on with the trucker asking if Candy Cane is out there. The brothers antagonize the trucker who just happens to be right behind them on the road. After a close call the boys apologize over the radio and all seems to be fine.
The brothers then pick up a girlfriend from her college and they continue there trip. However, the psycho truck driver happens to know everything. He abducts the girlfriends best friend from college and is holding her as this gives him power over them. The ridiculous plot continues with some close calls a some attempts at a few scarey moments.
In The Hitcher, Rutger Hauer plays a seriously threatening villain. The best moment in that movie is when C. Thomas Howell is driving along after several experiences with Hauer and a car passes him that is full of a family and Hauer. Howell and the audience know what will happen and in the next scene Howell finds the car and the bodies. In Joy Ride the bad guy is just some barely seen truck driver who just didn't like a joke played on him.
Zahn is charming as ever. He has a few good lines such as, "Do what I do. Just remind yourself that in a hundred years you're gonna be dead. It's the closest thing I've got to a philosophy." He has great sarcastic delivery. At one point Walker asks him, "Do you ever miss Mom and Dad?" to which Zahn responds, "Yeah, I miss Mom's chocolate chip cookies, playing football with Dad on Sundays, going to... oh wait, I must have mixed my child-hood with someone else's I mean... no." Walker, however, is just another soap actor who got lucky in movies. Anyone could have played his role.
Unless you are curious as to how this film resembles the superior The Hitcher, I would recommend it be avoided at all costs.
Photos © Copyright Twentieth Century Fox Film Corporation (2001)