Movie Review
Journey to the Center of the Earth
Same Planet. Different World.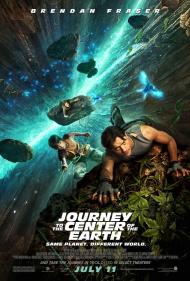 US Release Date: 07-11-2008
Directed by: Eric Brevig
Starring
▸
▾
Brendan Fraser

,

as

Trevor Anderson
Josh Hutcherson

,

as

Sean Anderson
Anita Briem

,

as

Hannah Asgeirsson
Seth Meyers

as

Professor Alan Kitzens

Reviewed on:
July 12th, 2008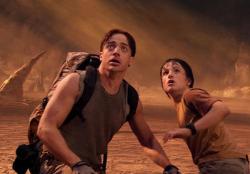 Brendan Fraser and Josh Hutcherson in Journey to the Center of the Earth.
Journey to the Center of the Earth is a fun time at the movies. The film was made with plenty of scenes taking full advantage of the 3D affect. Frazier spits into the sink and in effect into the audiences face. Hutcherson plays with a yo-yo and of course there is the flying piranha. All of these scenes look great in 3D. Actually I only imagine they would. My sons and I went to see this movie not knowing that the theater we were at was not showing the 3D version, but the standard one. Needless to say, we were disappointed.
Trevor is a seismologist whose brother, Max, disappeared 13 years ago. Max's 13 year old son, Sean, comes to spend a weekend with his uncle Trevor. He brings with him a copy of Jules Verne's Journey to the Center of the Earth. Inside it are notes left by Max. Trevor deciphers the notes and before you know it he and Sean are off to Iceland and an unplanned trip to the center of the Earth.
Accompanying them is an attractive Icelandic guide, Hannah, whose father recently died. She seems to have just the right amount of equipment in her back pack, to help them out of any jam. This includes what seems to be about a mile of rope.
Once under ground they use the novel to help them navigate. They befriend glowing birds, get chased by a dinosaur, "Haven't you ever seen a dinosaur before?" Sean asks in mid stride. "Not with skin on it!" Trevor yells back. And of course there is the flying piranha.
This is one of the best family adventure films I have seen in a long time. There is no swearing of sexual inuendo of any kind. Even when a dead body is found it is never shown. Writer, Michael Weiss must have a son the same age as Sean. He resembled my son when he played his PSP, asked about watching The Family Guy and wanted some Mountain Dew.
Even though we did not get to see this film in 3D, it still held enough action and fun to be an enjoyable watch. The ending opens up the possibility for a sequel, well I say bring it on. Of course, I will be more specific at the box office next time, before I purchase my ticket.
Photos © Copyright Warner Bros. Pictures (2008)
Related Review