Movie Review
John Paul Jones
So big all the seas of the world are its stage.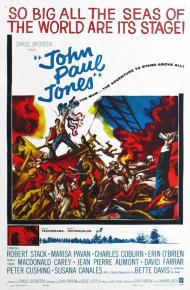 US Release Date: 06-16-1959
Directed by: John Farrow
Starring
▸
▾
Robert Stack

,

as

John Paul Jones
Marisa Pavan

,

as

Aimee de Tellison
Charles Coburn

,

as

Benjamin Franklin
Erin O'Brien

,

as

Dorothea Danders
Bette Davis

,

as

Empress Catherine the Great
Macdonald Carey

,

as

Patrick Henry
Jean-Pierre Aumont

,

as

King Louis XVI
David Farrar

,

as

John Wilkes
Peter Cushing

,

as

Captain Richard Pearson
Susana Canales

,

as

Marie Antoinette
Tom Brannum

,

as

Peter Wooley
Basil Sydney

,

as

Sir William Young
Bruce Cabot

,

as

Gunner Lowrie
John Crawford

as

George Washington
Reviewed on:
July 26th, 2011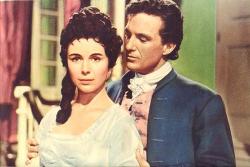 Robert Stack and Marisa Pavan in John Paul Jones.
The Scottish born Revolutionary War hero John Paul Jones is not a historical figure that gets much attention. He was instrumental in creating the Continental Navy in 1775, precursor to the United States Navy. He also led a raid on the island of Great Britain, at Whitehaven, and was responsible for one of the Continental Navy's few victories at sea by defeating the British Royal Navy's war ship Drake. He affected British morale and, more significantly, the allocation of defense resources. He is most famous for uttering the immortal line, "I have not yet begun to fight!"
This Warner Brother's Technicolor widescreen epic is beautiful to look at and clearly cost a pretty penny. It stays fairly true to what is historically known about the rather enigmatic sea captain. We see his early years sailing for England in the Caribbean where he killed a mutinous sailor and was strongly advised to relocate. He then moved to Virginia where his brother had a successful plantation. He took the surname of Jones and was soon hobnobbing with the likes of Patrick Henry and George Washington.
After the start of the war he had a few naval excursions before being sent to France to join Ambassador Benjamin Franklin (the appropriately cast Charles Coburn in his final movie role) in pleading for assistance. It is here that he decides to lead the charge against England itself.
After the war Jones went to Russia to serve Catherine the Great. She just happens to turn out to be Bette Davis making her first movie appearance in three years. She speaks Russian, French and English and basically thunders her way through her brief scenes. John Paul Jones marked the final time Davis appeared in a movie scored by the great Max Steiner. He had scored many of her most famous Warner Brothers melodramas of the 30s and 40s.
This being a movie there are a few failed attempts at romance thrown in, although the real John Paul Jones never married. He spent his final days in Paris where he died from kidney failure in 1792 at the age of 45. The biggest problem with the movie is its star Robert Stack. He looks the part but his acting is about as wooden as a pirate ship plank. To paraphrase Dorothy Parker, "He runs the gamut of emotions from A to B."
Produced and shot in Spain, John Paul Jones is visually sumptuous and features an impressive supporting cast. It also sheds light on an important historical figure that doesn't get the attention he deserves. If only they had cast a better actor in the lead role this could have been a great movie instead of only slightly above average.

Photos © Copyright Warner Bros. Pictures (1959)