Movie Review
Jodorowsky's Dune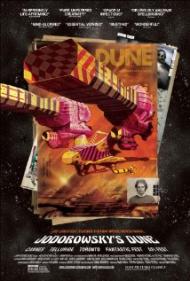 US Release Date: 03-21-2014
Directed by: Frank Pavich
Starring
▸
▾
Alejandro Jodorowsky

,

as

Himself
Michel Seydoux

,

as

Himself
H.R. Giger

,

as

Himself
Chris Foss

,

as

Himself
Brontis Jodorowsky

,

as

Himself
Richard Stanley

,

as

Himself
Devin Faraci

,

as

Himself
Drew McWeeny

,

as

Himself
Gary Kurtz

,

as

Himself
Nicolas Winding Refn

,

as

Himself
Diane O'Bannon

,

as

Herself
Christian Vander

,

as

Himself
Jean-Pierre Vignau

,

as

Himself
Amanda Lear

,

as

Herself
Dan O'Bannon

as

Himself
Reviewed on:
March 23rd, 2014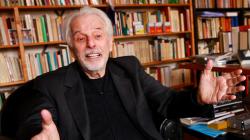 Alejandro Jodorowsky in Jodorowsky's Dune.
Chilean-French auteur Alejandro Jodorowsky had made a name for himself in the early 1970s as the filmmaker behind such bizarre midnight cult classics as the acid-western El Topo and the mystical, phantasmagoric Holy Mountain (in which an alchemist -literally- turns shit into gold). For his next project he chose to make a movie version of Frank Herbert's seminal science fiction novel Dune. This movie was never filmed but it has remained legendary nonetheless among sci-fi geeks and Dune junkies the world over.
Jodorowsky's Dune takes a fond and fascinating look back. Through interviews with the director himself (see photo), as well as other creative talents who worked on the failed project, this often hilarious documentary explores this movie that never was. All that survives today is the original storyboard book containing drawings of every scene, as well as several posters.
Jodorowsky spent several months in 1975 traversing the globe in search of his perfect cast and crew, or as the now 85 year old director calls them, his "spiritual warriors". He describes his quest to hire Pink Floyd to do the music, and such diverse (not to mention eccentric) talents as Salvadore Dalí, Orson Welles, Mick Jagger, and David Carradine to act in the movie.
Dalí agreed only on the condition that he be paid the highest salary ever paid an actor up to that time. They agreed to pay him an exorbitant amount per minute but with the caveat that they would only use him for about three minutes of screen time. Thus satisfying Dalí's enormous ego and their limited budget constraints. Welles, naturally, was asked to play the part of Baron Harkonnen. According to Jodorowsky, the notorious gourmand agreed only after being offered the on set services of his favorite chef. Although she isn't mentioned in this documentary, according to several online sources, silent movie queen Gloria Swanson was also offered a role, presumably that of the Reverend Mother.
Let's recap. Jodorowsky's dream cast would have been: Salvadore Dalí as the Emperor of the Known Universe, Mick Jagger as Feyd-Rautha (the role Sting would eventually play in the David Lynch version), David Carradine as Duke Leto, Orson Welles as Baron Harkonnen, Gloria Swanson as Reverend Mother Gaius Helen Mohiam, and the director's 12 year old son as Paul Atreides. What a freak show that would have been.
This demented filmmaker even went so far as to put his young son through six hours of martial arts and weapons training every day in preparation for the role. Although judging by his cheerful participation in this documentary, Brontis Jodorowsky seems to have suffered no lasting ill effects, nor does he seem to harbor any resentment towards his father.
The highlight of the documentary is listening to Jodorowsky's colorful recollections. In broken English he passionately retells 40 year old anecdotes. In truth he does seem a bit unhinged, but it's a gleeful, well intentioned madness. At one point, while discussing the many changes he planned on making to the story, he says, while cackling at his own audacity. "I was raping Frank Herbert, but like this, with love." Come again.
The argument is made that this movie, even in its unfinished form, greatly influenced other science fiction movies, most notably Star Wars and Alien. This is demonstrated by the similarity between several of the images in Jodorowsky's storyboard and George Lucas's movie, such as the light saber duels, and the scene where Luke trains aboard the Millennium Falcon. Two of Jodorowsky's spiritual warriors went on to work on the movie Alien. Dan O'Bannon co-wrote the screenplay and H. R. Giger created the now iconic Alien creature.
These various talking heads proclaim -with straight faces- that Jodorowsky's Dune would have been the greatest movie ever made. A work of art so great that not only would it have advanced the state of film, it would have created a consciousness expanding, spiritual reawakening of humanity. It sounds to me more like it would have been a hot campy mess. Watch this entertaining documentary and decide for yourself.
Photos © Copyright City Film (2014)
Related Review