Movie Review
Jitters
Life is happening right here, right now.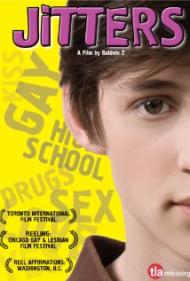 Iceland Release Date: 08-27-2010
Directed by: Baldvin Zophoniasson
Starring
▸
▾
Atli Oskar Fjalarsson

,

as

Gabriel
Ilva Holmes

,

as

Stella
Gisli Orn Garoarsson

,

as

Haraldur
Birna Run Eiriksdottir

,

as

Greta
Lilja Guorun Porvaldsdottir

,

as

Guobjorg amma
Elias Helgi Kofoed-Hansen

,

as

Teddi
Haraldur Ari Stefansson

,

as

Markus
Maria Birta

,

as

Judit
Vilhelm Por Neto

as

Mitrovik
Reviewed on:
January 14th, 2015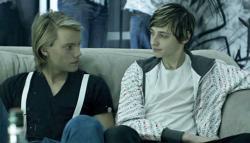 Haraldur Ari Stefansson and Atli Oskar Fjalarsson in Jitters.
Jitters (Órói) is a coming of age film from Iceland and the feature film debut for writer/director Baldvin Zophoníasson. It features a cast of mostly young actors playing a group of high school friends dealing with the complexities of life as they transition to adulthood. The intelligent script and natural acting by the cast brings a level of realism to the story. The plot deals with several heavily dramatic issues and handles them deftly.
It begins with 16 year old Gabríel, on a school sponsored trip to Manchester, England. He's a shy, sensitive, intelligent boy who meets the gregarious Markús and the two soon become inseparable. On their last night together they share a spontaneous kiss. But the trip ends and Gabríel's life soon goes back to normal. Except that his mother senses that something has changed with her son but he refuses to talk to her about his trip.
We then meet Gabríel's small group of friends and fellow students. One is a girl who is Gabríel's closest friend. She clearly wants more than friendship. Another friend has always wanted to meet her father but her mother has steadfastly refused to give her any information regarding his identity. Eventually she gets some answers and with the help of another friend, and the internet, finally meets him.
Meanwhile Markús has reentered Gabríel's life. They cross paths at a party where they interact in an awkward manner. Later, at that same party, Gabríel walks in on Markús having sex with a girl. Hurt and confused he leaves and refuses to answer Markús's texts. A tragedy ensues concerning the girl with a crush on Gabríel, but not before he confesses his true feelings about Markús. As he explains it, he had never before understood what others meant when they said they had the jitters but when he kissed Markús he suddenly got it. It is a simple yet very accurate way to describe your first love and the physical sensation it brings.
The cast is quite good and these kids behave very much as real teenagers. They are all a bit wild, going to parties, drinking and doing drugs, and having sex. But the story doesn't overly dramatize their situations nor does it sugarcoat the effect this behavior has on their lives. Like real life some of these kids have happy endings and some do not. Jitters is a well made little movie that proves that the problems of being a teenager are universal.
Photos © Copyright TLA Releasing (2010)