Movie Review
Jersey Girl
Forget about who you thought you were, and just accept who you are.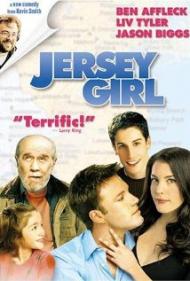 US Release Date: 03-26-2004
Directed by: Kevin Smith
Starring
▸
▾
Ben Affleck

,

as

Ollie Trinke
Raquel Castro

,

as

Gertie Trinke
Liv Tyler

,

as

Maya
Jennifer Lopez

,

as

Gertrude Steiney
George Carlin

,

as

Bart Trinke
Jason Biggs

,

as

Arthur Brickman
Jennifer Schwalbach Smith

,

as

Susan
Stephen Root

,

as

Greenie
Mike Starr

,

as

Block
Jason Lee

,

as

PR Exec #1
Matt Damon

,

as

PR Exec #2
Will Smith

as

Himself

Reviewed on:
July 20th, 2014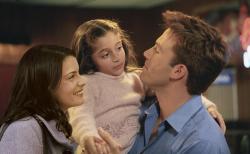 Liv Tyler, the adorable Raquel Castro and Ben Affleck in Jersey Girl
Kevin Smith wrote and directed Jersey Girl inspired by the fact that he had recently become a father himself. His wife Jennifer Schwalbach Smith, who has a small role here as Susan, gave birth to their daughter in 1999. No doubt, the scene where Ollie takes his daughter Gertie to the video store was likely something he was very familiar with, as that is where his career began. Either way, the relationship between Ollie and Gertie is the most sincere of the movie.
As Jersey Girl was being filmed, Gigli was tanking at the box office and raking in some of the worst reviews in film history. As Jennifer Lopez plays Ben Affleck's wife in this film, the publicity for this movie dropped every mention and image of her they could. Note her absence from the movie poster, even though she has more screen time than Jason Biggs.
Lopez plays Affleck's wife who dies in child birth shortly into the film. He takes his newborn home, but looks on her as little more than an inconvenience. In fact, at one point, the baby becomes so intrusive into his life that he loses his job in the music industry. However, this is a blessing in disguise as it forces him to move in with his father in New Jersey where he becomes the father he needs to be.
I was truly caught up in this tale of a father who learns to become a better one out of instinct and by example of his own father. Then Ollie meets Maya when he rents a porn video and the movie hits a huge snag. She starts passing judgment on him, making jokes and embarrassing him. No doubt it is policy for video store clerks to not do such things as it would be bad for business. Later that night, Maya shows up at Ollie's home. She wants to interview him for her college thesis about married men and porn but her actions are far too aggressive to be real. I never bought how quickly Maya assimilates herself into Ollie's life.
Ollie meanwhile, keeps his dream alive of returning to work in a Manhattan firm, providing Smith an excuse to give Jason Lee and Matt Damon a cameo appearance when Ollie has an interview. Ollie has to learn how to balance a life of work, family, dreams and dating. Most importantly, he has to decide his priorities, even though life has already decided them for him.
Jersey Girl barely registered at theaters but it definitely makes for a nice afternoon watch, especially if you are a parent.
Photos © Copyright Miramax Films (2004)