Movie Review
Jersey Boys
Everybody remembers it how they need to.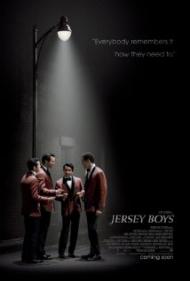 US Release Date: 06-20-2014
Directed by: Clint Eastwood
Starring
▸
▾
John Lloyd Young

,

as

Frankie Valli
Vincent Piazza

,

as

Tommy DeVito
Michael Lomenda

,

as

Nick Massi
Erich Bergen

,

as

Bob Gaudio
Christopher Walken

,

as

Gyp DeCarlo
Mike Doyle

,

as

Bob Crewe
Renee Marino

,

as

Mary
Kathrine Narducci

,

as

Mary Rinaldi
Lou Volpe

,

as

Frankie's father
Johnny Cannizzaro

,

as

Nick DeVito
Jeremy Luke

,

as

Donnie
Barry Livingston

,

as

Accountant
Joey Russo

,

as

Joe Pesci
James Madio

,

as

Stosh
Steve Schirripa

,

as

Vito
Miles Aubrey

,

as

Charles Calello
Troy Grant

as

Ed Sullivan


Reviewed on:
January 11th, 2015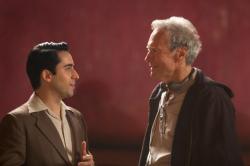 John Lloyd Young and Clint Eastwood filming Jersey Boys
Like most Americans of a certain age, I have heard many of Frankie Valli and the Four Seasons songs. I like most of their hits, with my favorite being the phenomenal "Can't Take My Eyes Off You." It is a unique song that jumps out at you. Although I knew some of their recordings, I knew nothing about Frankie Vallie, Tommy Devito, Bob Gaudio and Nick Massi.
Based on the successful Broadway musical, Jersey Boys tells the story of the formation of the Four Seasons, their rise to fame, their conflicts and eventually their falling out. Frankie is a New Jersey kid who is friends with the kind of young men your parents warn you to stay away from. Tommy Devito, as portrayed here, is a petty criminal with mob connections. He drags Frankie into some of his crimes but Frankie always squeeks out of trouble while Tommy spends some time in jail. Frankie's hero is fellow New Jersey Italian singer Frank Sinatra, who was once arrested when he was young. I guess it was part of growing up Italian in New Jersey.
Frankie had already recorded some demos trying to become a singer when Tommy made him the lead singer of his band. Things did not take off until they were joined by Bob Gaudio, who wrote most of their hit songs, along with Bob Crewe. Their lyrics and Frankie's famous falsetto made music history.
I am not sure how the story was told on stage but here we have different members of the band breaking the fourth wall to express their opinions. Some of their exposition is interesting but it makes for an awkward narration. Interesting enough is that Frankie rarely does it. Add in the fact that the story rearranges the chronological order of things and the movie loses its rhythm. "Can't Take My Eyes Off You" went to number 2 in 1967. In this film, it is made to seem as if it was first recorded after the death of a family member that took place in real life in 1980.
The cast is good overall. John Lloyd Young won the 2006 Tony Award for Best Actor in a Musical for his performance as Frankie Valli in Jersey Boys on Broadway. He does well enough here but Eastwood never milks the musical moments for all that they could be. All of their big hits are featured here with only "Can't Take My Eyes Off You" getting the reverential treatment. It builds dramatically up to it but the final execution of the song is only partially affective.
The story of these four boys learning to walk like men makes for an entertaining viewing. After Gaudio loses his virginity to a girl set up by Devito, Gaudio states to him, "You were right. It is better with another person." It is however, their songs that you will take away from this film. Their catchy tunes are playing in my head as I write this and I will be visiting Itunes later to down load some of them.
Reviewed on:
May 7th, 2015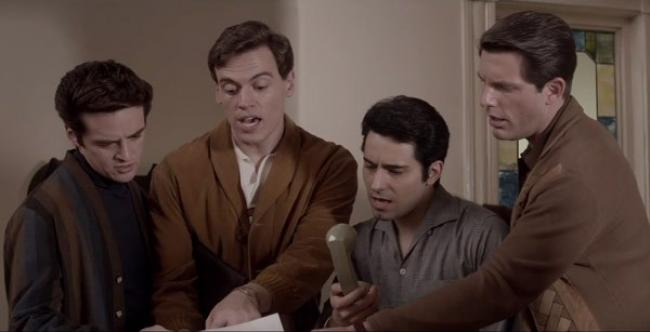 Vincent Piazza, Erich Bergen, John Lloyd Young and Michael Lomenda in Jersey Boys.
The songs are definitely the best things in this rather enervated musical biopic based on the hit jukebox musical of the same name. We've seen the story a million times before. Most biopics follow the same formula; talented youngster(s) come from the wrong side of the tracks, find fame and fortune while enduring plenty of contrived melodrama along the way, then suffer a major career setback before making a comeback in time for the big finish. The music is really the only thing that distinguishes these stories from each other.
Fortunately, the tunes in Jersey Boys are timeless pop classics. Eric mentioned, "Can't Take My Eyes Off You", and I agree it's the best song in the movie. I also agree that Eastwood dropped the ball on the staging of the musical numbers. They needed more emphasis and build up. If you're going to make a musical you have to fully commit to it. In transitioning it from stage to screen Eastwood has reduced some of the songs to background filler, with only snippets of the songs being heard.
And there were many opportunities for creating memorable musical moments. In their heyday, the 4 Seasons had a seemingly endless string of hits including, "Sherry", "Big Girls Don't Cry", "Walk Like A Man", "My Eyes Adored You", "Dawn (Go Away)", "Rag Doll", "Working My Way Back to You", and what is probably their most widely known song, "December, 1963 (Oh, What a Night)".
The narration by the four members of the group represents the spring, summer, autumn and winter of the career of the 4 Seasons. That's not a horrible bit of symbolism, even if it is pretty obvious, and a bit pretentious when you consider that, according to the movie anyway, they chose the name from a motel sign. The cast of mostly unknown Broadway actors does everything required of them without leaving an indelible impression.
Christopher Walken never leaves first gear as Gyp DeCarlo. He's playing a mob boss in a musical for god's sake, the kind of role designed to be played to the rafters yet Walken sleep walks through it. Eric mentioned Frankie Valli's idolization of Frank Sinatra and, like Sinatra, Valli got his start singing in a night club owned by DeCarlo.
Actor Joe Pesci was a childhood pal of Tommy DeVito. He played a key role in the formation of the group by introducing DeVito and Valli to Bob Gaudio. Joey Russo plays the young Pesci, and Eastwood includes a few winks at the actor's career. In one scene Russo (as Pesci) says, "Funny how?" which is a famous line spoken by Pesci in Goodfellas, playing a character named Tommy DeVito. He also spoofs Leo Getz from Lethal Weapon 2, "Okay, okay, okay, okay."
Jersey Boys looks pretty good and it hits most of the right notes, but somehow, despite all the great music, it never really takes off.
Photos © Copyright Warner Bros. (2014)