Movie Review
Jerry Maguire
The rest of his life begins now.
US Release Date: 12-13-1996
Directed by: Cameron Crowe
Starring
▸
▾
Tom Cruise

,

as

Jerry Maguire
Cuba Gooding Jr.

,

as

Rod Tidwell
Renee Zellweger

,

as

Dorothy Boyd
Kelly Preston

,

as

Avery Bishop
Jerry O'Connell

,

as

Frank Cushman
Jay Mohr

,

as

Bob Sugar
Bonnie Hunt

,

as

Laurel Boyd
Regina King

,

as

Marcee Tidwell
Jonathan Lipnicki

as

Ray Boyd


Reviewed on:
April 4th, 2004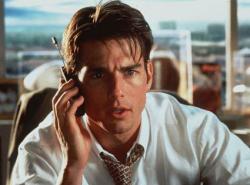 Tom Cruise in Jerry Maguire.
Hollywood makes more love stories, or movies that contain some romance in the plot, than any other kind of film. Few however, contain solid enough characters to allow them to stand out and be remembered. Gone With The Wind and The Way We Were are two such classic character driven love stories. A more recent one is Jerry Maguire.
Tom Cruise does his greatest acting to date as a sports agent who develops a conscience while working for a large firm. After a confrontation with a son of a hospitalized hockey player, Jerry loses some sleep writing a memo, sorry, I mean Mission Statement. In it, he writes it should be about less money and more care. Less money is, of course, bad for business and Jerry gets fired. He takes with him an accountant, who has a crush on him, a client with an attitude and a goldfish. With the hope of signing a hot new quarterback, Jerry is upbeat and ready to move ahead. Then the quarterback betrays him, his fiancé breaks up with him and he makes a pass at his accountant. Life for Jerry just keeps getting complicated.
Renée Zellweger does a great job as Dorothy, the accountant. She plays a single mother to a scene stealing little boy named Ray. Dorothy and Ray are infatuated with Jerry from the moment they first talk to him. Dorothy's sister, the great Bonnie Hunt, runs a support group for divorced women. She always has advice for Dorothy, most of it negative.
Cuba Gooding Jr. won a supporting actor Oscar for his role. Gooding plays over the top most of the movie. However, Gooding occasionally lets little moments slip in where you see his character's vulnerability. Also, it is his character that is responsible for introducing the catch phrase, "Show me the money."
Cruise was nominated for an Oscar, and deservedly so. Early on, there is the scene where he is staring at his computer screen, writing his memo. Cruise has a remarkably tired, intense and determined look on his face. You can feel Jerry's passion. Near the end of the movie, he has another great scene where he declares his love for Dorothy.This movie could become a classic. Not only is the love story solid, but also the dialogue is the best in a long time. On their first date, Jerry sees Dorothy walk in and says, "That's more than a dress, that's an Audrey Hepburn movie." Then, there is the scene at the end where Jerry walks in on the support group meeting. He says, "Hello" and then goes on about how he wants Dorothy in his life. This speech includes the line, "You complete me." He starts to go on but Dorothy stops him and says, "Shut up. You had me at hello." Classic, classic, classic dialogue.
One of the best romantic movies of all time, it can appeal to both sexes. It has a lovelorn female lead for women to root for and a guy who spends lots of time around sports. Only time will tell if Jerry Maguire truly becomes a classic film. In my book, it definitely deserves to.
Reviewed on:
February 4th, 2014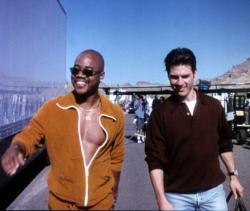 Cuba Gooding Jr. and Tom Cruise in Jerry Maguire.
I think there's little doubt that Jerry Maguire is well on its way to classic status. It features a greater number of often-quoted lines than just about any other movie to come out of the 90s. The only possible exception being Forrest Gump. Cameron Crowe wrote a terrific script in that it tells an incredibly romantic love story but it's also a great buddy movie about friendship and loyalty. Cuba Gooding gets at least as much screen time as Renee Zellweger and he's billed above her after all. At any rate, this combination of friendship and romance set against a backdrop of sports is definitely a winner.
I'm with Eric about Tom Cruise's performance too. He has never been better than he is here as the titular sports agent. His desperation is palpable but so is his charisma. He is clearly very talented at his chosen vocation, and that applies to both the actor and the character. Cruise seems so natural in the scenes with the young boy, marvelously played by a five year old Jonathan Lipnicki.
The relationship between Jerry and Dorothy isn't your typical movie romance. They don't exhibit all that much passion. What they do share is a tender, genuine rapport that has a real integrity to it. He wants to do the right thing but he has intimacy issues. She loves him unconditionally but doesn't want to feel as if she's trapped him into marriage.
The final scene works so well because we've come to know and invest emotionally in these two people. That and the fact that it's written so cleverly and both Cruise and Zellweger are pitch perfect. As Eric mentioned, Jerry pours his heart out giving a speech where he romantically references the hearing impaired guy with his girlfriend that they saw on the elevator earlier in the movie, "You complete me." Her response is perfect. "You had me at hello." Which generates humor at just the right emotional peak. Any scene that can make the audience laugh through their tears is a keeper. Screenwriting and acting don't get much better than this.
I always love the relationship between Rod Tidwell (Gooding) and his wife Marcee, played by the underappreciated Regina King. The scene where the two families eat at a restaurant together is another great moment. Rod and Marcee are so much in love and they know each other so well that they can't stop making googly eyes at each other, feeding each other while kissing, as Jerry and Dorothy look on. Jerry seems uncomfortable while Dorothy is envious.
Crowe fools us at the beginning of Jerry Maguire. What starts off as a cynical sports movie turns out to be all heart.
Reviewed on:
February 5th, 2014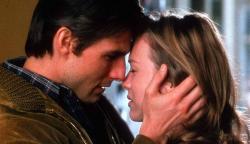 Jerry Maguire and Renee Zellweger in Jerry Maguire.
I concur with my brothers. Jerry Maguire is a modern classic and I don't think there's much question about it. The American Film Institute placed it at number 10 on their list of the greatest sports movies of all time and number 100 on its list of 100 Passions. It also placed the quotes, "Show me the money!" and "You had me at hello." on their list of 100 Movie Quotes at numbers 25 an number 52 respectively. It earned a hefty box office when it was released and remains popular today with a score of 7.3 out of 10 on IMDb from almost 150,000 visitors and retains an 85% fresh score on Rotten Tomatoes.
At the risk of sounding like a broken record, I must also agree with Eric and Patrick about Cruise's performance. He's playing a rich, charming and handsome guy and yet he also seems very human and real. His performance while loud at times is also marked by very subtle shadings. Eric wrote in his review that Cruise does his greatest acting to date and 10 years later that statement is still true. These days he seems more interested in making science fiction and action films, but once upon a time he was a serious actor and never more so than in this film. It's almost impossible in any of his films to forget that you're watching Tom Cruise, but this is perhaps the closest he ever came.
What really makes this film rare is that it's a love story told from the man's point of view. Once upon time that wasn't such a rare thing. But nowadays love stories and chick-flicks have become synonymous. The story is almost always told from the woman's point of view. Here, despite a charming and career making performance by Renee Zellweger, the film belongs to Cruise. Thanks to the script and Zellweger, she is a fully fleshed out, three-dimensional character, but her's is definitely the supporting part.
Patrick's half right about the relationship between Jerry and Dorothy being lacking in passion. Dorothy exhibits all kinds of passion for Jerry, but it's clear that for most of the film Jerry finds Dorothy more comforting than passion inducing. However, as we've been told several times over the course of the film, Jerry has trouble with intimacy and that's what he gets with Dorothy. With her he has someone that he wants to share things with at last. When he comes racing home to declare his love for her at the film's climax it's because he's realized that his life has started lacking things when he can't share them with her. That's the lesson he had to learn. He'd obviously had plenty of physical passion in his life already.
Jerry Maguire was nominated for five Oscars including one for original screenplay and one for Best Actor. Ironically, when watching the film now, it is the script with its memorable dialogue, and the honest portrayal by Cruise that stand out much more than Gooding, who was the film's only winner.
The real test of what makes a movie a classic is whether or not it stands up to the passage of time. And on that score, there's no question. I enjoyed this film more today than I did almost 20 years ago when it was released.
Photos © Copyright Columbia TriStar (1996)