Movie Review
The Jerk
A rags to riches to rags story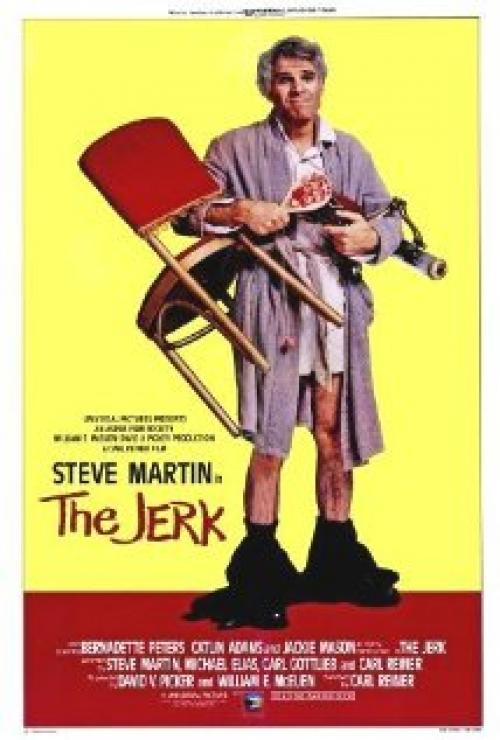 US Release Date: 12-14-1979
Directed by: Carl Reiner
Starring
▸
▾
Steve Martin

,

as

Navin R. Johnson / Cat Juggler
Bernadette Peters

,

as

Marie Kimble Johnson
M. Emmet Walsh

,

as

Madman
Jackie Mason

,

as

Harry Hartounian
Dick O'Neill

,

as

Frosty
Mabel King

,

as

Mother
Richard Ward

,

as

Father
Dick Anthony Williams

,

as

Taj
Bill Macy

,

as

Stan Fox
Catlin Adams

,

as

Patty Bernstein
Maurice Evans

,

as

Hobart
Helena Carroll

,

as

Hester
Ren Woods

,

as

Elvira Jonson
Carl Gottlieb

,

as

Iron Balls McGinty
Carl Reiner

,

as

himself
Rob Reiner

,

as

Truck driver picking up Navin
Larry Hankin

as

Circus hand

Reviewed on:
June 16th, 2015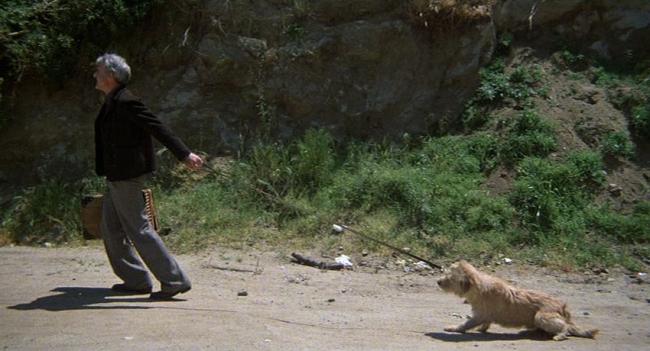 Steve Martin is The Jerk.
When Steve Martin, Carl Gottlieb and Michael Elias were writing the screenplay for The Jerk, their stated goal was to include at least one joke on every page. I think it's safe to say they succeeded. The result, directed by comedy genius Carl Reiner, is one of the silliest, most joke-filled, whimsical motion picture farces ever made. Steve Martin, in his first starring role, proved himself one of the greats in terms of physical comedy, and in Navin R. Johnson he created an indelibly lovable and truly original screen character.
This is a classic American rags to riches (to rags - as the tagline claimed) story with a plot that would have suited Buster Keaton or Harold Lloyd – only with a 1970's twist. The movie begins with Martin, as a bum in an alley, narrating his story directly to the camera. This opening speech includes one of the most famous lines in film comedy, "I was born a poor black child." Raised by black sharecroppers in Mississippi, Navin learns he's adopted as he prepares to head out in search of his fortune. His first reaction is, "You mean I'm gonna STAY this color?" Armed with advice from his family, "Lord loves a workin' man; don't trust whitey; see a doctor and get rid of it." Navin takes to the road wearing a WWII bomber helmet and goggles.
Navin has many adventures along the way. He works at a gas station and gets shot at by a madman who randomly picked his name from a phone book. Then he winds up being the "guess your weight" guy at a traveling carnival where he learns what his "special purpose" (his mother's euphemism for his penis) is for. Everything changes when he meets Marie (Bernadette Peters). When she tells him she's a cosmetologist, Navin excitedly responds, "Really? A cosmetologist? That's unbelievable. That's impressive. Must be tough handling the weightlessness."
Together Navin and Marie (and Navin's dog Shithead) experience ups and downs as their story heads towards its happy ending. Another of my favorite jokes happens when Navin asks a sad looking Marie, "Why are you crying? And why are you wearing that old dress?" She answers, "Because I just heard a song on the radio that reminded me of the way we were." "What was it?" ""The Way We Were.""
For all its silliness and politically incorrect humor, The Jerk contains a surprising amount of heart. The relationship between Navin and his family is played for laughs but it's also shown to be genuine. And the romance between Navin and Marie is sweetly sincere. In one memorable scene they duet on "Tonight You Belong to Me" while strolling along the beach at night.
The Jerk was the first of four movies Steve Martin would star in for director Carl Reiner. It was followed by Dead Men Don't Wear Plaid (1982), The Man with Two Brains (1983) and All of Me (1984). As good as those other three movies are, I still prefer their first collaboration. The Jerk was a huge hit in 1979 and nearly 40 years later it remains one of the funniest movies of all time.
Reviewed on:
June 18th, 2015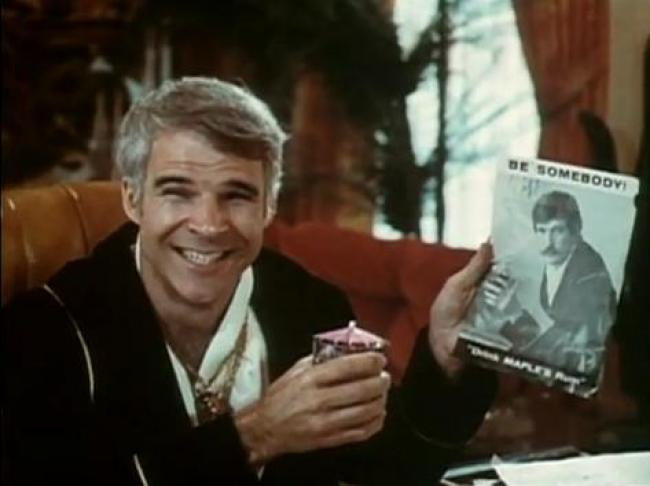 Steve Martin in The Jerk.
The idea for this movie came from the line Patrick mentioned, "I was born a poor black child.", which Martin used in his surreal standup routine and the script grew from that. (Watching it in the Spring of 2015 I couldn't help but wonder if this was Rachel Dolezal's favorite film as a child?) The script also contains other items from Martin's standup routine, including the kitten juggling, and the emotional exit wherein he claims to not need anything, except for the few household objects he picks up along the way.
Although he'd appeared in a few films, and guest hosted Saturday Night Live several times, Martin was known mainly as a standup performer before this film came out. He began his career as a writer, before moving into standup, but has stated that it was always his goal to become an actor. In fact, despite million selling comedy albums and stadium sized tours, he would abandon standup for good in 1981. From today's perspective this can be seen as a smart move. His anarchic standup routine, and immensely popular King Tut song, haven't aged particularly well, while The Jerk is, as Patrick said, just as funny today as it was when it was released.
The comparison to a silent film starring Lloyd or especially Keaton is an apt one. Often those old silent two-reelers felt more like a series of surreal events than one cohesive plot, so does this movie. And the plot, despite all the silly shenanigans, is the oldest one in Hollywood in which boy meets, loses, and gets girl (along with wealth). Really, it's a rags to riches to rags to riches again story. And like those old silent movies, the only goal of this movie is to make you laugh. It's completely and utterly silly and that's all it wants to be. There's no deeper meaning here. It's all about the comedy.
I also agree with Patrick that Martin is loveable as Navin. It's his naive optimism that makes him that way. The smallest things can make him happy, like getting his name in the phone book, or a bamboo umbrella in his drink. He's a total idiot of course, but you can't help but root for him. Martin has given more dramatic performances since this one, but he's never been more likable.
There are too many great and funny scenes to mention, but I will just quote one of the exchanges that made me laugh the most on this watching.
Navin: "I know this is our first date but... do you think, the next time you make love to your boyfriend, you could think of me?"
Marie: "Well, I haven't made love to him yet."
Navin: "That's too bad... Do you think it's possible that someday, you could make love with me and think of him?"
Marie: "Who knows, maybe you and he could make love and you could think of me."
Navin: "I'd just be happy to be in there somewhere."
Clocking in at barely 90 minutes, The Jerk is a very silly, comedy classic.

Reviewed on:
July 7th, 2015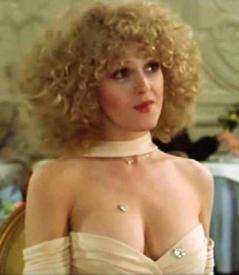 Bernadette Peters in The Jerk
As my brothers wrote, the true secret to the success of The Jerk is the likability of Steve Martin as Navin R. Johnson. Sure, the film is full of laughs and memorable lines but it is Navin's naïve optimism that keeps us rooting for him through his ridiculous adventures. My brothers were reminded of silent film clowns while I kept thinking of James Stewart in Harvey (1950). Not since Elwood P. Dowd had there been such an instantly lovable, yet mentally questionable, character. Like Elwood, Navin has strong family relations and accepts everything he is told as a truth, whether it is or not. Both are full of heart and always seem to see the good in everyone.
Although I remembered her cleavage scene in the restaurant (see photo), I did not recall just how attractive Bernadette Peters was here. She shows her legs off in the disco scene and her midriff in the knife throwing one. Not only is she as cute as can be, but she holds her own against Martin with the comedy. When Navin tells Marie, "I'm gonna bounce back and when I do I'm gonna buy you a diamond so big it's gonna make you puke." Marie adorably pouts and complains, "I don't wanna puke." Like Patrick, I enjoyed the duet with Martin and, of course, her trumpet playing.
Although I agree with Scott that the film's goal is simply to make you laugh, I did find that it makes an interesting observation. Navin is born a poor child of a sharecropper and thus has no clue what sophistication is. The mansion he buys is decorated like a Middle Eastern whore house. He thinks he needs to have an umbrella in all of his drinks because he saw a man in a magazine advertisement with one in his (see photo on Scott's review). I kept thinking of rappers from the 1980s when Marie gives Navin another gold chain. Like poor ghetto musicians making lots of money, he wore his wealth around his neck for all to see. Did Steve Martin start that gaudy trend? The scene of Navin doing karate while surrounded by a bunch of yes men on his mansion grounds reminded me of that poor kid from Tupelo, Mississippi who grew to be an icon and thought he could do martial arts because his entourage said he could.
Like silent film comedies or the three stooges, the humor in The Jerk has aged quite well. Little about it makes you think of the 1970s. You cannot help but root for this hapless go lucky underdog. He often seems mentally deficient but his heart is always in the right place as he makes you hurt from laughter.
Photos © Copyright Universal Pictures (1979)