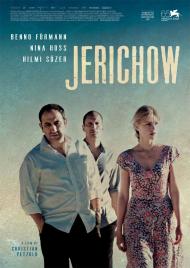 Germany Release Date: 01-08-2009
Directed by: Christian Petzold
Starring
▸
▾
Benno Furmann

,

as

Thomas
Nina Hoss

,

as

Laura
Hilmi Sozer

as

Ali Ozkan

Reviewed on:
January 13th, 2011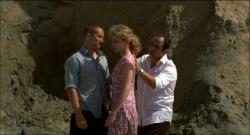 Furmann, Hoss and Sozer in Jerichow.
Although director Christian Petzold is given screenplay credit here, a mention should go to James M. Cain who wrote The Postman Always Rings Twice, as Jerichow steals heavily from it.
It starts with Thomas, a dishonorably discharged Afghanistan veteran, burying his mother in his hometown of Jerichow. He intends to renovate her home with some money he got from some gangsters. They collect the money before he can spend it. Near broke and unemployed, Thomas takes a job driving for Ali, a Turkish-German businessman. He owns a snack-bar chain, in which he makes daily deliveries.
Thomas meets Ali's German, blonde wife Laura. They soon begin an affair, and the question of what to do about it and Ali arises. The film takes place in a forest filled area of Germany near the Baltic Sea. A good setting for foul play.
Although the 1946 version of The Postman Always Rings Twice was made during the enforcement of the strict Hayes code, it still contained more sexual heat than Jerichow. When the unemployed John Garfield first sees the leggy Lana Turner he stands up like a penis growing erect. When Thomas and Laura first meet there are no sparks to speak of. When they finally attack each other with kisses and fondling, it seems to come out of nowhere.
Benno Furmann has the look and build of an action star. His performance is distant and cold. It is not helped by a script that gives him damn few lines. We learn very little about Thomas, other than he is not very honorable.
I do not get the attraction to Nina Hoss. Released right after A Woman in Berlin, Nina Hoss was only 33 years old, but looks much older. In that World War II film she played a survivor of harsh conditions so I attributed her haggard look to her character. Apparently she always looks that way. Even though Laura reveals a sordid past piled with debt, I felt as little compassion for her as I did for Thomas.
Only Ali is a sympathetic character. He is a self made man. He has a successful business and a, supposedly, beautiful wife, that he suspects is having an affair. He wants to be friends with Thomas. He needs someone in his life he can depend on, and he hopes it will be Thomas. He reveals to Thomas at one point that, "I live in a country that doesn't want me with a woman that I bought." His character is the one improvement over The Postman Always Rings Twice.
If only Petzold could have better filled in the blanks on Thomas, could this film been better. How did Thomas get involved with the gangsters? What are the details of his discharge? Why is there no other woman in his life? Jerichow is merely a three actor play where only one becomes anywhere near to being real.
Photos © Copyright ARTE (2009)