Movie Review
Jeremiah Johnson
some say he's dead...some say he never will be.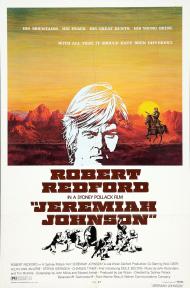 US Release Date: 12-21-1972
Directed by: Sydney Pollack
Starring
▸
▾
Robert Redford

,

as

Jeremiah Johnson
Will Geer

,

as

Bear Claw
Delle Bolton

,

as

Swan
Josh Albee

,

as

Caleb
Joaquin Martinez

,

as

Paints His Shirt Red
Allyn Ann McLerie

,

as

Crazy Woman
Stefan Gierasch

,

as

Del Gue
Richard Angarola

,

as

Chief Two-Tongues Lebeaux
Paul Benedict

,

as

Reverend Lindquist
Charles Tyner

,

as

Robidoux
Jack Colvin

,

as

Lieutenant Mulvey
Matt Clark

as

Qualen

Reviewed on:
June 5th, 2014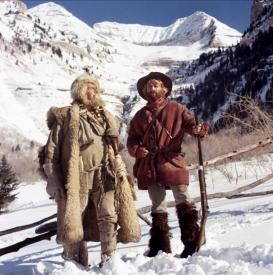 Will Geer and Robert Redford in Jeremiah Johnson.
During the 1970s mountain men movies were popular. Jeremiah Johnson is one of the best. The title character was based on real life fur trapper John "Liver Eater" Johnston (the nickname came from the fact that he would eat the livers of Crow braves he killed to avenge his wife's murder). To tackle the role, Robert Redford famously grew a beard and did nearly all of his own stunts. The movie was shot in remote areas of Utah where real mountain men once roamed. Today it's an annual gathering place for movie stars and glitterati called Sundance.
As the movie opens, Jeremiah Johnson is newly arrived in the West after having fought in the Mexican War in the late 1840s. The movie follows his adventures from greenhorn to legend as he battles the elements, American Indians, and loneliness. Along the way he acquires a family. He comes upon a burning cabin where the only survivors of an attack by Blackfoot warriors are a young boy and his mother. She is in a state of complete mental shock. But she is at least aware of the situation enough to beg Jeremiah to take her boy with him, and he agrees. Later Jeremiah is given an Indian bride as a gift from her father the chief, and with his newly minted family they build a home together out of the wilderness.
SPOILER ALERT: Tragedy strikes after Jeremiah helps the United States Cavalry rescue a stranded wagon train. On their way there they cross through a sacred Crow burial ground. Jeremiah Johnson is the only man among them who fully realizes the gravity of their actions and the possible repercussions. Sure enough when he returns to his cabin he discovers his wife and son both brutally murdered. The movie then becomes a revenge fantasy as Jeremiah wages a one man war on the Crow.
This was the second of an eventual seven films directed by Sydney Pollack to star Robert Redford. Their first collaboration had been six years earlier; the screen adaptation of Tennessee Williams' This Property Is Condemned. That little seen effort costarred Natalie Wood. After the success of Jeremiah Johnson, Redford and Pollack would team up again the very next year on The Way We Were. These were Redford's peak years. He followed up The Way We Were with the hugely popular Best Picture Oscar winner The Sting.
Will Geer plays a fellow mountain man. He was a wonderful character actor best remembered today as Grandpa Walton on the long running television series. His character sports the colorful moniker of Bear Claw Chris Lapp. When he first meets mountain newcomer Jeremiah Johnson, Bear Claw tells him, "You're the same dumb pilgrim I've been hearin' for twenty days, and smellin' for three!" Geer shares the movie's most famous scene with Redford and a grizzly bear. After asking Jeremiah, "Are you sure you can skin grizz?" He returns a few minutes later being chased by a grizzly bear. He leads the bear in the open door of the cabin where Jeremiah waits. Bear Claw then jumps out the back window while we hear crashing sounds followed by a single gunshot. It's an exciting moment that's also very funny.
On a personal note, Jeremiah Johnson is a movie I remember my parents seeing when I was a young child. My mother was never a big fan of Robert Redford, with the exception of this movie. She found him incredibly attractive with his beard. I agree it creates a more ruggedly masculine appearance than his clean shaven face. I remember my father's glowing description of the scene I wrote about in the previous paragraph. Clearly they both enjoyed this movie as much as I do whenever I watch it.

Reviewed on:
June 3rd, 2015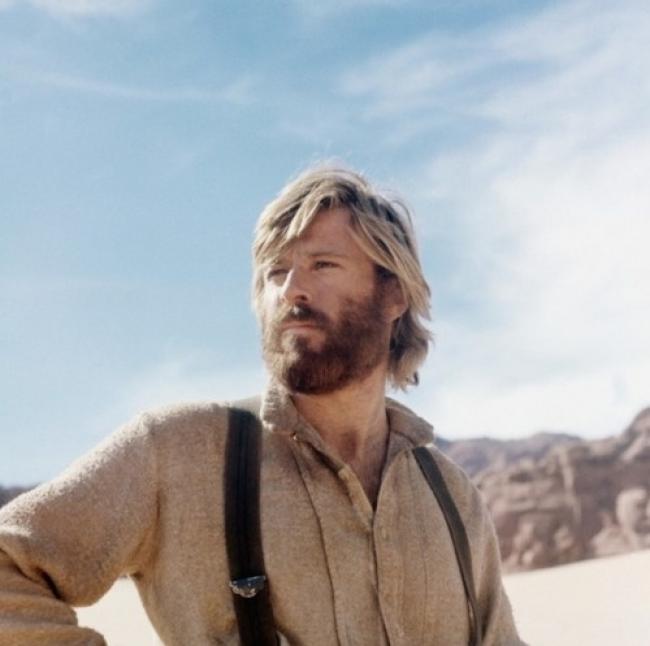 Robert Redford in Jeremiah Johnson
Jeremiah Johnson is just under two hours long but as it lacks any and all characterization it seems to last much longer. The movie opens with the narration, "His name was Jeremiah Johnson, and they say he wanted to be a mountain man. The story goes that he was a man of proper wit and adventurous spirit, suited to the mountains. Nobody knows whereabouts he come from and don't seem to matter much. He was a young man and ghostly stories about the tall hills didn't scare him none…" That's it. That is all we ever learn about him even though he is in nearly every scene that follows.
Johnson spends years in the wilderness, occasionally meeting people and doing plenty of hunting and camping. Most of the time he is alone in the wild. What drives a man to want to lead a solitary life under such harsh conditions? The only clue we are given is that he was once a soldier but no details. Did he experience some horrors of war that led him to want to be away from others? Was he a deserter? Did his best friend die in his arms, scarring him?
For me, the real star of the film is the location. As Patrick noted, it was all filmed in Utah, making that state seem like it has some of the most breathtaking scenery in the country. Redford fell in love with the area. He first bought property in Utah in the 1960s. He and Pollack scouted rural areas of the state from land and air to find the right spots to shoot. In 1978, Redford helped found the Sundance Film Festival, held every year in Utah.
I too remember first watching this film years ago. Separate scenes stood out, such as the "griz" scene Patrick mentioned. I also recalled the fights with the Indians and the scared family in the cabin. However, those scenes are few and far between, padded by lots of scenes of Johnson alone in the wilderness.
Granted, enough is going on to keep my interest but I truly never cared what happened to this guy. In fact, Johnson never seemed to care about himself either. He has no goals to speak of. He merely roams about reacting to whatever may happen to him. A boy gets dumped on him so he takes care of him. Indians attack so he defends himself. We never learn where this guy came from and he has nowhere to go. How can I emotionally invest in a story about a man who wants nothing?
Jeremiah Johnson has some things to offer. Robert Redford is the definition of movie star charm. Utah looks spectacular. Will Geer provides some laughs. There is some action to enjoy. Johnson is often vulnerable in the wilderness but he never becomes anything but a generic person. I was entertained by this film but it truly succeeds as a Utah travelogue.
Photos © Copyright Sanford Productions (III)Warner Bros. (1972)