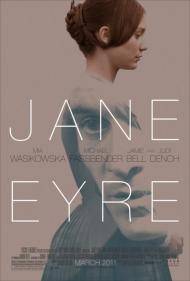 US Release Date: 03-11-2011
Directed by: Cary Fukunaga
Starring
▸
▾
Mia Wasikowska

,

as

Jane Eyre
Michael Fassbender

,

as

Rochester
Jamie Bell

,

as

St. John Rivers
Judi Dench

,

as

Mrs. Fairfax
Su Elliot

,

as

Hannah
Holliday Grainger

,

as

Diana Rivers
Tamzin Merchant

,

as

Mary Rivers
Amelia Clarkson

,

as

Young Jane
Freya Wilson

as

Eliza Reed

Reviewed on:
March 13th, 2011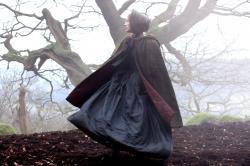 Mia Wasikowska as Jane Eyre.
The latest screen version of Charlotte Bronte's Gothic romance novel is a faithful reproduction of this frequently filmed story. According to the IMDB there have been no less than 22 adaptations (including television productions) dating back to 1910. 2011's Jane Eyre is visually sumptuous and features a talented cast playing these iconic characters.
Newly minted star Mia Wasikowska (Alice in Wonderland, The Kids Are All Right) plays the title heroine. She's rather plain but an intelligent and sensitive young girl raised by her cruel aunt after the death of her parents. The aunt eventually tosses her out and she winds up at a very Dickensian type orphanage.
The movie opens with a grown-up Jane fleeing from a grand country estate and getting caught on the moors in a thunder storm. She winds up half dead on the doorstep of a young country parson (Jamie Bell). She is taken in by him and his sisters and then in flashbacks we see how she got to this desperate place in life.
For anyone unfamiliar with Jane Eyre this is a classic love story. Jane gets a job as governess for the young French ward of the wealthy Mr. Rochester (Michael Fassbender). It is implied that the girl is his bastard daughter. Jane is befriended by the kindly and wise old housekeeper Mrs. Fairfax (the reliable Judi Dench) and first meets her benefactor on a road through the woods when she startles his horse causing him to be thrown off and sprain an ankle. It is one of the most famous first meetings by a pair of lovers in all of literature.
Rochester is rude and caustic towards everyone but in Jane he meets his quiet yet fiery match. Of course they fall in love and Rochester shocks everyone by announcing his intentions to marry his employee. But wait! Rochester has a dark secret hiding in the attic which brings us back to Jane's fleeing in the storm. I won't give away the ending except to say that it is hopelessly romantic and completely satisfying.
The pacing is a bit methodical and as in most movies adapted from 19th Century novels there is plenty of talking. Once Jane takes up residence at Thornfield Hall the movie improves and builds towards the emotional climax. For fans of Gothic romances, or the generally less jaded among us, Jane Eyre is good old fashioned entertainment.

Reviewed on:
March 13th, 2011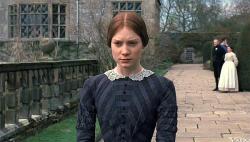 Mia Wasikowska is Jane Eyre
This well crafted retelling of Charlotte Bronte's classic tale just drips with atmosphere. The candlelight in the rambling old Gothic homes and the vast and empty moors provide a beautiful background to this timeless love story.
There is a lot of talking and the language is very formal, English and quite beautiful. Jane and Rochester share a love, but being upper class and English they can not just come out and say, "I fancy you." They must share long, repressed looks at each other and dance around the subject in the their conversation. It is the talking that makes the movie.
Wasikowska gives a great performance as Jane. For once they cast an actress in the part who's actually close to the age of Jane in the book. They also keep her plain an unadorned rather than made up and glamorous, while pretending she's plain, as other filmed versions have done.
Thornfield Hall, Rochester's estate, is quite beautiful and almost a character in itself. It's dark and gloomy with many different rooms and darkened hallways. It's the kind of place it would take years to fully get to know and is the perfect place for hiding secrets as Rochester does.
Fans of the novel should find plenty to enjoy, even if the movie plays with the structure a bit by telling the story in flashback. It also trims a bit of the plot, with the ending seeming a bit abrupt, to keep the running time under 2 hours.
This is Masterpiece Theater on a large and grand scale. Lush and romantic, it's a treat for the eyes, the ears and the heart.

Reviewed on:
February 15th, 2012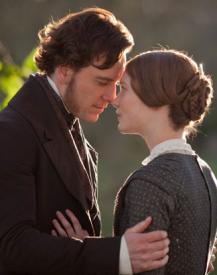 Michael Fassbender and Mia Wasikowska in Jane Eyre
What was it about the Bronte sisters that they wrote so harshly about men? Emily's "Wuthering Heights", features the extremely cruel Heathcliff. Anne's "The Tenant of Wildfell Hall" was about a women who escaped her drunken, abusive husband. Charlotte's "Jane Eyre" features Rochester, who at first insults Jane and acts above everyone else and of course has a huge secret.
The Bronte's mother died when they were young, leaving much of their rearing to their father. He was an Anglican priest who came from a poor farm family. He was an intelligent person who bought periodicals and books for his children, and was particular when he enrolled them in a quality school. Note that pastor John Rivers treats Jane Eyre kindly. The Bronte girls worked as governesses and that has been sited as an influence in some of their writing. Jane Eyre is a governess.
As my brothers wrote, Jane Eyre is all about the romantic dialog. Depending on your taste, you may find it poetic or dreadfully dull. Rochester expresses his frustration with his love for Jane by saying to her, "I cannot get at you, and it is your soul that I want. Why can't you come of your own free will?" Rochester also says to Jane, "I'm asking what Jane Eyre would do to secure my happiness." Jane Eyre responds, "I would do anything for you, sir. Anything that was right."
I never before realized that The Sound of Music is merely a musical remake of Jane Eyre. In both stories a righteous governess moves into a large home with a domineering father. They both fall in love with him. They both, at one point, run away to the protection of a religious person. They both have influences on the man they love, melting his gruff exterior. Captain Von Trapp sings Edelweiss, while Rochester says, "I knew you would do me good in some way. I saw it in your eyes when I first beheld you."
The character of Rochester has clearly become an archetype. Over one hundred and fifty years after it's first publication, and this novel still fascinates audiences and influences other writers. No matter what Charlotte's influences were, she was able to put on paper something that has resonated with generations of readers and audiences.
Photos © Copyright Focus Features (2011)