Movie Review
The Hunt
The lie is spreading.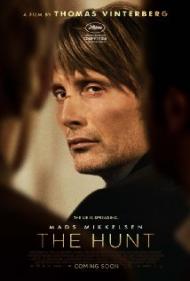 US Release Date: 07-12-2013
Directed by: Thomas Vinterberg
Starring
▸
▾
Mads Mikkelsen

,

as

Lucas
Thomas Bo Larsen

,

as

Theo
Annika Wedderkopp

,

as

Klara
Lasse Fogelstrom

,

as

Marcus
Susse Wold

,

as

Grethe
Anne Louise Hassing

,

as

Agnes
Lars Ranthe

,

as

Bruun
Alexandra Rapaport

,

as

Nadja
Sebastian Bull Sarning

,

as

Torsten
Steen Ordell Guldbrand Jensen

,

as

Lars T
Daniel Engstrup

,

as

Johan
Troels Thorsen

,

as

Bent
Soren Ronholt

,

as

Big Carsten
Hana Shuan

,

as

Tiny
Jytte Kvinesdal

as

Inger

Reviewed on:
January 30th, 2014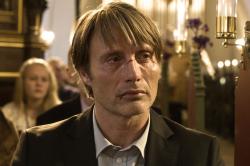 Mads Mikkelsen in The Hunt.
Rarely has a movie given me such a feeling of frustration as The Hunt (Jagten). This Oscar nominated drama from Denmark actually had me talking back to the screen. Mads Mikkelsen stars as Lucas, a lonely man working in a small town kindergarten, struggling to gain custody of his teenaged son. Just when things are looking up in the form of a new girlfriend and the likelihood of more time spent with his child, disaster strikes when Lucas is wrongly accused of pedophilia.
What begins as an offhand remark from a petulant child quickly escalates into a witch-hunt. Lucas loses his job, becomes the town pariah and finds himself facing a possible jail sentence. It says much about the world we live in that nearly every adult instantly and unquestionably believes this girl's lie. Even when she begins to recant, the adults write it off as the result of emotional trauma.
To make matters worse the child, named Klara, is the daughter of Lucas's best friend; they grew up together. It begins like this, Klara's older brother has a friend. This friend brings a pornographic magazine over to their house. As he is passing the little girl in the kitchen he jokingly shows her a picture of an erect penis. The next day in school Klara innocently kisses Lucas on the mouth while he is playing with all the students. Lucas gently tells her that she should only kiss her parents like that. Klara is hurt and angered by his reaction.
Later on when the principal asks her if something is wrong, Klara responds that she hates Lucas. She goes on to say that it is because he has a penis. The principal (a woman) tells her that all men have one. Klara, having seen the photograph of an erection, then states that Lucas's penis points straight up. A mixed-up child's lie then takes on a life of its own and all hell breaks loose.
Here's where the frustration kicks in as we see this poor guy's life fall apart over something he didn't do. The shock Lucas feels as everyone he knows so easily believes him to be a child molester, is palpable. There is a scene at a grocery store that is quite difficult to watch. This is followed by a powerful scene in church on Christmas Eve. Mads Mikkelsen gives a performance of quiet intensity that slowly builds to the breaking point.
Lasse Fogelstrøm is also very good as Lucas's son Marcus. He believes in his dad's innocence and reacts more angrily and confrontational than his father. Annika Wedderkopp plays Klara. She is too young to fully understand the ramifications of her falsehood but as the story progresses she comes to realize she has done a bad thing.
The final scene happens during the titular deer hunt. An annual event in their small town. It isn't a completely satisfying ending but it is an absolutely realistic one. Be prepared, The Hunt is emotionally devastating.

Reviewed on:
February 14th, 2014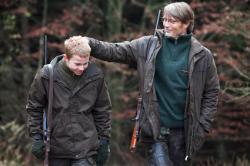 Lasse Fogelstrom and Mads Mikkelsen in The Hunt
The Hunt (Jagten) is a tale of a false allegation of child sexual abuse. As Patrick wrote, we see how it affects this man who already has enough on his plate. He is having custody issues with his ex-wife over his teenage son and has recently started a new job after his previous teaching assignment was lost. You cannot help but sympathize with him.
With a touch of dark irony, Klara is actually molested, psychologically speaking, by those who are attempting to help her. They put as many words in her mouth as they do thoughts in her head. They believe her lies but ignore her when she tells the truth. All she ever actually stated was that Lucas's penis pointed up. The social worker asks her if she touched it or did something white come out of it. How do you think those questions translated in her very young brain?
Of course the teachers and her parents have the best intentions but they end up, potentially, doing all kinds of harm to Klara. Lucas likewise is an innocent victim. He suffers in many ways, as does his son, at the hands of people acting from emotion and good intention. The Hunt is a cautionary story of the accused becoming the victim.
I agree with Patrick wholeheartedly about the quality of acting; Mads Mikkelsen gives a stirring performance as Lucas, as does Lasse Fogelstrom as Marcus. The scene in the church is astounding; it starts with subtle frustration and then builds to an emotional confrontation. Mikkelsen was robbed of an Academy Award nomination.
Photos © Copyright Danmarks Radio (DR)Det Danske FilminstitutEurimages (2013)