Movie Review
Jackass: Number Two
We made number two.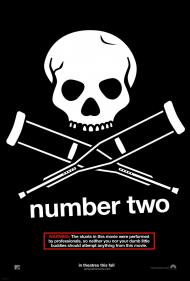 US Release Date: 09-22-2006
Directed by: Jeff Tremaine
Starring
▸
▾
Johnny Knoxville

,

as

Himself
Bam Margera

,

as

Himself
Steve-O

,

as

Himself
Chris Pontius

,

as

Himself
Preston Lacy

,

as

Himself
Ryan Dunn

as

Himself


Reviewed on:
January 11th, 2007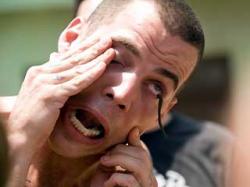 Jackass Number Two.
Jackass: Number Two offers little more than the first movie. Once again this group of guys are willing to hurt themselves, and humiliate each other, for our viewing pleasure. To talk about the stunts would be to spoil them. Suffice to say, if you have seen the television show or the other movie then you know exactly what to expect.
A few surprises are thrown in. Now that Knoxville is a movie star, he has gotten some famous people to do cameo appearances. Tony Hawks participates in Skateboard Gauntlet. Luke Wilson proves to be as boring here as in everything else he has ever done when he gets shocked by an old World War II torture device. The most elaborate set up involves Jay Chandrasekhar from Broken Lizard. It involves one guy pretending to be a middle eastern terrorist with a pubic hair beard. It sounds funnier than it actually is.
The biggest surprise comes at the end in the form of an old fashioned movie musical production number. It ends with Johnny Knoxville recreating Buster Keaton's famous scene in Steamboat Bill, Jr. In which the side of a house falls on him but he is unharmed because he just happens to be standing where the open window on the house is. Is this the Jackass crews way of telling us that most of their stunts are not as real as we may think? Keaton had a legitimate wood framed, two story wall fall over him. Knoxville's wall is more cardboard than wood. In the extra scenes on the DVD, Knoxville actually gets hit by the wall and it does not hurt him a bit. It is as if the Jackass guys have played a joke on us viewers who marveled at their stupidity.
Reviewed on:
February 15th, 2007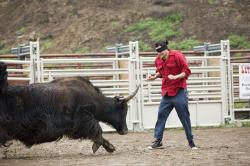 Johnny Knoxville in Jackass Number Two.
My sense of humor just doesn't appreciate Jackass. I've never seen the first one or watched a single episode on television. I thought at first it was because I'm gay, but my boyfriend thought it was funny so that can't be it. But then I didn't think that guys intentionally causing each other (or themselves) pain or humiliation was particularly funny when I was a kid either. Maybe it's the snob in me but I have a hard time laughing at something this brain dead. And it's not just that the stunts are mostly of an extreme bathroom humor variety. Quite the opposite actually; the things I enjoyed most about the movie were the many homoerotic gags involving male genitals and butts. The real problem here is that the stunts are incredibly obvious and repetitive, they drag on for too long and are generally lacking in creativity.
Photos © Copyright Paramount Pictures (2006)
Related Review