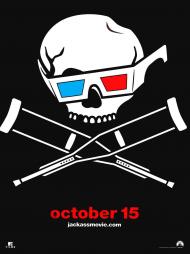 US Release Date: 10-15-2010
Directed by: Jeff Tremaine
Starring
▸
▾
Johnny Knoxville

,

as

Himself
Bam Margera

,

as

Himself
Steve-O

,

as

Himself
Spike Jonze

,

as

Himself
Chris Pontius

,

as

Himself
Jason Acua±a

,

as

Himself
Ryan Dunn

,

as

Himself
Preston Lacy

,

as

Himself
Jeff Tremaine

,

as

Himself
Dave England

,

as

Himself
Seann William Scott

,

as

Himself
Tony Hawk

as

Himself

Reviewed on:
October 17th, 2010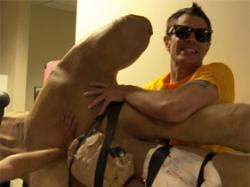 Knoxville has the upper hand.
Jack Ass 3D is the same old shit from the same old jack asses. There is lots of excrement, urine, vomit and penises. Plenty of guys get hit in the crotch, and a couple of celebrities show up.
The one thing new I noticed this time around is that the guys seem to be getting older. Their ages range from 31 to 41. I am not talking physically though, but attitude wise. When the show first started in 2000, these were just a bunch of crazy guys having a blast. Although they still seem to enjoy punishing each other, they often complain about the stunts. At one time, they did this for the laughs, now it is like they do it for the pay check.
Knoxville is clearly the prima donna. Although he allows himself to sometimes get hurt, he is nowhere to be seen in the gross stunts. Bam has a running gag called the Rocky where he sneaks up behind someone, throws water in their face and then punches them in the face wearing a boxing glove. He never does it to Knoxville. Another gag is a penis camera that shows Bam sneaking up and peeing on another cast member, but never on Knoxville. Bam and Pontius are not shy about whipping out their dicks, while others moon the camera often. Knoxville always keeps his clothes on.
If there is anything different this time around it is the gross factor. One guy shits on a model train. They put an apple up the fat guys ass for a pig to eat. Steve O really makes that joke work. This movie is good for some laughs, if you like this kind of thing.
Photos © Copyright MTV Films (2010)
Related Review