Movie Review
Jack and Jill
His twin sister is coming for the holidays... ...and it ain't pretty.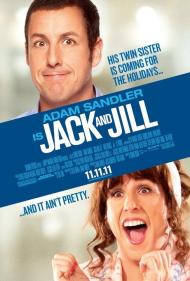 US Release Date: 11-11-2011
Directed by: Dennis Dugan
Starring
▸
▾
Adam Sandler

,

as

Jack Sadelstein / Jill Sadelstein
Al Pacino

,

as

Himself
Katie Holmes

,

as

Erin Sadelstein
Elodie Tougne

,

as

Sofia Sadelstein
Rohan Chand

,

as

Gary Sadelstein
Eugenio Derbez

,

as

Felipe / Felipe's Grandma
Nick Swardson

,

as

Todd
Tim Meadows

,

as

Office Worker
David Spade

,

as

Monica
Norm MacDonald

,

as

Funbucket
Geoff Pierson

,

as

Carter Simmons
Dana Carvey

,

as

Crazy Puppeteer
Johnny Depp

,

as

Himself
Regis Philbin

,

as

Himself
Gad Elmaleh

,

as

Xavier
Shaquille O'Neal

,

as

Himself
Drew Carey

,

as

Himself
John McEnroe

,

as

Himself
Christie Brinkley

,

as

Herself
Caitlyn Jenner

,

as

Bruce Jenner
Rob Schneider

,

as

Alan
Peter Dante

as

Carol's Boyfriend


Reviewed on:
November 16th, 2011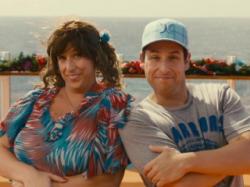 Adam Sandler as Jack and Jill.
Adam Sandler gathers the usual suspects for this Happy Madison Production. Jack and Jill is filled with familiar faces often featured in his movies. It also contains the usual bathroom humor and juvenile jokes. Last but not least is a dose of sentimental family togetherness that have become ever present in Sandler's movies. Everything you would expect from a Sandler holiday film.
Jack and Jill are 41 year old twins living on opposite coasts. Jack lives in Los Angeles working as a successful ad man. Jill lives in the Bronx where she lived with and took care of their recently deceased mother. Jack is married with two children, while Jill is only a couple of cats shy of spinsterhood. She already has a bird she talks to.
Jill comes to LA for Thanksgiving but ends up staying through New Years. She is loud, sweaty and obnoxious. Most of all, she is lonely. In one of the weakest aspects of the script, her mere presence bothers Jack tremendously. She asks if he has gained weight, embarrasses a homeless man invited for dinner and is naive to anything computer related. Nothing truly horrible, but Jack spends most of the film trying to get her to go back to New York.
At work, Jack has a very important account with Duncan Donuts that he may lose if he cannot get Al Pacino to do some commercials for their new drink. Things take an odd turn when Al Pacino falls for Jill after they meet at a Lakers game. Pacino is sitting next to Johnny Depp sporting a Justin Bieber t-shirt. Jill thinks he is a member of Duran Duran.
Pacino makes like Neal Patrick Harris in the Harold and Kumar films spoofing himself by playing himself, only made up. You know what I mean! Known for his highly dramatic roles, it is odd seeing Pacino in such a ridiculous part. I think his performance will either make or break this film for a lot of fans. The final scene in the film surprised me the most. If you are at all a Pacino fan, you have to see it.
Jack and Jill has some funny moments and some not so funny ones. Jack's son likes to tape things to his body. This causes a huge laugh during the Thanksgiving dinner scene, but at other times it just seems odd. Much is made of Jill being masculine and large. She kills a horse after sitting on it. A guy looks up her skirt as he thinks she is a man. She out lifts some body builders. The biggest laugh in the entire movie comes courtesy of a bathroom attendant, Adam Sandler, two melons and some anticipation.
Jack and Jill, like most Happy Madison productions, is harmless family fun. It often employs grammar school humor, such as when Jill eats some Mexican food and has to race to a bathroom. However, it is also very pro-family. Sandler's movies are like a bologna and cheese sandwich on white bread. They are generic, everyone can stomach them and you're not going to crave one again any time soon.
Reviewed on:
July 1st, 2015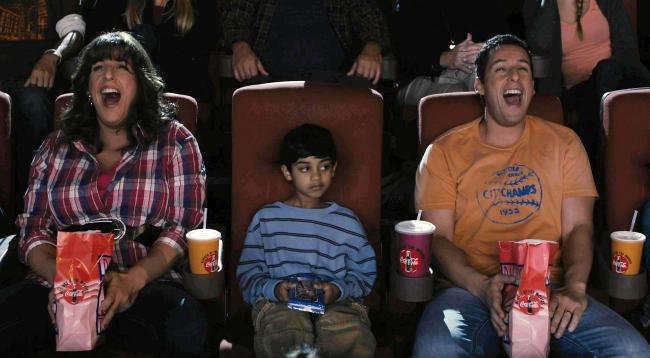 Adam Sandler, Rohan Chand and Adam Sandler in Jack and Jill.
I can say with all honesty that I have never craved an Adam Sandler movie in my life. I get his appeal, but I would never choose to see one of his movies. As a member of this site I am merely fulfilling an obligation. I approached this movie with trepidation. Jack and Jill is not only one of the worst reviewed movies of all time it's also the only movie in history to make a clean sweep at the Razzies (Sandler won for Worst Actor and Worst Actress). I don't think I could have possibly gone in with lower expectations than what I had as the opening credits began.
I'm sure those incredibly low expectations must be partly to blame for the fact that I actually almost enjoyed this movie. It's far from a great comedy but it isn't the colossal train wreck it's been made out to be. The humor is juvenile but I found it less obnoxious than I expected it to be and also a bit more low-key. At one point Jill teases Jack by saying, "Why are you so afraid to admit that we are connected? Face it. We shared Mom's womb. We were womb-mates." Jack's son (played by Rohan Chand, the boy from Bad Words) gets a few good lines acting as his dad's conscience. After he catches his father posting a fake profile for Jill on an internet dating site he innocently asks, "What are you gonna wear Daddy... in hell?"
Sandler actually gives one of his better performances as Jill. As Jack he's a complete bore who walks through the movie. Clearly he put all of his focus and energy into playing the distaff twin. Sure Jill's annoying but she's also likable and vulnerable with childish enthusiasm for life and a cheery disposition. But don't piss her off, she packs quite a punch.
As Eric mentioned, beneath the humor Jack and Jill is a holiday family film with characters that regular people can identify with. It has a message of acceptance and forgiveness that is pure schmaltz but it's cut with such silly jokes that its sentimentalism isn't artery clogging. Jack's rude behavior towards his twin is meant to create sympathy for her but I concede Eric's point that the script overdoes it a bit.
Al Pacino's amped-up impression of himself is easily the best thing about the movie. He's absolutely -albeit strangely- committed to the role and is quite funny in the process. His commercial at the end is indeed hilarious. Trivia buffs will remember this movie as Caitlyn Jenner's final movie appearance as Bruce, in a cameo as herself acting in a play with Al Pacino.
Jack and Jill is a mediocre comedy with a gooey center, but it's not memorable enough to be labeled one of the worst movies ever made. There's nothing about it to earn such distinction.
Photos © Copyright Happy Madison Productions (2011)