Movie Review
Ivanhoe
At last on the big screen!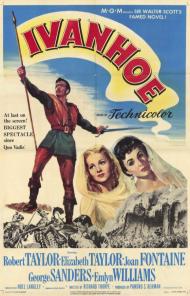 US Release Date: 07-31-1952
Directed by: Richard Thorpe
Starring
▸
▾
Robert Taylor

,

as

Ivanhoe
Elizabeth Taylor

,

as

Rebecca
Joan Fontaine

,

as

Rowena
George Sanders

,

as

De Bois-Guilbert
Emlyn Williams

,

as

Wamba
Robert Douglas

,

as

Sir Hugh De Bracy
Finlay Currie

,

as

Cedric
Felix Aylmer

,

as

Isaac
Francis De Wolff

,

as

Front De Boeuf
Norman Wooland

,

as

King Richard
Basil Sydney

,

as

Waldemar Fitzurse
Guy Rolfe

,

as

Prince John
Harold Warrender

,

as

Locksley
Sebastian Cabot

as

Clerk of Copmanhurst
Reviewed on:
April 13th, 2011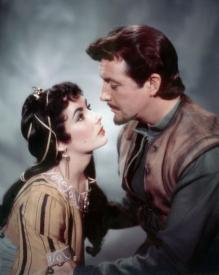 Elizabeth Taylor and Robert Taylor in Ivanhoe.
Taken from Sir Walter Scott's celebrated 1819 novel of the same name, Ivanhoe was MGM's rather belated (by 14 years) answer to Warner Brothers' The Adventures of Robin Hood. Shot in vivid Technicolor and starring the studio's two reigning Taylor's, Robert and Elizabeth, Ivanhoe is a feast for the eyes.
Ivanhoe (an aging but still rakishly handsome Robert Taylor) is a Saxon Knight returned from the Holy Lands to 12th Century England. His new mission is to raise 150,000 marks of silver as ransom for the imprisoned King Richard the Lion-Hearted, being held captive in an Austrian cell.
Whilst trying to raise the necessary funds he does battle with the evil De Bois-Guilbert (a surprisingly butch George Sanders as one of Prince John's Norman Knights) for the honor of the lovely Lady Rowena, (Joan Fontaine making like older sister Olivia de Havilland as Maid Marian) his betrothed; as well as for the honor of the stunningly gorgeous Jewess, Rebecca (Elizabeth Taylor at the absolute peak of her incandescent beauty), daughter of a persecuted Jewish merchant (Felix Aylmer) who is herself in love with Ivanhoe.
Along the way there are jousting matches, one very rousing siege of a castle, and a final hand to hand combat between the two arch rivals. There is also a subplot involving anti-Semitism as Elizabeth Taylor's Rebecca is put on trial for witchcraft.
The novel Ivanhoe added much to the Robin Hood legend. Here he was first known as Locksley, a name which would be forevermore associated with the noble outlaw. He lives in Sherwood Forest with his band of yeomen and blows a horn to call them to battle. He even has a sidekick much like Friar Tuck. In the movies' best action scene Locksley and his merry men attack the castle where Ivanhoe, along with his formerly estranged father Cedric, Rowena, Rebecca and her father Isaac, are all being held captive by Prince John.
Robert Taylor is wonderful as the dashingly heroic title character. Elizabeth Taylor is loveliness personified, flashing those famous violet eyes at Ivanhoe. George Sanders is also quite good. He had the perfect voice for this type of romantic villain. It is only Joan Fontaine that seems distracted from the whole proceedings.
Surprisingly, apart from two very early silent versions, this was the first big screen adaptation of Scott's classic novel. It would become MGM's biggest moneymaker of the year and propel Elizabeth Taylor's star even higher in the celluloid firmament. Although overshadowed by the more celebrated Robin Hood, Ivanhoe (shot on location in Scotland and England) is a colorful adventure movie full of pomp and pageantry and glamorous stars of yesteryear enacting knights in shining armor and their damsels in distress.

Photos © Copyright Metro-Goldwyn-Mayer (MGM) (1952)